A fun, casual, 3-strand wrapped leather beaded bracelet for bringing wisdom harmony, truth, communication and protection. It resonates with the blue energies of the throat chakra and includes 4mm Turquoise, Aventurine, Blue Quartz and Green Fluorite. Wear your bracelet with positive intentions and the electromagnetic energies of the stones will assist you in developing strength and manifestation of their properties. A gemstone description card and gift box are included.

The bracelet measures about 21.25"-22" long, enough to wrap around the wrist 3 times, with 2 button openings for sizing adjustment. Button styles may vary depending on availability.
Available in Metallic Teal, Metallic Kansa Bronze, Metallic Gauriya (Greenish-Brass), Brown or Black leather under Options. Photos show brown leather option.

CARE NOTE: While great care and research has gone in to finding the strongest cord possible that will fit through small gemstone bead holes, I recommend wearing leather wrapped bracelets lightly. Leather and cord are degradable, especially when exposed to skin oils, water and constant wear. Gemstones have rough edges and small holes that can fray the thread in bracelets. To help your bracelet to last as long as possible, it is recommended that you not exercise or do any heavy work in your jewelry. Sweat and skin oils will deteriorate leather and thread. If you must have it on, place it in your pocket instead.
Do not swim or shower in your bracelet. Some crystals cannot tolerate salt and none of them like chlorine. Water deteriorates leather, so treat it like a leather coat – don't get it wet.
Do not sleep in your jewelry. If you want the energies while sleeping, place the jewelry under your pillow to prevent rubbing and crushing of the beads on the threads.

GEMSTONE PROPERTIES:
TURQUOISE
Stone of wholeness and truth, intuition, and spiritual expansion. Aids in communication and manifestation of those qualities. Represents the wisdom that comes from all life's experiences. Efficient healer, providing solace for the spirit and well-being for the body. Stone for self-forgiveness, self-acceptance and release of useless regrets. Teaches wisdom, passion and forgiveness. Purification stone. Dispels negative energy, clears electromagnetic smog. Unites sky energy to earth. Helpful to connect with Mineral, Plant or Animal Kingdoms. Strengthens awareness of the interconnectedness of all life and useful if you feel separate from others or the natural world around you. Teaches you to honor your physical body. Has a healing effect and strengthens the awareness that we are all healers. Can help promote honest and clear communication from the heart. Enhances intuition and meditation. Purification stone, dispelling negative energy and clearing electromagnetic smog. Said to protect against pollution in the environment, and to bring abundance. It is very powerful for grounding and protection. Calms the nerves during public speaking. Aids creative expression. Helps mood swings, brings calm. Good for artists and teachers. Provides soothing energy and a 'healing of the spirit'. Can refresh us when tired or exhausted. Relates to the throat chakra.
Can also help speed the healing process, and is known as a master healer stone; has anti-inflammatory and detoxifying effects. Helpful for arthritis and rheumatism. Oxygenates the blood and increases 'prana' in the physical body. Helps exhaustion, depression, immune system, eyes, cataracts, anti-inflammatory, cramps, pain.

AVENTURINE
A form of chalcedony quartz containing tiny inclusions of mica or iron oxide, giving it a glistening effect known as aventurescence. Naturally reddish or brown; both red and green forms are dyed. Stone of optimism and zest for life. Helps one take things in stride. Helps one deal with ups and downs in life. Helps one to persevere through times when it seems as if nothing is happening. Helps one to look at the bright side. Stone of good luck and helps manifest greater prosperity. Gives feeling of renewed hope and joy, and useful for depression. Helps one remain emotionally stable through periods of change or upheaval. A gentle stone energetically that gives a sense of calm and balance and enhances happiness. Helps one to see alternatives and potentials in all situations, giving a positive outlook, confidence, inner peace, courage and inner strength. It is also said to bring luck, especially in games of chance. Reinforces leadership qualities and decisiveness. Promotes compassion, empathy and encourages perseverance. Stimulates perception; enhances creativity. Calms anger and irritation. Enhances relaxation, regeneration and recovery. Helpful for optometrists or those in T.V. and radio communications.
Associated with the heart chakra.
Beneficial for heart disorders and disease, blood, circulatory system and muscle tissues. It balances blood pressure and stimulates metabolism, lowering cholesterol and preventing arteriosclerosis and heart attacks. Helps headaches, recovery and physical regeneration; settles nausea; increases physical and vibrational vitality; helps sciatica; can ease going to sleep. Helps with skin disease, allergies and alleviates pain. Helps those who are accident prone.

FLUORITE
Acts as a psychic 'vacuum cleaner', clearing confusion, cluttered thoughts, negativity. Balances the 3rd eye chakra and mental energies. Helps one think clearly. If one has many creative ideas, but unable to pick one, fluorite can assist. Helps one select a direction, commit to action and plan the steps needed to walk one's chosen path. Helps structure one's energy to accomplish goals. Helps psychic protection, stabilizing. Protects from electromagnetic fields, such as electronics. Purifies and organizes anything in the body not in perfect order. Possesses a defending quality an is an excellent preventative that shields one from many forms of negative energy. Produces an energy which is predisposed to discourage disruptive growth and stabilizes order within the mental, physical and spiritual systems. Brings order to chaos. Helps concentration and balances the positive/negative aspects of the mind. Heightens intuition, spiritual awakening, focus, self-confidence. Aids structure and progress in daily life, aids memory. Helps coordination and balance; remedies confusion, balances brain chemistry, enhances learning and memorization. Stimulates sexual libido. Helps dentists, scientists, surgeons and natural healers. Purple Fluorite helps one prepare for meditation by calming your desires and thoughts and taking you to higher levels of awareness. Very calming and peaceful energies.
Fourth (heart) Chakra. Fluoresces in ultraviolet light.
Assists dizziness or vertigo and helps one become more physically balanced. Strengthens bones and teeth; aids physical mobility, joints. Excellent for arthritis and rheumatism. Helps with regeneration of skin and mucus membranes; helpful for ulcers, lungs, adhesions.
Fluorite is soft and easily scratched. Keep away from prolonged sun exposure, and never steam or ultrasonically clean them; use warm soapy water.

BLUE QUARTZ
Helps one to speak what is on one's mind. Releases introversion and fear and helps promote new experiences and connect with others. Removes fear of reaching out and brings stimulation to new relationships. Brings comfort to allow one to enjoy being independent and uninhibited. Helps one to see that fear is only incomplete knowledge and helps one gain completion of this knowledge. Encourages consideration and thoughtfulness. Reverses disorganization and instills mental clarity and self-discipline. Calms the mind and inspires creativity and hope. Is of great assistance in understanding one's spiritual nature. Facilitates passing through a metamorphosis. Assists detoxification, depression and calms overstimulation.
Activates the throat chakra.
Helps treat disorders of the spleen, endocrine system, blood and stabilizes metabolic processes and secretions from the pancreas. Supports the throat and immune system. Assists detoxification.



NOTE: Crystal Healing is not meant to replace conventional medicine, but rather to compliment and enhance it. It is not to be used as a prescription, diagnosis or treatment. The information given is purely metaphysical in nature and is by no means medical. Crystal Healing is not an independent therapy, but one that is part of a holistic healing approach. By using this site and associated materials, you acknowledge and agree that you personally assume responsibility for your use or misuse of this information.
Learn more about the shop and process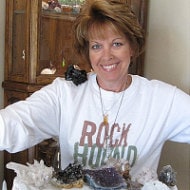 Lynn Leaderbrand
Frequently asked questions about WalelabyLynn
Heart & Soul Leather Wrapped Bracelet with Turquoise, Aventurine, Blue Quartz and Green Fluorite
---
Overview
Handmade item
Materials:

leather cord, turquoise, aventurine, blue fluorite, green fluorite

Made to order
Ships worldwide from

United States

Feedback: 807 reviews
Favorited by: 82 people
Listed on Jan 18, 2017
1235 views