Gorgeous, classic, WORKING, Western Electric 202 model WITH WORKING RINGER BOX!!

******Please scroll down for links to an additional album AND a youtube vid of it ringing!!

The phone is dated 1937. Its one of the last models that were made before the bells were built into the phone. You used a separate, connected, ringer box. Finding the phone was one thing. Having it include the ringer box was another. This is the whole package!

The phone itself is in really great shape. There is the usual wear on the black metal plunger where the handset rests. The paint looks to be in its original condition and not refurb'ed. When cleaning out the white dial plate, I was planning to replace the plain off-white dial card that was inside it with a nicer generic reproduction one, and what did I find...? The original black dial card, reading HEmlock 2193!

The phone does have some wear so lets get that out of the way.... The thick black cord to the ringer box has some white paint on it. The lid to the ringer box itself, is plastic and not metal. Its got a small area that chipped and broke. Ive super-glued it back together (mostly) and secured it from behind with some electrical tape for added support (removes clean). Its a flaw, but since you can simply display it on the other side, definitely not a bad one. There is some residue on the mouthpiece which doesnt clean off. I will include a pic of it in an additional album on imageshack (pic 14). Its not very noticeable, but its there.

I put in a modular plug on the ringer box so it will be ready to plug in when you get it without messing with any hard-wiring connection. I also switched out the rigid, heavy cumbersome black rubber cord that was on the handset with a brown cloth cord. Still appropriate for the model, but much much nicer and much more user-friendly.

The leather pad on the bottom looks great and will help protect your furniture.

Since Im not a phone expect, Id ask that you really look at the pics and make your own judgments (additional album linked below). Ive looked at MANY of these phones before I bought this one, and I can tell you its a nice one. This little guy is going on 75 years old! They definitely made things to last back then.


Email me ANY questions you have. If you want additional pics, thats fine too. As with all my phones, please be sure a rotary phone will work on your landline, esp if you use a digital phone service like voip or vonage.

-----------------------
Extra pix-
http://img232.imageshack.us/slideshow/webplayer.php?id=20120426205410.jpg

Video-
http://www.facebook.com/photo.php?v=10150831320725908
(please note that the video was taken before I changed the cord. Oh, and, turn down the volume before you play!
Learn more about the shop and process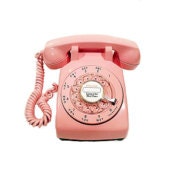 Karen