This vintage folk art textile from India has still maintained its brilliant and vivid colors. Worked on thin layers of muslin, it is light and fragile. It is completely hand done without a trace of machine stitching around the edge which became popular some years later. It appears as if the four loops for hanging at each corner may have been added at a later date.

Colors are predominantly red, orange, teal green and cream. The design motif is simple, a little geometric with some flora.

The back of the piece is a printed muslin.

Overall, the piece is in fairly good condition. The size is : 22" X22"

General:

Gujarat, a State in North West India, which had an open land route connecting it to Central Asia, had a large number of settlers from that area. They settled in Kutch and Saurashtra regions of Gujarat and retained their traditions of embroidery, with the result that a very rich range of embroidery can be found in these areas.

The people living in this region shared a common dowry tradition. In addition to the usual gifts of jewelry and household utensils, a bride would bring to her husband's home, a large number of richly embroidered textiles, which she and the women of her family had worked on for many years. The dowry would normally consist of costumes for the bride and the groom, wall and doorway hangings for her new home and decorative coverings for their domestic animals, all intricately embroidered or appliquéd and often incorporating small mirrors.

From early childhood, a girl was trained in this craft by the older women in her family. The first stitches she learned were on a square piece of cloth, which, when folded over, became her first purse. As she grew older, she worked with her mother and grandmother to embroider quilts, pillow covers, bags, house decorations and animal coverings. Many of the embroidered pieces were made for her bridal trousseau and would signify the love for her mother and her own skill, with which she hoped to gain regard and respect from her new relatives.

Please convo me if you wish to see more photos, or if you have any questions.

Please see the Policies section for more information on Shipping etc.
Learn more about the shop and process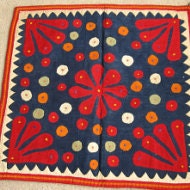 Threads Of Old
Listed on Aug 10, 2014
679 views