**Welcome to Sharies CraftWorld**

((THIS PORTRAIT IS PRICED FOR 2 PEOPLE ONLY))
(((((THE PORTRAIT COST IS....$139.00))))
P#1 (1-PERSON) $139.00 NO EXTRAS

I do Customized 3D Clay Portraits for any occasion or just for fun..
**The portraits are handmade by me according to your photos and idea's.
It is special and one of a kind in the world.
It is made of Polymer Clay, Wood Frame, Paints, Fabric,
Glue & Glaze it is made free hand without any molds

<<<IMPORTANT NOTICE>>>
Please contact me before purchase....
( You can contact me: Here on Etsy (or) email at:
shariescraftworld [!at] aol.com)
With a high resolution photo that I can print out to an 8"x10"
I will also need to know the dates you need it done by..
At this time I will give you the cost of your portrait..
If every thing are good.. I will send you a custom link....
Add the item to your cart and pay...

After purchase: I will need....
1.EYE colors=Black, Lt-Brown (Hazel), Blue, Brown, Grey, Green
2.HAIR colors=Head & Face...Black, Dark-Grey, Grey, White, Lt-Brown, Dark Brown,
Med-Brown, Reddish-Brown, Dark-Blonde Med-Blonde Lt-Blonde, Red, Bald
3.SKIN colors=Almost-White, Lt-Beige, Med-Beige, Dark-Beige Pink, Lt- Black, Med-Black, Black,
4.CLOTHES color...(Solid color for each clothing) Mix color extra charge start at $10.00
5.Email address to send you up-dates
***Please reply within 48 hours, otherwise it will be deemed you have approved it.

*****Payment*****
I accept Paypal, Direct check out with Etsy and Etsy Gift Cards.
Which all takes most credit cards
Also no paypal account? paypal takes most credit cards without an account
For more information Vist www.PayPal.com
I do layaway plans I will set up payment threw my shop.. so please contact me to set them up for you..
(But with Layaway plan.. I will hit shipped.. So it does not give me a bad record)
Except balance payment.. I will hit shipped when it is really shipped..
***(NO) Personal Checks or No Money Orders.....

1,Shipping
Usually I complete and ship your order within 2-4 weeks.
BUT MOST TIMES I HAVE A WAITING LIST SO..... PLEASE CONTACT ME...
2, I Insured only for the purchase price only!! And buyer must collect it!!

Refunds and Exchanges
1. Please understand that due to the nature of custom-made product,
and in view of numbers of hours that go into molding, baking, and painting,
I do not offer refunds or returns for such the custom made portrait
As the portrait is hand made based on your photos and can not be resold,
2.If there is a little breakage caused in transit, you can just repair it with superglue.

**If damage occurred, please submit pictures of the damages and pictures showing
the inner and outer packaging so I can identify if I need to re-make the damaged part
or not. I will not be held responsible for damages reported after 24 hours of receiving the order.

Additional Policies and FAQs
1. Color difference: the color of the portrait may have some difference with your real color
due to the limitation of the clay's colors. Please be aware of it before you order.
2. Detail expression: Portrait is hand made from clay, the detail can not be the same
exact as that on your picture, hope you can understand.

3. FREE PROOFS -- I proudly provide FREE proofs and allow adjustments at different stages.
Please reply within 48 hours, otherwise it will be deemed you have approved it.
All the adjustments are based on your previous photos and idea,
I do not allow new idea and picture's in process of our creation.
The adjustments can be made like making the nose wider or lips thinner -
this means a great deal when I sculpt your custom portrait to ensure satisfaction.

*IMPORTANT: The portrait are handmade and intricately crafted, capturing a likeness
based on pictures provided. They are not an exact copy or replica of the person in the
photo. The final product may be slightly different from that on the picture since they are
all 100% handcrafted and unique-- For this reason, if you want everything perfect,
I suggest you not choose such a handmade item.
ID#Gail

Dear Sharie,
This past Monday, I recieved my own portrait from your shop, ordered by Gale M.
I have a history of unlucky and horrible birthdays, and I have done my best to forget/ignore them for the past ten years. I could go into great detail about what has happened to make me feel this way, but I won't bore you. Suffice to say that I just detest the day, the days surrounding it, and everything that goes with it. I would prefer if it just didn't exist.

Well, I'm also an avid fan of Regretsy and April Winchell, and had absolutely adored the work you had done with her portrait. Apparently, Gale somehow found out about my birthday and decided to surprise me with one of your portraits for my birthday. She had intimated that I had a present coming, but I did not expect more than a card and a knitted scarf or hat, since Gale is amazing and can do wonders with a set of knitting needles. That would have been much more than enough, and would have thrilled me beyond words. I was in no way prepared for what I encountered when I opened the box that arrived at my door on Monday.

First, it was quite heavy. She included a note saying that she hoped I would take what she had gotten me in the spirit of love she had had it created, and that for my birthday I deserved the same treatment April had gotten. That left me more confused than the heavy box. I dug through to the bottom, pleased as punch with the gifts I encountered (that, as amazing as they were by their own right, paled by comparison.) I got to the very heavy box at the bottom and started tearing into it, and in a single moment, it hit me what was inside. I started to cry and laugh with joy, all in the same moment.

I opened the box, pulled back the bubble wrap and tissue paper, and there it was. The most beautiful thing I have ever seen, aside from my children. My husband does not follow Regretsy, so he was slightly mystified. Even he smiled and admired the craftsmanship.

Every single square inch of this portrait is perfect. I love it so much, I am trying to find a place to hang it in my home that does it the honor it deserves. April has posted these clay portraits several times, and each time I pored over them, thinking about how lovely they were and how much I'd like to have one. But the photos simply do not do them justice. You took particular care to lay out each individual hair and curl, and even to make my jewelry by hand, and then to make it solid and immoble, glossing it. I am in awe.

I know that this may sound like I am trying to suck up, but I'm honestly not. I had prepared myself for an appointment that I was dreading, and then to ignore the rest of the day. This gift, this one gift, made the whole day wonderful and worth celebrating. I cannot thank you enough.

Sincerely and with great joy,
Haley G.
p.s. I am sorry for being so incredibly wordy, but I'm truly that excited.
Learn more about the shop and process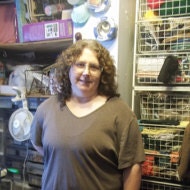 Sharie Dodson
Frequently asked questions about ShariesCraftworld
Custom Request, Custom Order, Custom Wall Art, Custom Made to Order, Custom Unique Art, Custom Portrait, Custom Wall Plaque, Custom Mix Art
---
Overview
Handmade item
Materials:

I start with a photo and get all our ideas, together I then make the people, or items out of baked clay, we pick out a back ground in fabric, where your photo is diplayed, I paint the eyes and mouth, I add jewelry, and with your ok, It is glued and glazed into a wood frame, and shipped

Made to order
Ships worldwide from

United States

Feedback: 57 reviews
Favorited by: 29 people
Listed on Dec 6, 2016
1097 views