Not in the mood to create your own custom hoop? Too many options or just need that perfect gift for someone? Need it RIGHT NOW?! No worries! If GREEN is your thing, you'll love my GREEN MACHINE adult hula hoop. This gorgeous hoop is available in an adult size of 42" and made of 1" 100 psi tubing - perfect for working out, beginners or learning some basic dance moves. Oh, and as a bonus, you get a set of three of my super funky stickers for free!

Not sure if it's your size? See the descriptions below to figure out if this is the hoop for you (or for someone you love).

Oh, it's not your size? No problem! Don't forget custom hoops are available or maybe check out one of my other stunning pre-made hoops.

As always, if you have any questions, please feel free to contact me!

Hoop sizes:

44"+ (regular weight tubing) - for larger adults or hoopers wanting a super slow, fun hoop.

42" (regular and dance weight tubing) - If your just getting into hooping, this is the perfect beginner-sized hoop (height 5'3-5'7) It is slow moving, easy to use, and makes an excellent fitness hoop!

40" (regular and dance weight tubing) - Again, a great hoop size for beginner or intermediate hoopers and small adults. Great fitness size and excellent for learning hoop dance moves.

38"-36" (regular, dance, and super light weight tubing) So you're really feelin' the flow now, or you're on the petite side. This is a perfect size for intermediate/advanced adults or older children (8+)

30" to 36" - (available in dance weight or super light weight) Best for small children (under age 7), intermediate/advanced hoopers and off-body hooping.

Types of tubing:

Regular Weight (heavy) – 3/4" @ 160psi - This is a wonderful size for fitness hoops and can be considered a "weighted" hoop. It is very easy for beginners to use because once started, it keeps its momentum up nicely. This is also a fun weight for experienced hoopers who like a bit more bulk and a slower movement.

Regular Weight Large (heavy-ish) - 1" @ 100 PSI - Also a great size for fitness and provides a slightly larger handhold for learning new moves

Dance Weight (medium) - 3/4" and 100psi - A fantastic weight that is popular with beginner and experienced hoopers alike! This weight is perfect for fitness (the lighter weight gets your heart rate up) and dance. Also a wonderful hoop weight for children.

Super Light Weight (light) – 1/2" and 125psi – This makes a terrific kid's hoop and is also a great weight and thickness for experienced hoopers looking for a fast and maneuverable hoop. This size is also used for for poi hoops.
Learn more about the shop and process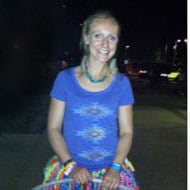 Jenna
Fabric HULA HOOP - Adult mid-weight
---
Listed on May 7, 2012
86 views