Details
Evoke the spirit of the peaceful solar warrior. This painting discusses solar power- you can see solar panels and a green community within it.

Gallery-wrapped giclee canvas, limited edition. Printed with vibrant colors and a slight gloss. Ideal for hot yoga studio decoration.

*Printed version does not contain Geoglyphiks.com text in the corner- that's just for online viewing*

The Manipura chakra is located in the Solar plexus, center of willpower. I have heard Manipura translated as 'Great Citadel' and 'City of Jewels.' I am struck by the image of glittering rows of solar panels.

Every half hour, enough sunlight strikes the earth to provide to power to the whole world for a year. Solar panel technology and production are surging forward, revolutionizing the energy industry, with all its ramifications on the environment and social equality. We can harness our collective Will to achieve 'Surya Yoga,' or Unity with the Sun.

One inspiration for this piece is the archetype of Vishnu, the blue preserver & enjoyer of material reality. Truly we must be Preservers of our world to enjoy it. Vishnu reclines upon the multi-headed cosmic serpent Ananta, which translates as 'endless,' a symbol of mastered limitless energy. Vishnu enjoys the love of his wife Lakshmi, Goddess of Abundance. Lakshmi is often depicted with gold coins spilling from her fingertips, bringing prosperity. In this piece, the coins transform into hexagons that become the panels of permacultural biodomes, invoking the shift to a sustainable paradigm and renewable energy.

This piece is also inspired by the practice of sun gazing. Research suggests that ancient priesthoods in many cultures developed systems of drawing energy into their bodies by staring at the the Sun in the hour after sunrise and the hour before sunset. Might the Sun provide a revolutionary independence from both fossil fuels and the food chain as we know it? Pervasive Egyptian hieroglyphs like the Eye of Ra (God of the Sun) seem a tantalizing hint of forgotten knowledge now being brought to light...

Tags: solar, citadel, plexus, sun, sol, manipura, anahata, jeweled, city, great, panel, photovoltaic, cell, radiant, warrior, vira, kundalini, chakra, chakras, meridians, prana, chi, vishnu, lakshmi, shesha, vedic, hindu, india, egypt, egyptian, ra, anhk, eye, scarab, cobra, snake, cosmic, serpent, wings, ant, buckminster, fuller, bucky, dome, biodome, geodesic, biomimicry, hexagon, hexagons, coins, sacred, geometry, trickle, emerald, design, permaculture, sustainable, eden, paradise, utopia
Evoke the spirit of the peaceful solar warrior. This painting discusses solar power- you can see solar panels and a green community within it.

Gallery-wrapped giclee canvas, limited edition. Printed with vibrant colors and a slight gloss. Ideal for hot yoga studio decoration.

*Printed version does not contain Geoglyphiks.com text in the corner- that's just for online viewing*

The Manipura chakra is located in the Solar plexus, center of willpower. I have heard Manipura translated as 'Great Citadel' and 'City of Jewels.' I am struck by the image of glittering rows of solar panels.

Every half hour, enough sunlight strikes the earth to provide to power to the whole world for a year. Solar panel technology and production are surging forward, revolutionizing the energy industry, with all its ramifications on the environment and social equality. We can harness our collective Will to achieve 'Surya Yoga,' or Unity with the Sun.

One inspiration for this piece is the archetype of Vishnu, the blue preserver & enjoyer of material reality. Truly we must be Preservers of our world to enjoy it. Vishnu reclines upon the multi-headed cosmic serpent Ananta, which translates as 'endless,' a symbol of mastered limitless energy. Vishnu enjoys the love of his wife Lakshmi, Goddess of Abundance. Lakshmi is often depicted with gold coins spilling from her fingertips, bringing prosperity. In this piece, the coins transform into hexagons that become the panels of permacultural biodomes, invoking the shift to a sustainable paradigm and renewable energy.

This piece is also inspired by the practice of sun gazing. Research suggests that ancient priesthoods in many cultures developed systems of drawing energy into their bodies by staring at the the Sun in the hour after sunrise and the hour before sunset. Might the Sun provide a revolutionary independence from both fossil fuels and the food chain as we know it? Pervasive Egyptian hieroglyphs like the Eye of Ra (God of the Sun) seem a tantalizing hint of forgotten knowledge now being brought to light...

Tags: solar, citadel, plexus, sun, sol, manipura, anahata, jeweled, city, great, panel, photovoltaic, cell, radiant, warrior, vira, kundalini, chakra, chakras, meridians, prana, chi, vishnu, lakshmi, shesha, vedic, hindu, india, egypt, egyptian, ra, anhk, eye, scarab, cobra, snake, cosmic, serpent, wings, ant, buckminster, fuller, bucky, dome, biodome, geodesic, biomimicry, hexagon, hexagons, coins, sacred, geometry, trickle, emerald, design, permaculture, sustainable, eden, paradise, utopia
Shipping
Ready to ship in
2 - 3 weeks
Please note that for orders being delivered outside the U.S. or Canada, the art piece will arrive 'unstretched,' meaning it will arrive rolled up in a protective tube. Once it arrives, you can have it stretched or 'gallery-wrapped' locally to be ready to hang (I do it this way because shipping overseas with the art unfurled to full dimensions is prohibitively expensive, especially for larger pieces). Thanks for your support and understanding!

I'm happy to offer extra shipping discounts if you'd like to order more than one canvas print- please let me know which ones interest you and I'll get back to you with a combined shipping rate.

If you would like the shipping upgraded or additional insurance or confirmation, please let me know and I'll get back to you quickly with options for whatever you would like shipped.
Payments
Secure options
Accepts Etsy Gift Cards and Etsy Credits
Etsy keeps your payment information secure. Etsy shops never receive your credit card information.
Please send along payment for your items at the time of purchase so I can get them shipped for you right away. I can accept most major credit cards through my Paypal account, as well as direct Paypal and personal checks.
Returns & exchanges
If your item arrives damaged or you are unhappy with it for any other reason please let me know right away. If it arrived damaged, I am happy to offer a full refund.

If you just changed your mind about wanting it for some other reason, please let me know right away upon receiving it. I am likely to give you a refund in that case as well, less the price of shipping.
Additional policies
I can provide custom orders, and I also license several of my pieces for event flyers, book covers, album artwork, tarot cars, magazines and blogs... so please let me know if that is something that you might want. Thank you for your interest. :)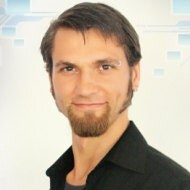 Geo Glyphiks
Solar Citadel - 24"x13" - Limited Edition Giclee Canvas
---