Gathered, Ground and prepared ritually made of Frankincense, Egg Shell and two secret ingredients. Packaged in 2 inch x 3 inch polybag. Plenty of powder for sozens of workings as you only need to use a small amount. Approximately 1 ounce in weight. This powder was prepared on Beltaine.

Suggested Uses: Magicks, rituals, spells, and enchantments for honoring the dead, and calling happy spirits or angels. It can also be used for ridding evil, nasty people, banishing nightmares and general negativity from your life. Use this offering alone or add to other spellwork items. Use in funeral rites to send peace and love. Color correspondences for this formula include: Gold, White, and Silver.

Its okay to let a little magick in.

Disclaimer: Magickal powders/herbs and pins are novelty items. The real magick lies in you. Do not ingest or inhale powders/herbs. Keep away from children and pets. Do not ingest or inhale. Thank you.
Learn more about the shop and process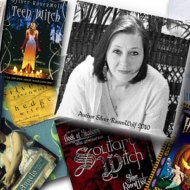 Silver RavenWolf
Traditional Spirit Powder for Calling Spirits, the Happy Dead & Good Energies Spells and Rituals, Wicca, Pagan
---
Listed on May 18, 2012
209 views