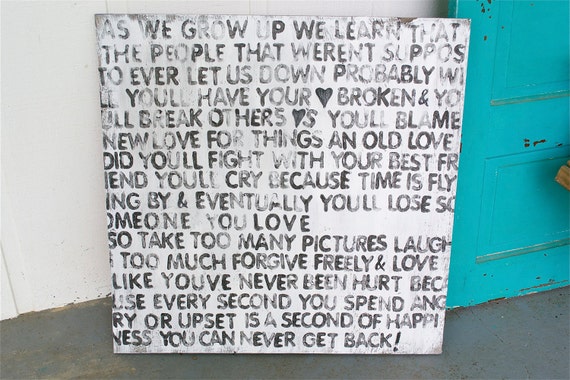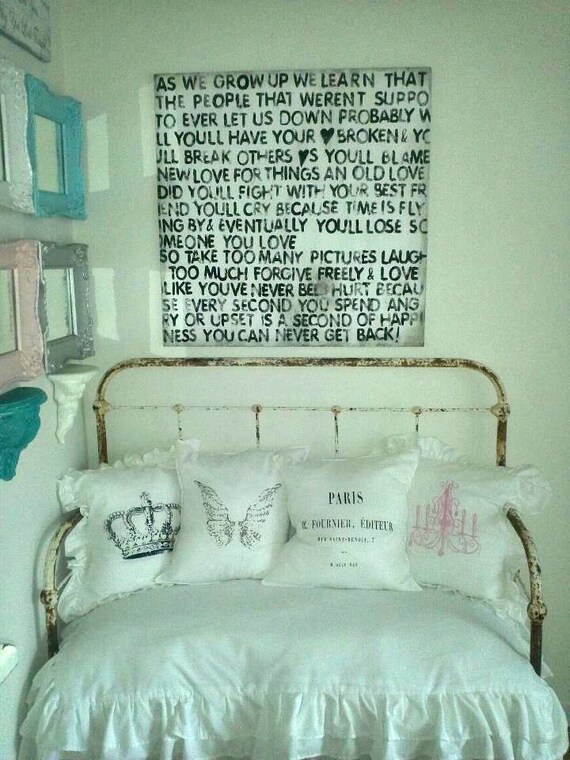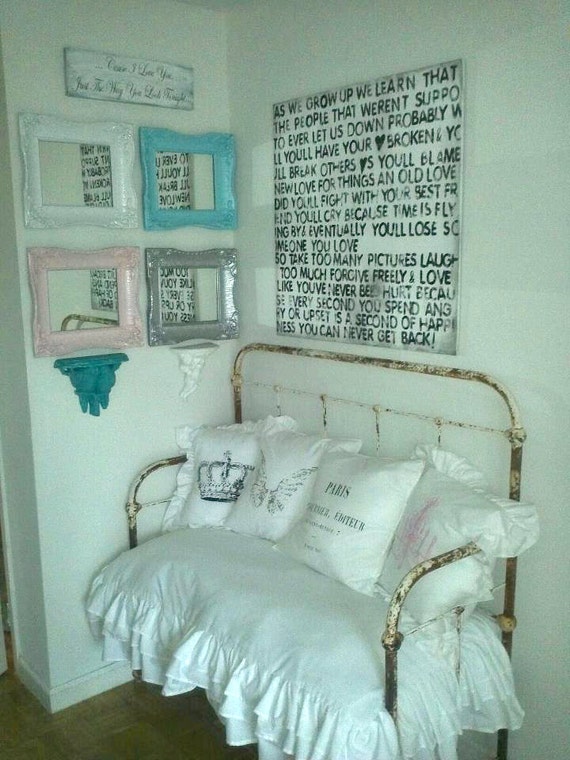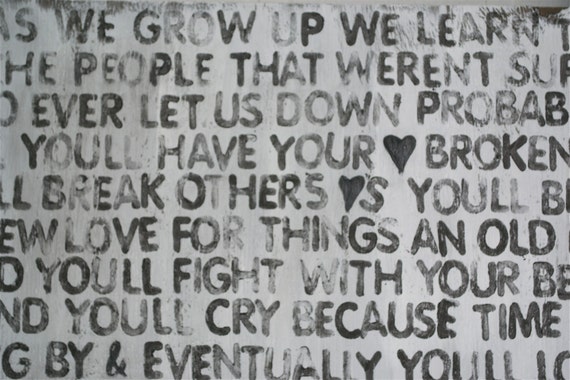 This huge artwork can be that perfect inspiring touch for your decor. Each letter is hand-stamped onto rustic painted wood. Your friends will be drawn to read this and walk away reminded to focus on the good, the positive, to cherish your moments together,and not dwell too much on things that have gone wrong.

"As we grow up, we learn that the people that weren't supposed to ever let us down, probably will. You'll have your heart broken & you'll break others hearts. You'll blame a new love for things an old love did. You'll fight with your best friend, you'll cry because time is flying by, & eventually you'll lose someone you love. So take too many pictures, laugh too much, forgive freely, & love like you've never been hurt. Because every second you spend angry or upset, is a second of happiness you can never get back!" (hearts in place of word heart)

You may get in other colors:

Black with tan words
White background with dark gray words
White background with Dark Brown words
Barnwood colored background with white words

Ready to hang.


approx. 30"X30"

CURRENT PRODUCTION TIME:

4-6 weeks

I am so happy you visited my shop and would be privileged to create a hand-painted piece for your own home.

More about this sign:

This is not a print. This is an original hand painted art on solid wood.
While there are many prints on wood hitting the stores, nothing compares to the warmth and texture of a hand painted piece. This distressed, hand-painted artwork is sure to bring smiles & memories to your home for many years and maybe, even, become an heirloom.
Each piece is treated with care and made with love. I see them as reflections of me and take great care to make sure they are well made.



I use my signature very distressed finish. I created a "dirty" wash for my signs and furniture that gives a truly worn and aged look. I distress the letters to look faded by the sun.
The process is extensive but the outcome looks authentically aged and timeless.


All art manufactured by Pamela Joyce Designs is original and hand painted on wood. Each piece of wood is slightly different. Yours will look similar to the one pictured but have it's own unique distressed characteristics. Each piece of wood has it's on unique characteristics like knots and dings, grain. I love the character that brings to each piece.


FEATURED On These Sites:
www.houzz.com
www.taradaramadeit.com
www.thebrightsideproject.com
www.mom-a-logues.blogspot.com
www.zsazsabellagio.blogspot.com



Return Policy:
Unaltered items can be exchanged within 14 days of shipment, for store credit only. Customers are responsible for all shipping fees. Refunds are not available.
Please see my store policies for more info.
Wood Sign - Painted Wood Sign- As WE GRow Up - 30x30
---