=o.o= =o.o= =o.o= =o.o= =o.o= =o.o= =o.o= =o.o= =o.o= =o.o=

Features:
*low pile velboa fur that is red with black leopard spots on inside of ear (glitter free)
*black fluff in inner ear
*black, soft, long pile fur on back of ear
*black gimp braid trim on edge of ear

All my ears are made with a felt base and are specifically sewn for a tight seam and designed so that they are three dimensional and really look like cat ears. These ears come on hair clips that are medium size so they have plenty of grip and won't budge out of your hair...even when you wear it down! This is due to its dual purpose headband that is designed to loop through the bottom of the ear. This insures it stays flush with your head, is even, and ensures your ears don't go flying off. The headband is a thin wire band so it's very, very difficult to actually see it in your hair when worn. Your headband is included with purchase. (Please kitties,…store your ears ON the headband so you don't lose it when not wearing) All clips are hand sewn on the back tips so the ears don't move forward from weight anymore after long wear. These will now stay put and flush with your head from the front to the back.

Are you looking for unique kitty ears? Tired of ears falling down all the time? Do you want something that makes other kitties jealous? Well, we have no shortage of style here. We've been making kitty ears for several years and each set is lovingly handmade with excruciating detail. (Don't worry…we love any excuse to play with glittering and shining things!) We believe in creating the most glamorous of kitty ears on the market and the most well designed and functional ears for even the most troublesome of kittens. So what are you waiting for?! Grab one before someone else does! Hurry before it's gone! Easy to clip in and out but secure when in. My ears and products are all made in a loving, smoke free home.

Measurement: All ears are approximately 2 1/2"W X 3"H

=o.o= =o.o= =o.o= =o.o= =o.o= =o.o= =o.o= =o.o= =o.o= =o.o=

**PLEASE NOTE the insider IS glittered, however we do a very good job of sealing the glitter so it does not shed but please don't be too shocked if you get a sparkle or two left behind the first few wears. Eventually that will go away.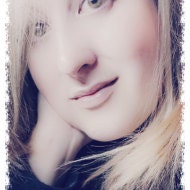 Princess Kitten
Black and Red Gothic Fur Leopard Cat Ears
---