Northwest Glass Company briefly produced 'clea'r and 'beer bottle' colored floats shortly after WW II and into the 1950's. The floats generally measure 4" to 6" Diameter, occasionally 7" - 8" - and they also made a very limited number of 3-1/2" Diameter floats. The look of the floats is unique and described below***, if you aren't already familiar with them. They are a favorite and not plentiful. Seldom would we find one with a net with close weave and still preserved, as the one seen on this larger, clear NWG float.
Named 'Clear Honeycomb' in honor of the clear glass and honeycomb effect of the net, this float measures between 6-1/4" to 6-1/2" diameter (the glass by itself) or 20-1/4" in circumference with or including the width of the net.
The net is an original, authentic weave in 100% cotton. The thicker rope, tying in or cinching the entire top is hemp, as seen in photo #4. The net shows overall natural wear from likely decades at sea, however remains intact and in quite good condition. It is always fortunate to come across a net worthy of museum display that is still intact. Most have fallen off long ago or show areas with holes or breaks in the net.
'Clear Honeycomb' weighs a good two pounds. The glass is quite thick and heavy, a sturdy built molded piece. The clear glass body of the float is not entirely clean (go figure). This float remains in as found condition, fortunately packed safely for decades. My preference, if I were to display the float , would be to carefully clean between each section of the net with a damp, soft cotton cloth and probably go through a box of Q-tips to fine clean near the tines. (Put on your favorite music, this may take a while)!
My guess is the glass shows some 'frosting' or very light sand-blasting randomly between the net sections. It is difficult to tell how much can be cleaned off and how much is there to stay - as natural 'frosting' to the glass - which would have occurred over decades of exposure to the elements, specifically wind, sand, and water - mother nature's 'paint brush'.
If, however you are displaying it in a rec room, near a heart, patio, deck, you may find it is fine as is - a matter of personal preference. It may even be possible (though I mention it hesitantly) to untie that hemp rope on top - only because it cinches up the cotton net - loosen it carefully to see if will allow the net to slide off the float without dis-assembling it it any way - then wash the float, dry and slip it back into the net. It appears a lot of what I see on the glass is plain old dust and there is some light frosting or buffing here and there.
***The Northwest Glass Company fishing floats have a unique looking 'signature' stick-up seal button attached to a 'neck' raised up from the glass. The seals were therefore quite vulnerable to damage. Many I've seen are chipped, some badly, others mildly. These floats are, for some reason, and people who collect know – somewhat difficult to find. There aren't a lot around! But they are unique and you don't have to go to Europe and pay a fortune for a very different type of non-Japanese float with an unmistakable look. You can view the seal button on Clear Honeycomb in photo #4. In MINT CONDITION is the 'neck' and surround edges to this very vulnerable glass seal - sturdy as can be - and beautifully crafted!
***The base on the NW Glass floats is also very interesting and signature. These are a 2-piece molded float. (See the base in photo #2). The base is a flat round plate with nicely beveled edges. A bit like a mirror. There is a nicely textured pattern on the outer edge of the surround to the beveled edge of the plate base. About 1/4" up from the beveled edge is an embossed line extending around the circumference of the base of these floats, giving them a nicely tailored, finished sort of look. A very neat, clean look to the molded craftsmanship. There are no marks on the float. It is in wonderful vintage condition!
The little guy float appearing in the photos is a 2-1/2" to 2-5/8" diameter float with a perfectly clear strike mark called "se" (katakana alphabet) and referred to in the West as 'Otaru T'. The mark dates from the 1920's and was used through WW II. An excellent artifact. (Thanks, W. Pich.) The float may be seen in the following link, if interested. It was provided for size comparison with Clear Honeycomb at 6-1/4 to 6-1/2" diameter. Here's the 'Otaru T':
(ooop! Soon coming.....)
Since we've been discussing a Northwest Glass Company float, you may wish to see another listing for a mint condition, antique 'brand new' never used, authentic vintage NW Glass Co in the scarce 3-1/2" size. Many of us wish that NW Glass Co had continued their splendid design and fine work!
https://www.etsy.com/listing/98826582/vintage-fishing-float-glass-collectible
Thank you for helping to care for vintage fishing floats which are rapidly being replaced with plastic or synthetic floats.
I value your time and energy. Thank you for your interest in lightinawormhole. Whether you purchase or not, Best Wishes!
**********************************************************************************
SHIPPING: DUE TO HIKES IN SHIPPING COSTS I OFFER PARCEL POST FOR HEAVIER, LARGER ITEMS. DUE TO THE DIMENSIONS OF A PARCEL SUFFICIENTLY PACKED TO PROTECT THE GLASS AND WEIGHT OF THE FLOAT, THE COST IS $18.00. THIS INCLUDES YOUR TRACKING NUMBER AND INSURANCE. OF COURSE I WILL WRAP WITH ABSOLUTE CARE. THE FLOAT WILL BE DOUBLE BOXED WITH EXTRA INSULATION. *** PLEASE ALLOW 3 DAYS ON MY SIDE TO GET IT OUT AND 3 TO 8 DAYS FOR THE CARRIER. MY GUESS IS YOU WILL HAVE IT IN A WEEK TO TEN DAYS. PARCEL POST IS A BIT SLOWER, BUT LESS COSTLY. *** HOWEVER IF YOU REQUIRE THE ITEM QUICKER, PLEASE NOTE THIS. I WILL DO MY BEST TO GET IT OUT NEXT DAY! ***
THANKS AGAIN FOR YOUR TIME AND INTEREST. HOPE YOU RE-VISIT lightinawormhole.
Learn more about the shop and process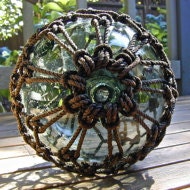 lightinawormhole by Robi
Glass Fishing Float, 6 Inch Plus Collectible, Clear Honeycomb NWG - Home Decor, Nautical, Beach Decor, Ocean, Sea, Cottage, Garden Decor
Overview
Vintage item from the 1950s
Materials:

glass, cotton, hemp

Only ships within

United States

.
Feedback: 836 reviews
Favorited by: 15 people
Listed on Jun 3, 2012
175 views