Painted in the late 1980's by Vancouver artist Wilson Chu. He named this piece "Seaside Patio" This painting and several others by Mr. Chu recently became available from a collector of his work. His paintings have recently been offered at auction, and the results can be found on the internet for a reference.

Wilson Chu was born in China in 1946. He studied in the Guangzhou Academy of Arts and apprenticed with Wong Shaw Ming, a well known artist and teacher. In 1977 he and his family emigrated to Vancouver. Wilson has earned a fine reputation as a painter of various subjects, especially his exquisite garden settings. His depictions of flowers and landscapes are infused with a rich textural quality of light that few painters are able to achieve.

Oil on Canvas measures 28" x 22"" . Overall with Frame measures 36" x 30"

Shipping rate reflects a very heavy professional pack with insurance. I am more than happy to remove the frame for less expensive shipping if so desired.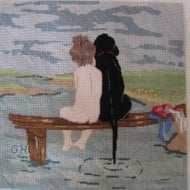 Beverly Britton
Original Oil Painting by Wilson Chu Seaside Patio Garden Setting 22 x 28" Flowers Ocean
Listed on Oct 26, 2015
536 views