Etsy sellers now have the ability to create, edit, upload and share engaging videos about their shops right from their mobile devices.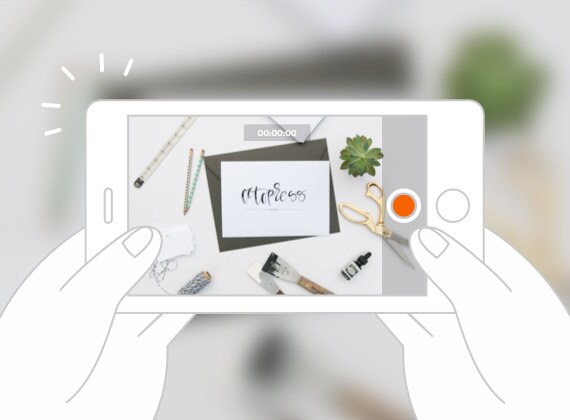 There are over 1.5 million sellers on Etsy* and each of them has a story. Helping these sellers share those stories and connect with Etsy shoppers is one of the most important things we can do - we've even heard from buyers that they're more likely to purchase an item when they know something about a shop and the people behind it. Etsy sellers have already been using their About pages to share pictures and background information about themselves.
Today we're launching Shop Videos, a new way for sellers to connect with buyers and showcase their creativity by sharing the story and process behind their shops and the items they create. Using the Sell on Etsy app, sellers can upload videos created right on their smartphones and share them directly on social media. Sellers who already have video content about their shops can also upload that from their desktop or mobile device. Making the process as simple as possible was very important to us. We know that most of our sellers don't have access to professional recording equipment and a film crew, and we want everyone to be able to share their stories. With screen real estate smaller on mobile devices and the ability to personalize more challenging, video provides an opportunity to share a lot of information in a limited space.
We've seen our buyers make a big shift towards using mobile devices for shopping on Etsy with 60% of our traffic now coming from mobile*. Shop Videos enables Etsy sellers to better connect with those buyers on their mobile devices and share their stories in a highly visual, personal way. For iOS users of the Sell on Etsy app, we have also built a video editing tool that guides users through the process of making a short video from start to finish. Through this tool, sellers are able to film segments of video from their smartphones, add transitions and background music, and have the whole thing stitched together into a complete narrative.
The five music tracks available in the tool were even written and performed by some of our very own talented Etsy employees.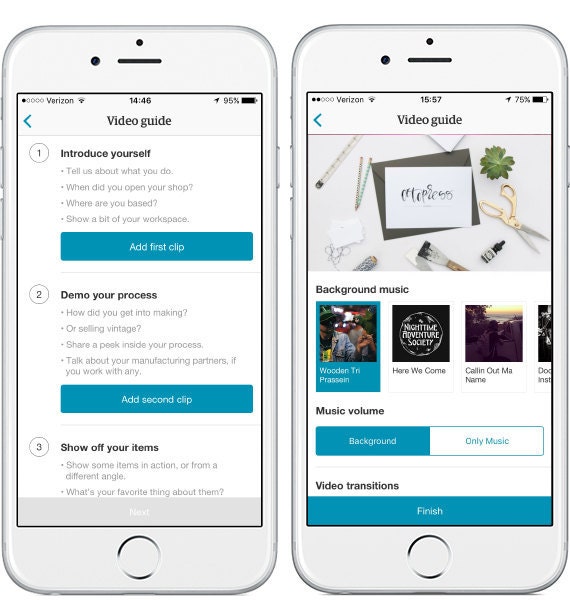 Uploaded videos can be stored and seamlessly viewed by buyers anywhere in the world, on any platform, whether it's on the Etsy app or through the web. In addition to the editing tool, we've also created resources to walk through what goes into creating a great video. We've already seen some incredible videos created during our initial prototype phase, like Hannah Stevenson's from shop Lily&Thistle, who used Shop Videos to tell the story of how she began creating the personalized paper dolls sold in her shop while her young children went down for naps. We look forward to seeing the creative ways Etsy sellers continue to share their stories with Shop Videos!
*As of September 30, 2015