We're announcing our most ambitious efforts yet to support creative entrepreneurs, including a brand new market for craft supplies: Etsy Studio.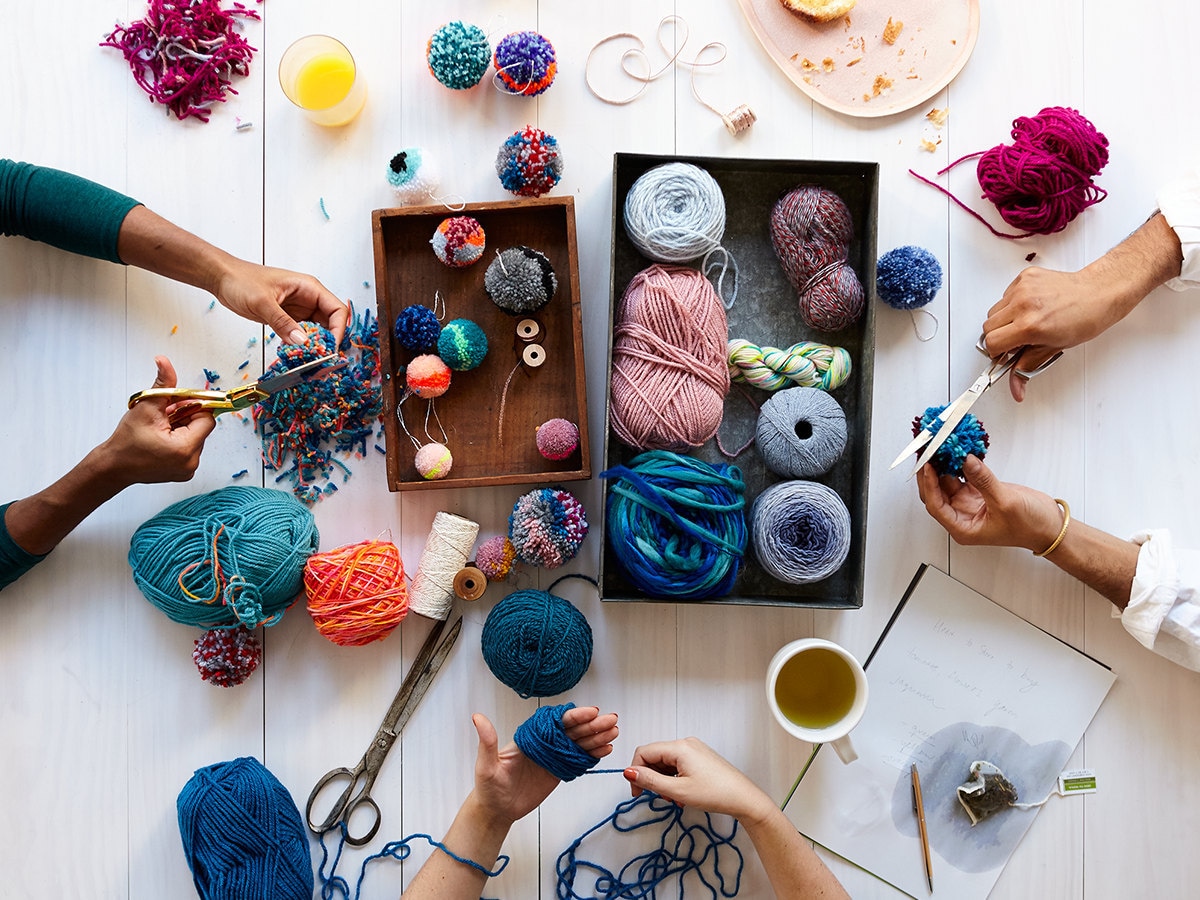 Today is a transformative day for Etsy. We're making a series of announcements that collectively represent our most ambitious efforts yet to support creative entrepreneurs. As a company, we often talk about our mission of re-imagining commerce. To me, that means enabling a new economy: the Etsy Economy. This economy is powered by the independent spirit and passion of millions of creative entrepreneurs. The Etsy Economy is real, it's everywhere, and it's growing fast. Today, there are active Etsy sellers in 99% of the counties in the US and almost every country in the world.  As the nature of work changes and more people make a living outside of a traditional 9-5 job, Etsy is offering individuals a new option: the freedom to make a living that's built around human connection and creativity. Our 1.7 million sellers are able to create jobs and incomes for themselves and build value in their communities, connecting with 27 million buyers all through the Etsy platform.* We are uniquely focused on our sellers here at Etsy. The work we do centers on supporting them, and our seller-aligned business model means that we succeed when they succeed. We build
tools
and
services
to help sellers start, manage and scale their businesses. We
advocate
on our sellers' behalf on issues like net neutrality and portable benefits. We
launch
marketing campaigns to bring our sellers new customers. And today we're excited to announce we've built a whole new market.
Etsy Studio
Etsy Studio
, the first new market we've built from the ground up since Etsy.com debuted in 2005, will be a global market dedicated to craft supplies that seamlessly combines inspiration and shopping in one place. When it launches this spring, visitors will be able to shop original DIY projects and tutorials alongside all of the supplies they need to bring those creative projects to life. Craft supplies have long been a part of Etsy.com, and through conversations with our buyers and sellers, we've learned a lot about the unique challenges of selling and shopping for items within this category. We've applied their feedback to Etsy Studio to make it a delightful experience for both buyers and sellers. We've developed a whole new set of tools for categorizing and describing items and combined those with a new shopping experience tailored specifically to the needs of DIY shoppers. The craft supply market is enormous: approximately $44 billion in the US alone.** When we began exploring this area, we discovered that something very important was missing: joy. For a category that's meant to bring people so much happiness and connection, we think we can do a lot better.   Etsy Studio champions the joy of making. It's built on our belief that the spark of creativity and the desire to make exists in all of us; it just needs the right push. With 11 years of experience leveraging tech innovation to connect creative entrepreneurs with customers, we think we're uniquely qualified to make that push.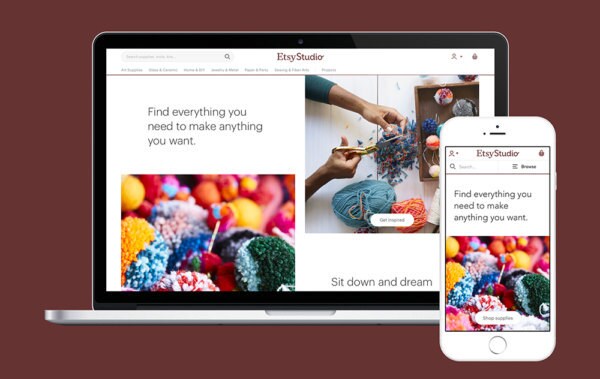 A Centralized Hub For Sellers
One of our goals is to support our sellers wherever they choose to sell. From our recently announced Google Shopping ads solution to our custom website builder, Pattern, we are dedicated to helping our sellers manage their businesses so they can spend more time creating. Today we're taking a major step forward, making our seller tools and services easier to access and use. Our new Shop Manager is a centralized hub for creative entrepreneurs to run their businesses, bringing the tools they depend on and all of their Etsy, Inc. sales channels like Pattern and the new Etsy Studio into one place. A new dashboard allows sellers to quickly see a snapshot of all the information they need - conversations from buyers that need to be responded to, orders that need to be fulfilled, as well as shop stats and finances. A new shop advisor tool will also notify sellers if something needs urgent attention, and a new navigation allows sellers to easily switch from task to task. In the coming months we will also be adding a new order management and shop stats experience to Shop Manager. [caption id="attachment_8817520" align="aligncenter" width="600"]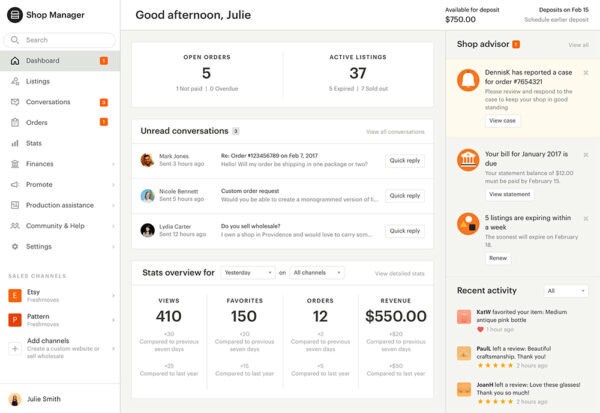 |#|[/caption]
Improved Inventory Management
Sellers have told us that managing inventory can be time-consuming and difficult, especially for those with a wide variety of products. Starting today we are rolling out brand new inventory management tools to make this process easier for our sellers. Now sellers can add a quantity, price and SKU on each listing variation they offer, enabling them to keep track of inventory and give their customers a better view of everything the shop has for sale.
Clearer Policies and More Transparency
Integrity and transparency are core to Etsy, and we are constantly working to ensure both. Sellers with handmade items will now be able to share information about their production process and partners they may work with, right within the listing process. We're also clarifying our
Handmade Policy
so that sellers and buyers around the world can more easily understand what is and is not considered handmade. We aren't changing the substance of our Handmade Policy, only making it easier to understand. Items that were previously not allowed are still not allowed on Etsy.
An Improved Shopping Experience
Finally, we're continuing to make the shopping experience on Etsy.com best in class. To enhance search on Etsy.com, we're adding structured data to our listings. This will enable sellers to provide category-specific attributes like color, size and material, and soon, for buyers to search with filters. We also recently introduced multi-shop checkout, which allows buyers to add items from multiple shops to their cart and complete the purchase in a single transaction. And, in the coming months, we'll also be introducing a guest checkout option on Etsy.com to bring even more potential buyers to our sellers. To learn more about all of the enhancements outlined above, please visit 
etsy.com/seller-news
. *
Active buyers and sellers as of September 30, 2016
**
Source: The Association of Creative Industries' 2016 Creative Products Size of the Industry Study. This includes both offline and online sales of creative products in the US and notes that the vast majority of the craft supply buyers currently purchase items in physical stores rather than online, which we believe demonstrates the opportunity in the online market.
Stuff our lawyers make us say
This blog post includes forward-looking statements about our mission, business strategies and plans, business environment, craft supply market size, product capabilities and release timing, and future growth. We have high hopes, but there are risks and uncertainties (including uncertainties related to achieving our future results of operations and other uncertainties identified in our 2015 Annual Report on Form 10-K and our Quarterly Reports on Form 10-Q), and our actual results could be materially different. These statements reflect our beliefs and assumptions as of today's date. We don't have any obligation to update the statements in this blog post even if new information becomes available in the future.