Pattern by Etsy allows sellers to create custom ecommerce sites in minutes, while the new Shop Home brings sellers' brands front and center.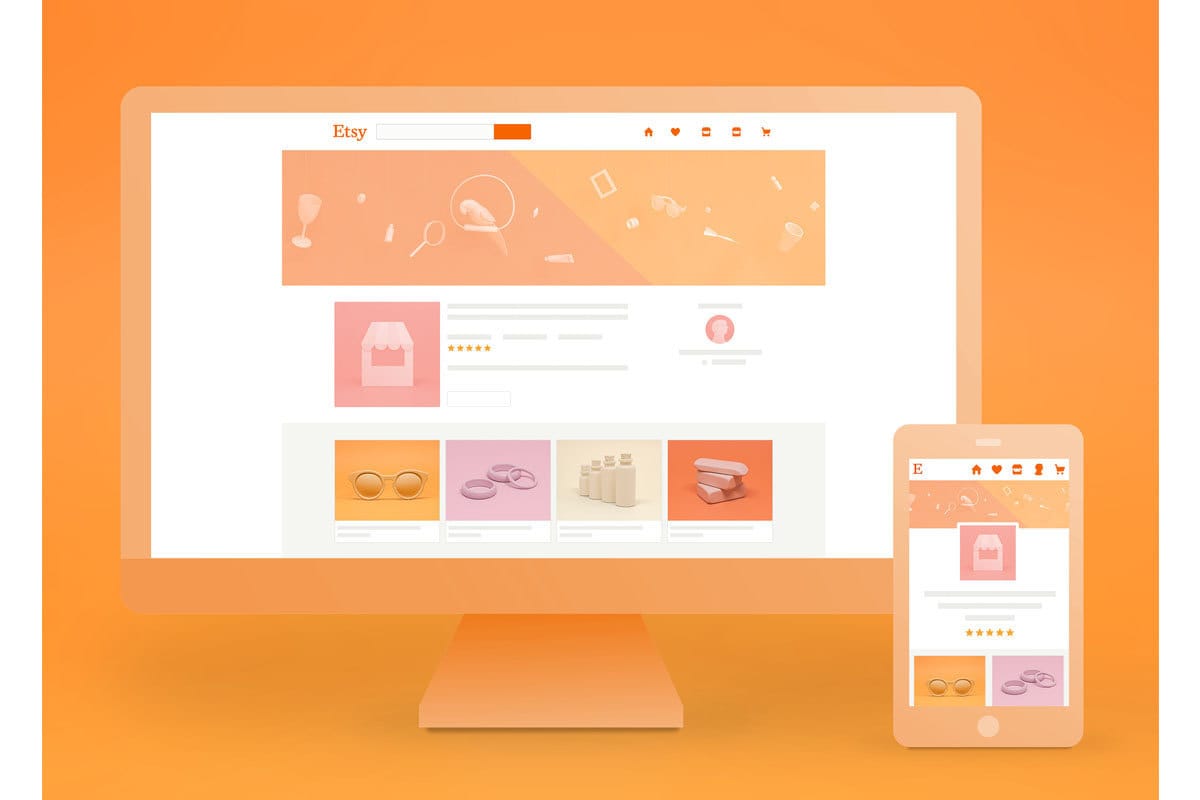 One of our product priorities for 2016 is giving our sellers more control over their creative brands. Today we're announcing two new ways for sellers to promote their brands, both on and off the Etsy marketplace.
Pattern by Etsy
is our new quick and easy way for sellers to create their own custom website on their own domain, powered by their Etsy shops and integrated with familiar tools. Simply put, Pattern will help our sellers take their creative businesses and brands to the next level quickly, easily and affordably. We know from our research that more than a third of Etsy sellers are interested in opening a commerce site of their own, but many have found the process to set up and maintain a custom site too difficult. From finding a domain and host, to setting up a site, to loading all of their content, to adding and managing inventory, the process is complex, time consuming and can be frustrating. And this is just to get started. Once it's up and running, sellers have to make sure their inventory stays synced across two or more disconnected sales channels, monitor their analytics, and attempt to optimize traffic and marketing costs.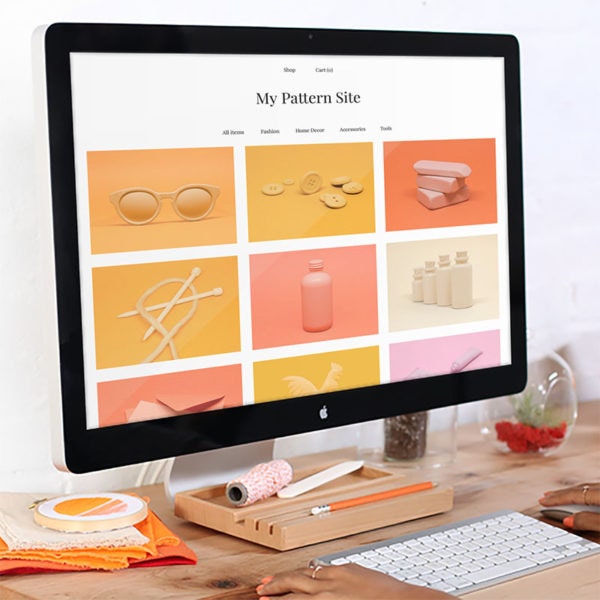 Pattern is fully integrated with a seller's Etsy shop and leverages all the work they have already put into it. It seamlessly imports all shop listings and content, syncs orders and inventory between sites, provides analytics integrated with Etsy shop stats, and uses the same tools for checkout and shipping Etsy sellers already use. The setup is quick and easy—for most shops, it will take only a few minutes—and offers five thoughtfully designed themes that sellers can choose from to personalize their sites. Sellers can choose from themes that highlight their listings or ones that more prominently feature their brand assets, and they can customize each with shop logos and brand colors. Sellers with Direct Checkout enabled can try Pattern for free with a 30-day trial, after which Pattern is only $15/month.
"Pattern by Etsy has a beautifully designed layout. It's clean, with an intuitive navigating system. I was able to set up an independent website for my natural knitwear brand in minutes," says Brandi Harper of Etsy shop Purlbknit. "As a small business owner, having your own website gives the the opportunity to highlight your brand. Patten allows you to do this without the hassle of learning code or hiring a web designer, so there's more time left to create products."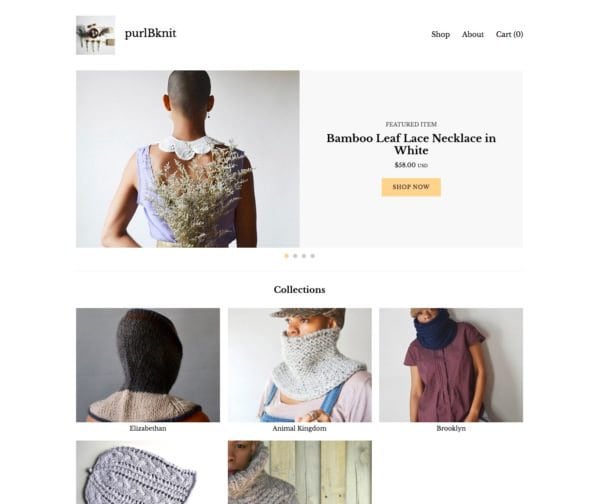 Nichole Robertson of Etsy shop The Paris Print Shop adds, "Since I joined the Etsy community in 2008, I've been reluctant to take the time to set up a branded site and endure the headaches of uploading content. Pattern allows me to quickly set up a branded site in minutes."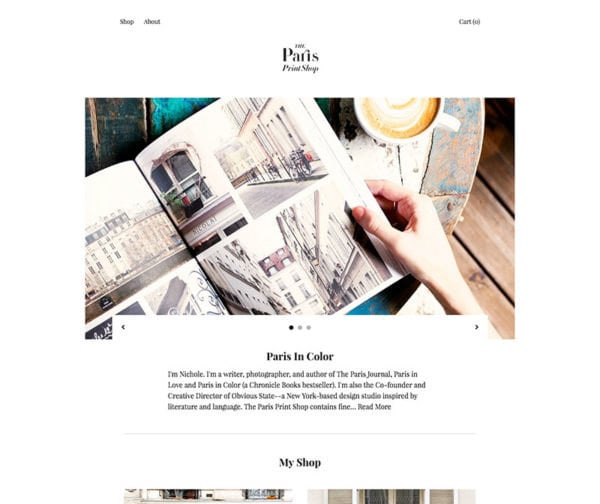 We believe Pattern will deliver a special shopping experience as well—a high-quality, modern and professional-looking ecommerce site with branding unique to that shop. Pattern sites feature responsive webpages so they look great at any size, on any device. And, with co-branded Etsy checkout, buyers will be reassured that their purchase is secure and trustworthy. In addition to Pattern, we're also bringing a new modern look and feel to Etsy with each shop's landing page, called Shop Home. We've redesigned shops on Etsy, making them more customizable, modern and mobile friendly. For the past three weeks, Etsy sellers have been updating their new Shop Homes behind the scenes. The new Shop Home gives sellers more creative control over the look and feel of their shops, allowing them to highlight their brands within the Etsy marketplace. The new design features a prominent cover photo for sellers to highlight their brands, the ability to easily rearrange listings in whatever order they want, and a new, simplified shop policies option with an easy-to-use template. Beginning today and rolling out to everyone over the coming week, when buyers go to Etsy, they'll find shops that are even easier to browse and that look consistent across laptop and mobile devices. With the new Shop Home, Etsy buyers can browse a shop's full inventory and learn about the shop's story all in one streamlined space.
"The new Shop Home design is fantastic. It gives us sellers a way to put our branding forward and to tell our story," says Alyssa Zukas of Etsy shop Two Strings Jane. "And for buyers, it's now quicker and easier to learn about a shop. All of the relevant information like shop updates, policies, and reviews is right at their fingertips."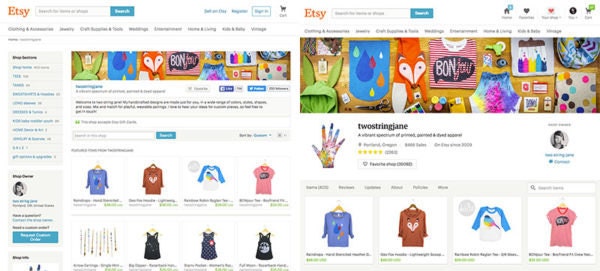 The new Shop Home and Pattern by Etsy together allow Etsy sellers to highlight their brands both on and off the Etsy marketplace and provide them with the tools they need to tell the unique stories of their creative businesses. Sellers have told us they need help marketing and branding their shops and we look forward to helping them showcase their businesses to buyers around the world, on their own websites and on Etsy!