A deep-dive into new ways shoppers will be celebrating Halloween this year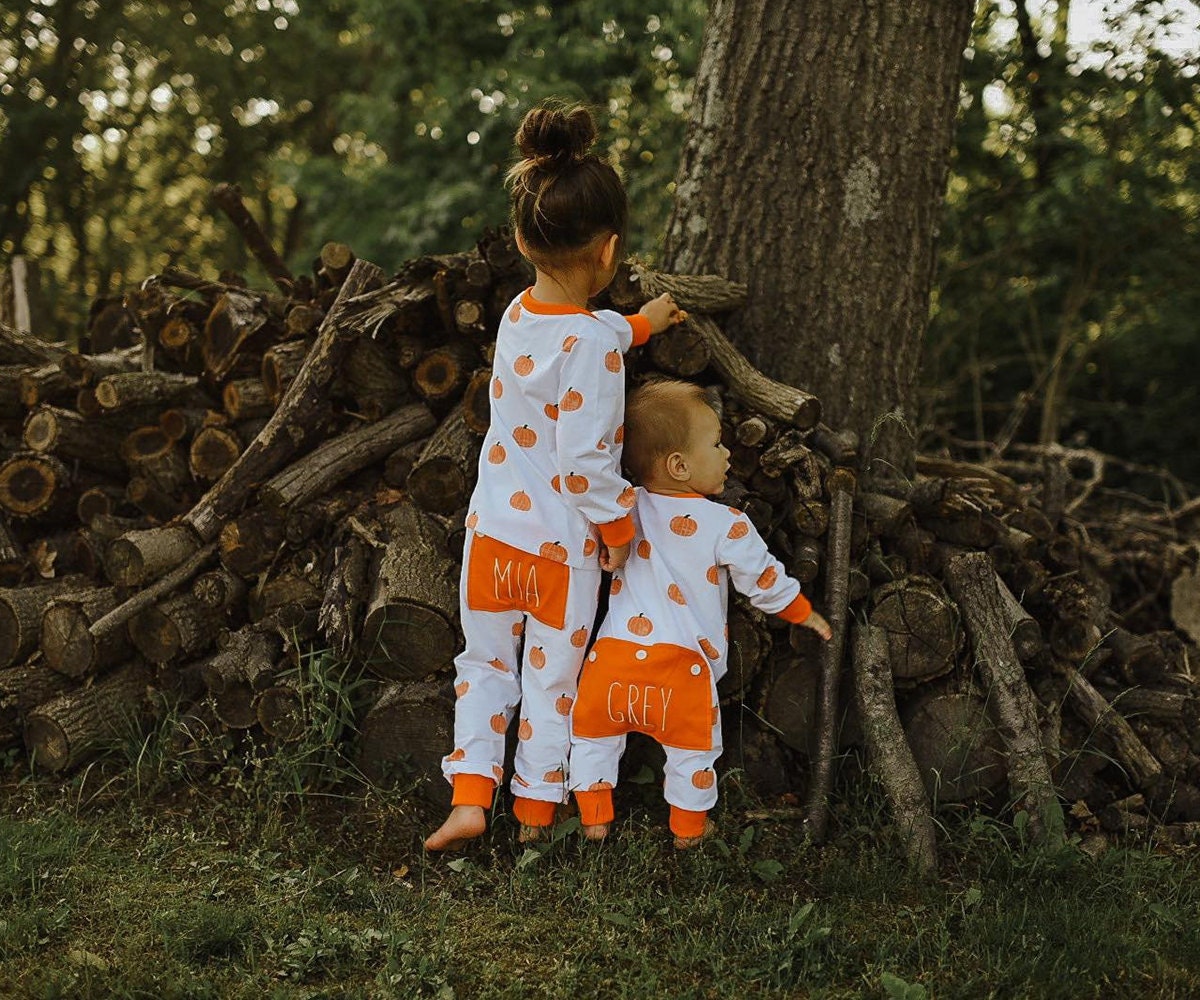 Image credit: shopbunnybear
With social distancing is still in full effect, kids and adults alike are looking for new ways to celebrate Halloween. And this year, Halloween (and holiday) shopping is starting even earlier – on Etsy, there has been a 27% increase in searches for Halloween items in the last three months*.  
Whether shoppers are decking out a front porch, incorporating face masks into costumes, or opting for trick-or-treat alternatives, this Halloween will be a time to showcase creativity more than ever before. While Halloween is going to look a little different, keep reading to see how Etsy can help shoppers add some sparkle to their celebrations.   
COSTUMES
Mask + costume combos
Face masks have become a household staple lately, and shoppers are looking for creative ways to seamlessly incorporate them into their costumes. On Etsy, we've seen a  172% boom in searches for Halloween face masks between July and August 2020. Those looking to hop on this trend can do so by simply pairing a matching mask with their costume or outfit – below are a few of our favorite combos to get the creative juices flowing.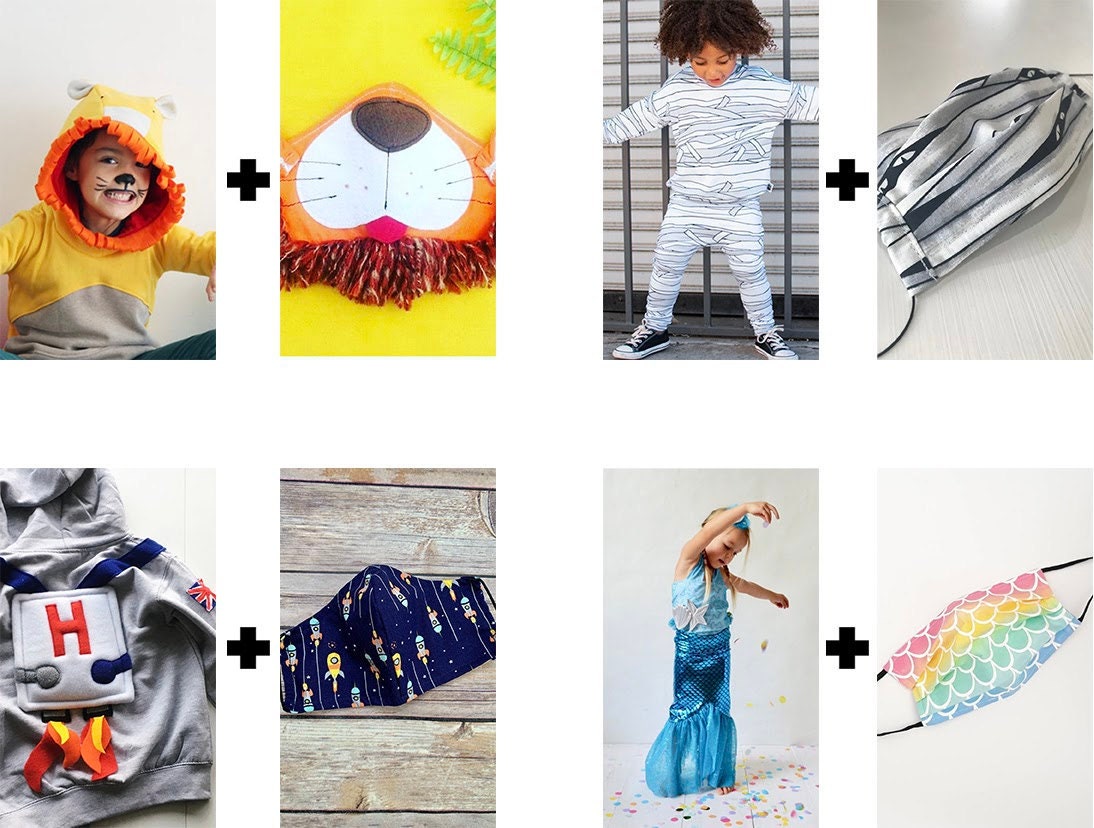 Halloween PJs 
Those choosing to stay indoors this Hallowen are looking to do so in comfort and style: we've seen a 206% spike in searches on Etsy for Halloween PJs in the last three months*. Costume-inspired sleepwear is perfect for an Instagram-worthy evening spent snacking on candy corn while watching a horror flick – and Etsy is brimming with options for both tiny critters and big, bad, wolves.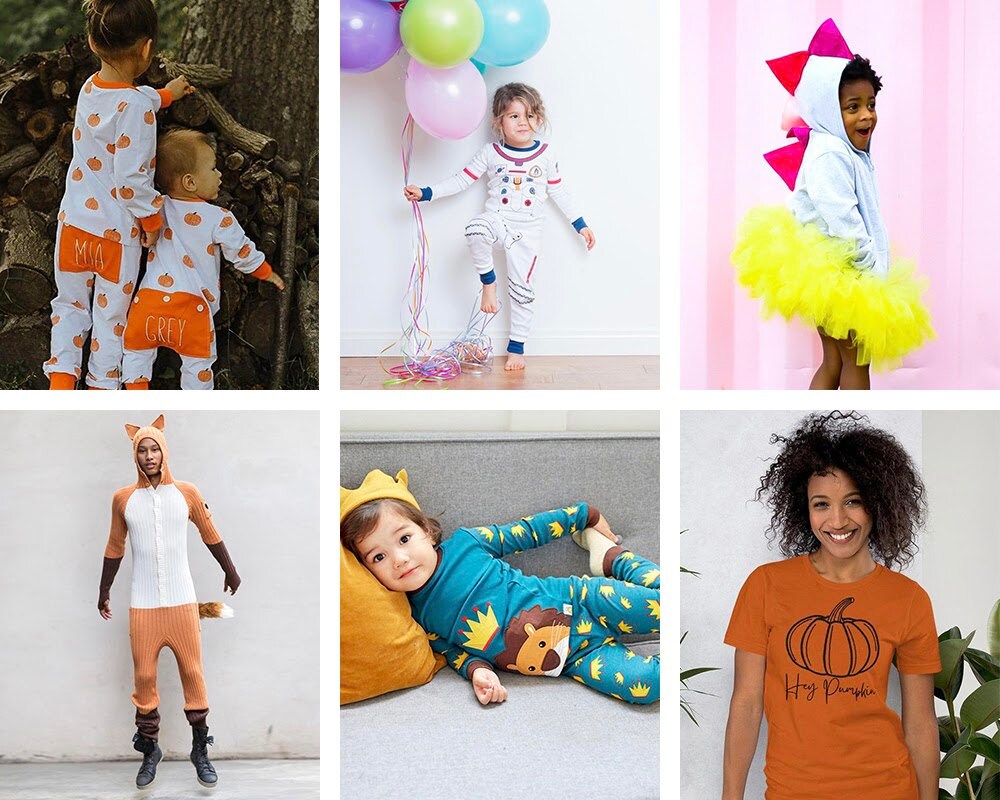 Top-dressing accents
Between classroom parties and office soirees, many Halloween shindigs are going virtual this year. And folks are dressing the part with ensembles and accessories that stand out on-screen. Think: haunting jewelry, festive hats and headbands, and attention-grabbing eye masks. In the last three months alone we've seen a 68% increase in searches for Halloween earrings, a 23% increase in searches for Halloween brooches, and a 7% increase in searches for Halloween necklaces or pendants on Etsy*.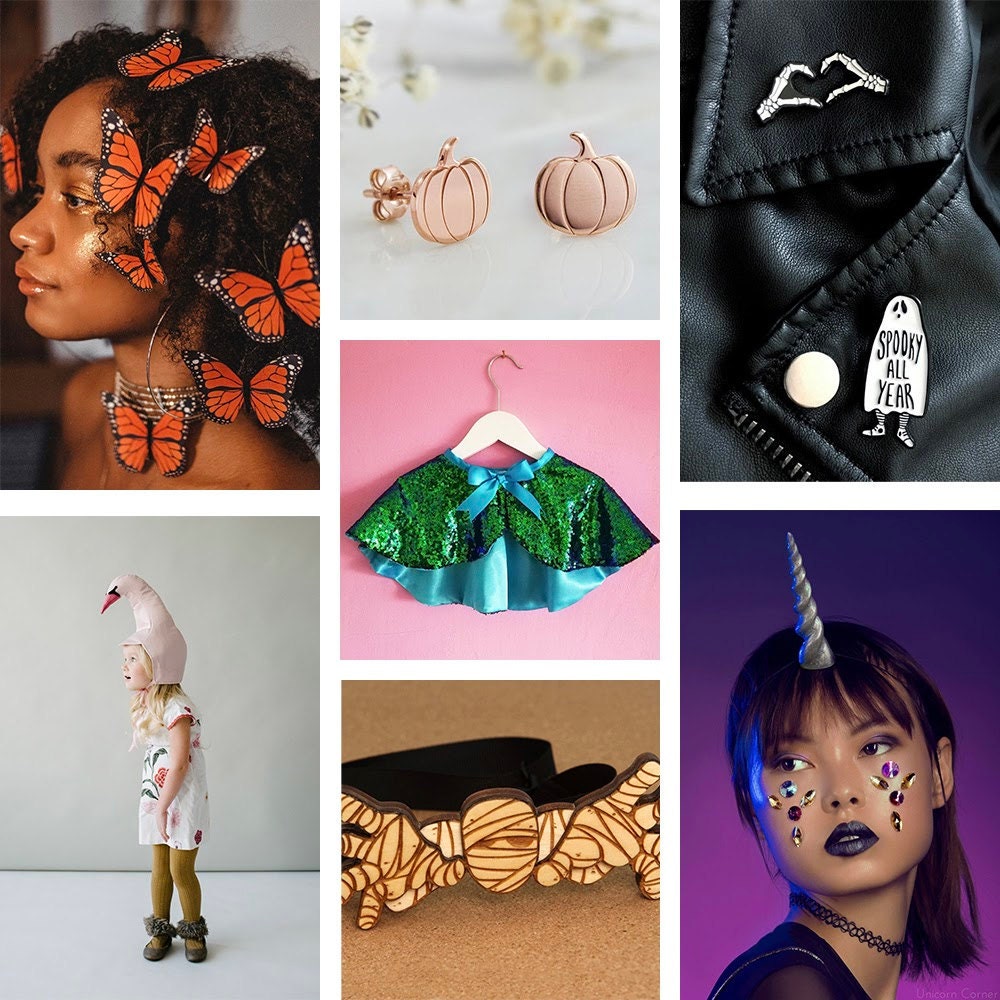 DECOR & ACTIVITIES
Trick-or-treating with a twist
Shoppers are rethinking traditional trick-or-treating, with new ideas emerging for this age-old Halloween activity. Many are setting up standalone treat stands and sanitation stations, while others are participating in distanced events (think: drive-by trick-or-treating or spooky sidewalks-turned-catwalks). We've seen a 51% increase in searches on Etsy for Halloween or trick-or-treat signs in the last three months,* telling us that trick-or-treating will remain a mainstay, but with a twist.
For a contactless option, we're predicting parents will organize drop-off treat bags so that kids can still enjoy their candy safely from home.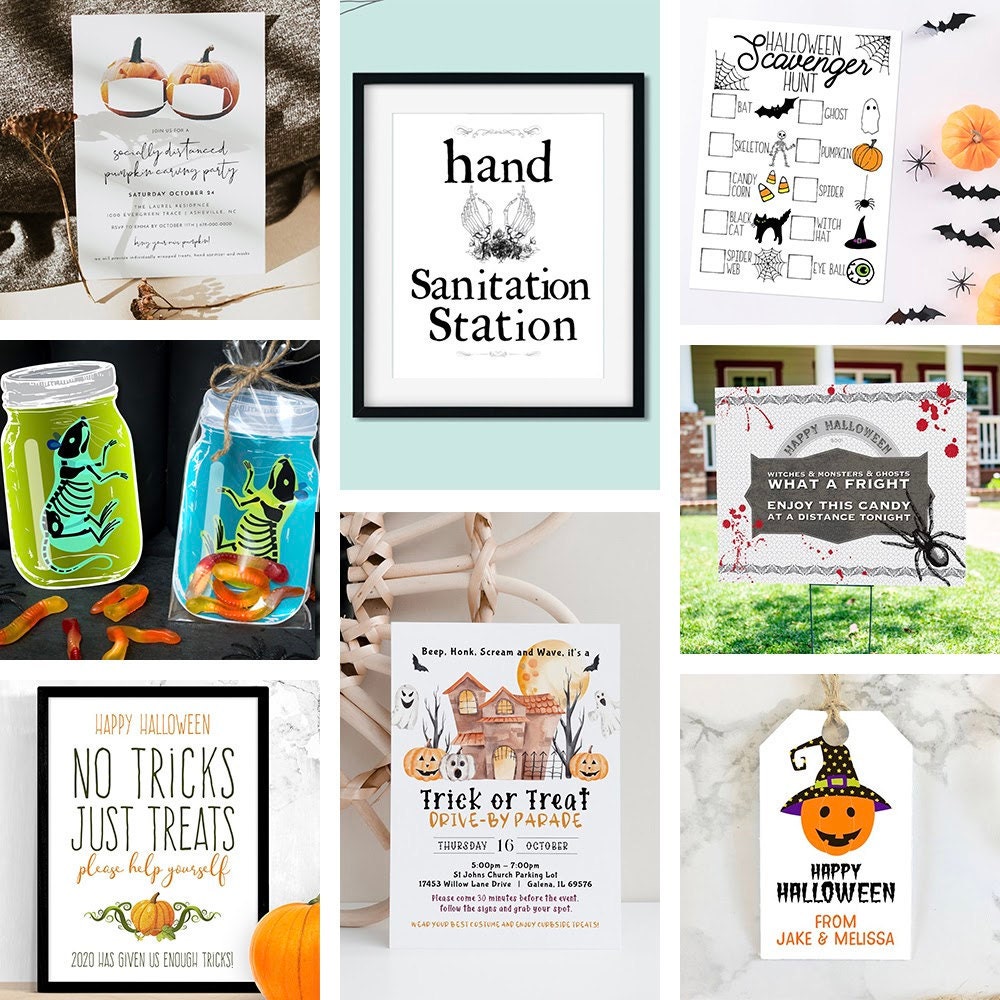 Above-and-beyond outdoor decor 
With many opting to stay indoors this Halloween, shoppers are putting more effort into their outdoor decor, from their front doors to their lawns. Many have already started planning their displays: on Etsy, we've seen a 33% bump in searches for outdoor Halloween decor – with a 57% increase in searches for Halloween doormats or welcome mats, an 18% increase in searches for personalized or custom pumpkin items, and a 17% increase in searches for Halloween wreaths all in the last three months*. 
We're also anticipating that people will get extra creative this year by DIY-ing much of their haunting scenery, as it's an entertaining way to celebrate with the neighborhood (from a safe distance).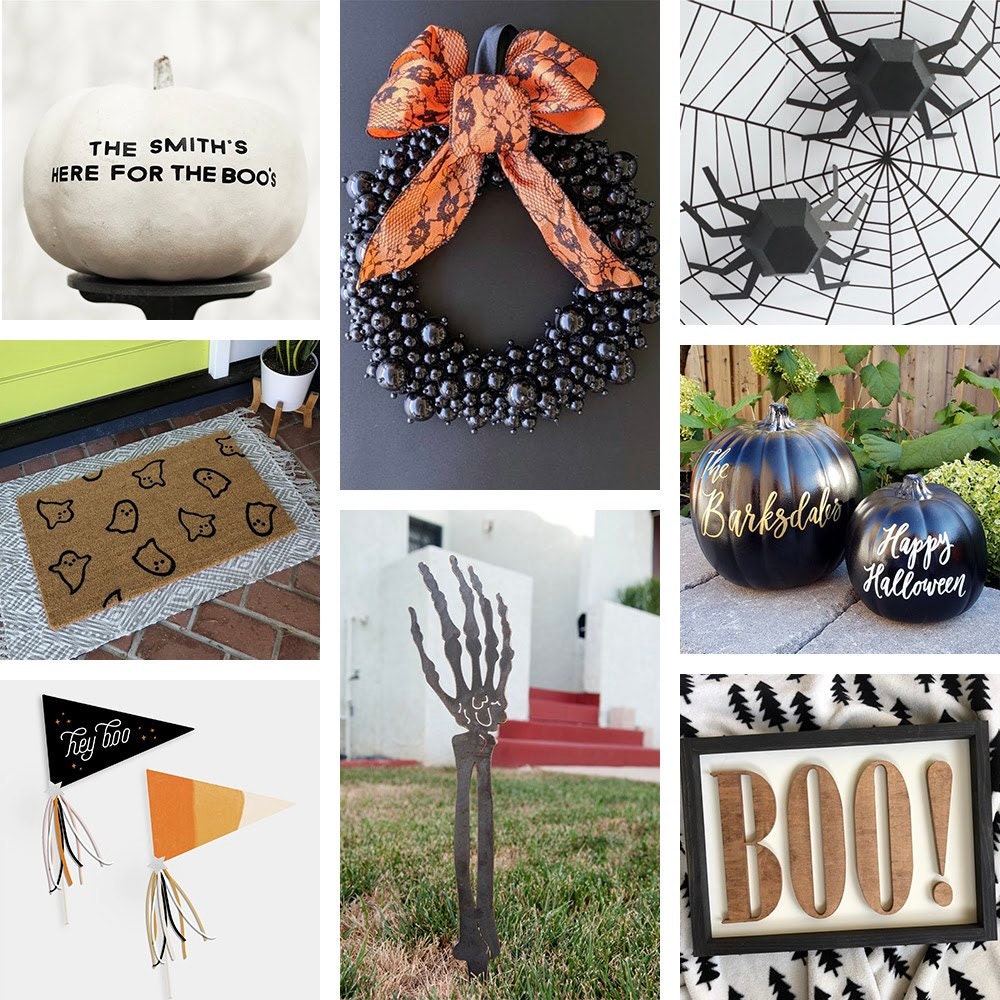 For more inspo, check out our Halloween Editors' Picks page. 
*Compared to the same time the previous year