It's not spring cleaning – it's a spring refresh.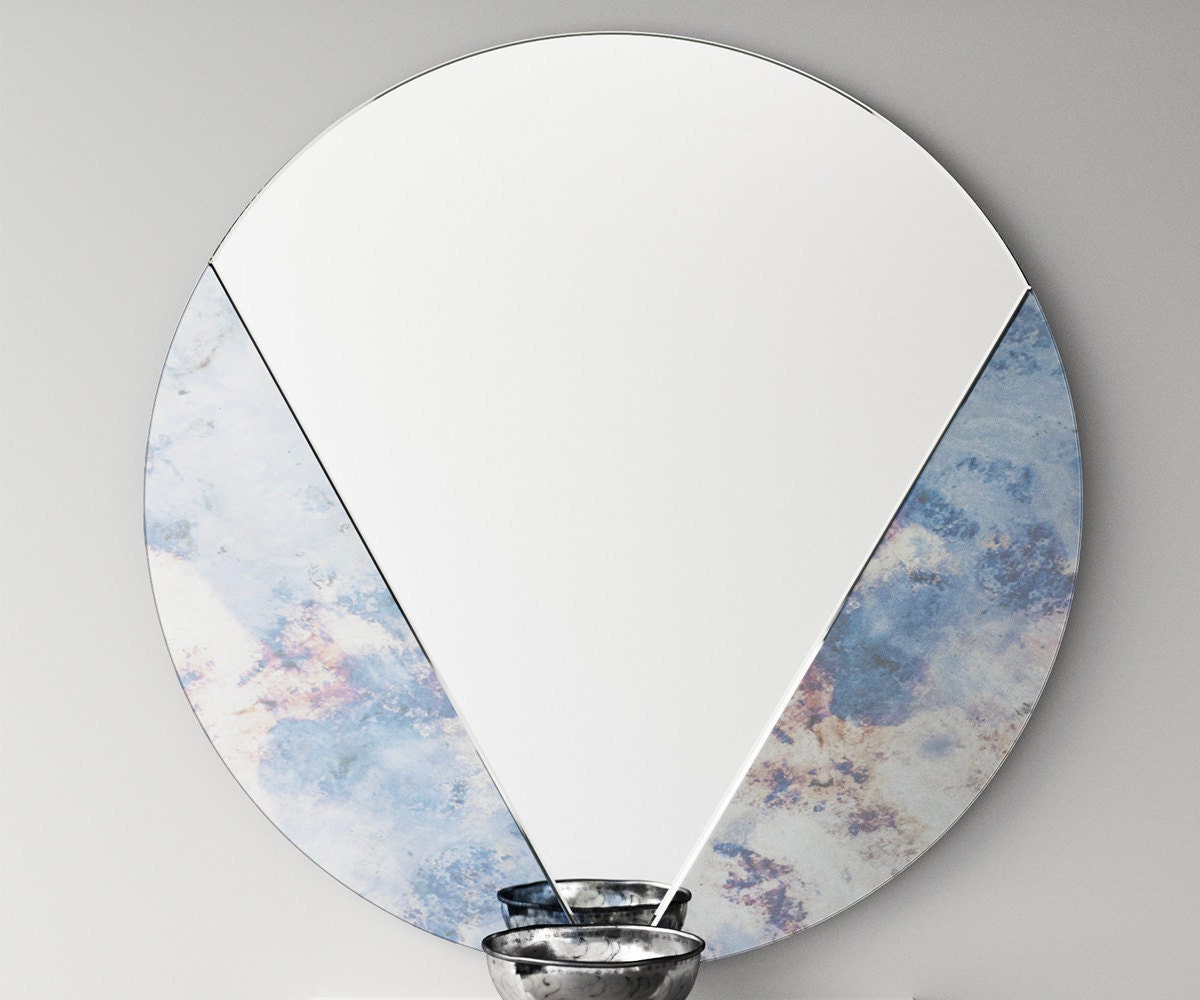 The
Etsy Trend Guides
are compilations of fresh trends our expert is noticing in Etsy search data and across the retail industry as a whole: what sellers are creating, what shoppers are loving, and what's hot right now in the wider market.  Follow along
here.
Spring is finally upon us, and now is the perfect time to refresh your space to prepare for the warmer days ahead. This season,
maximalism
is taking hold in the form of standout fixtures, bold patterns, and vibrant colors. Whether shoppers are looking to shake up their space or completely revamp their homes, here are the 2019 home decor trends according to Etsy.
Tie-dye revival
You may have noticed it trickling into fashion, but we're calling it right now: with 267K searches on Etsy over the past three months, "tie-dye" is the latest '70s trend making a comeback in home decor. The iconic pattern is showing up on everything from bedding to mirrors, but unlike the tie-dye of decades past, this new approach feels more sophisticated – 2019's tie-dye uses lighter hues and pastels for a more muted take on the print (we like to think of it as floral's fun and rebellious cousin). With over 1.7M searches for "'70s" on Etsy over the past year, it looks like the trend is here to stay.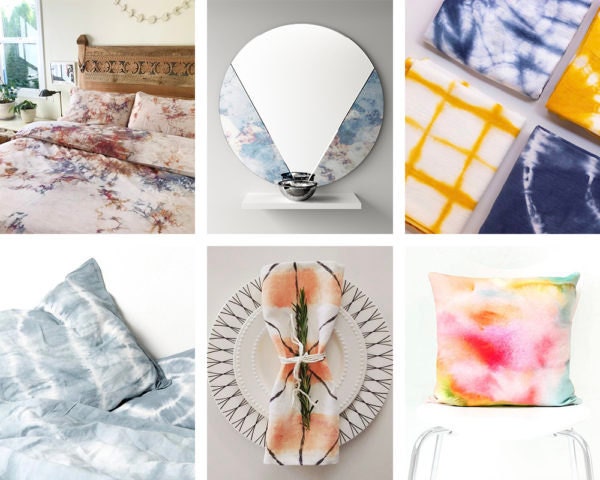 Deco designs
With over 2.4 million searches on Etsy for "art deco" in just the last three months, it's safe to say that the 19th-century style is back and better than ever. Mid-century modern designs are making way for a glam resurgence, and shoppers can get the look by adding in luxe textures (looking at you, velvet), geometric patterns, and pops of metallics into their homes.
Wallpaper, not on walls
Contrary to its name, wallpaper doesn't just belong on walls. This year, we're seeing this design staple being used in the most unexpected ways – we're talking adding pops of color or patterns to staircases, dressers, and cabinets. Over the past three months, we've seen an increase of 385% for "peel stick wallpaper" (compared to the same time period the year before), over 15,000 searches for "floor decals" and over 19,000 searches for "stair decals" on Etsy, showing us that there is peaking interest in this accessible DIY trend. And for bathrooms and kitchens, tile decals are also on the rise – there has been a 89% increase in searches on Etsy for "stick tiles" over the past three months (compared to the same time the previous year). Added bonus: opting for temporary wallpaper lets you switch up the color or pattern later down the road – no mess, no stress.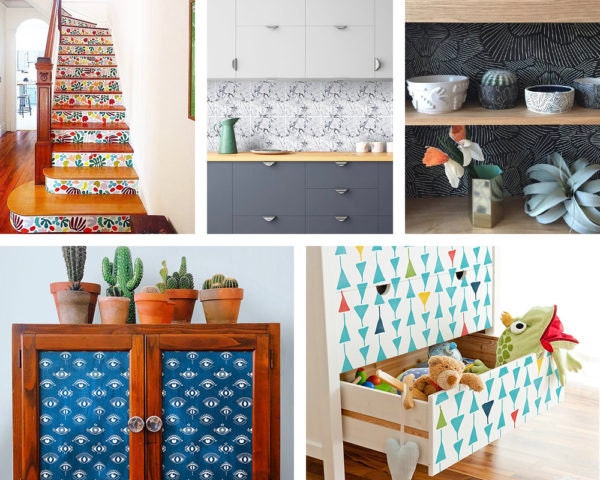 Cut-out shapes
Move over, terrazzo – cut-out shapes is the latest pattern making its way into our homes. In fact, there have been over 127,000 searches on Etsy for "abstract prints" over the past three months alone. This puzzle-like print incorporates both geometric and abstract elements, bringing the ultimate combination of maximalism and modernism to any space.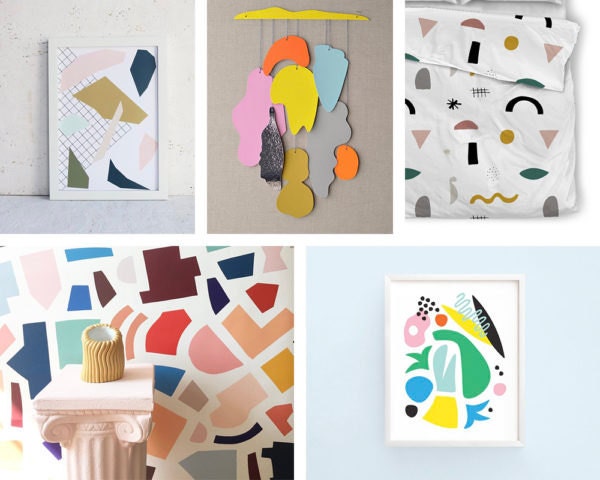 Animal kingdom
We dubbed 2019 the year of '
being real
', so while we still love unicorns and mermaids, mythical creatures are kindly stepping aside to make room for real-life animals. We first saw sloths gaining in popularity, but now everything from jungle cats to perched parrots are having a moment. On Etsy, there have been over 602K searches for "tiger", 337,000 searches for "flamingo", and 280,000 searches for "animal print" over the past three months alone. From spotted prints to full-on figures, the animal kingdom is taking over our living spaces in the forms of throw pillows, statement wall hangings, accented catch-me-alls, and more.  Don't be afraid to go wild, and pile on multiple patterns and motifs – this year, more is more!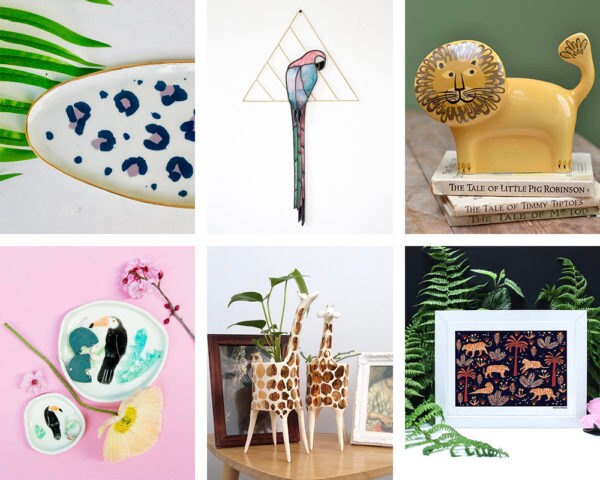 Desert decor
Southwestern style and burnt orange are two of the
hottest 2019 trends
(pun intended), so it only makes sense that desert-inspired decor has quickly followed suit. There have been over 1.4 million searches for "turquoise," 138K searches for "desert," and over 83K searches for "sunset" on Etsy in the last three months, as shoppers look to warm their spaces and bring a little bit of the drylands indoors. Earthy tones, natural fabrics, and turquoise are all must-haves to achieve this aesthetic.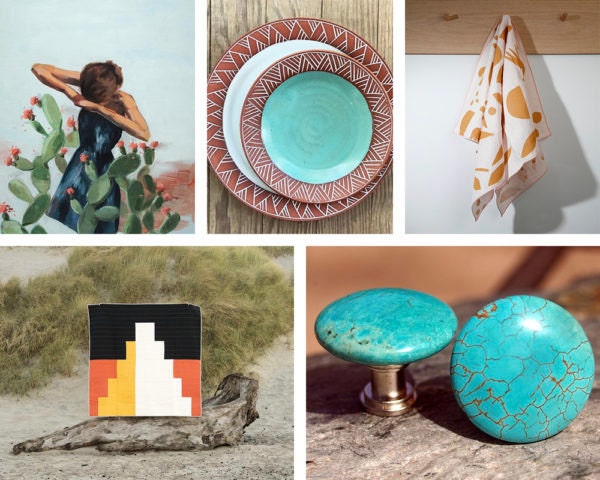 Desert Art Print
,
Pair of Custom Plates
,
Block Printed Linen Tea Towel
,
Bruges Quilt
,
Round Turquoise Cabinet Knobs
Crystal-inspired details
Self-care is top of mind in 2019, so it's no surprise that crystal-inspired decor is having a major moment. On Etsy, there have been over 63K searches for "crystals" specifically within the home and living category in the last three months. Etsy sellers are reimagining the trend by uniquely incorporating crystals into decor accessories, like dresser knobs and serving utensils. These eye-catching pieces turn your home into a wellness haven, and serve as a subtle reminder to slow down, take a deep breath, and focus on mindfulness.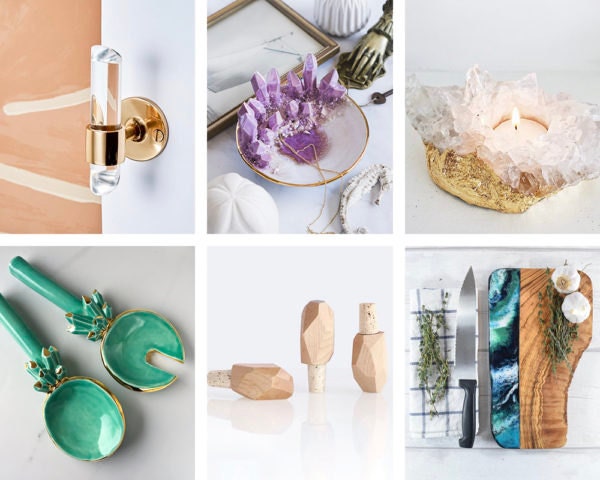 here
.