Meet this year's winners, handpicked by Drew Barrymore and Dayna Isom Johnson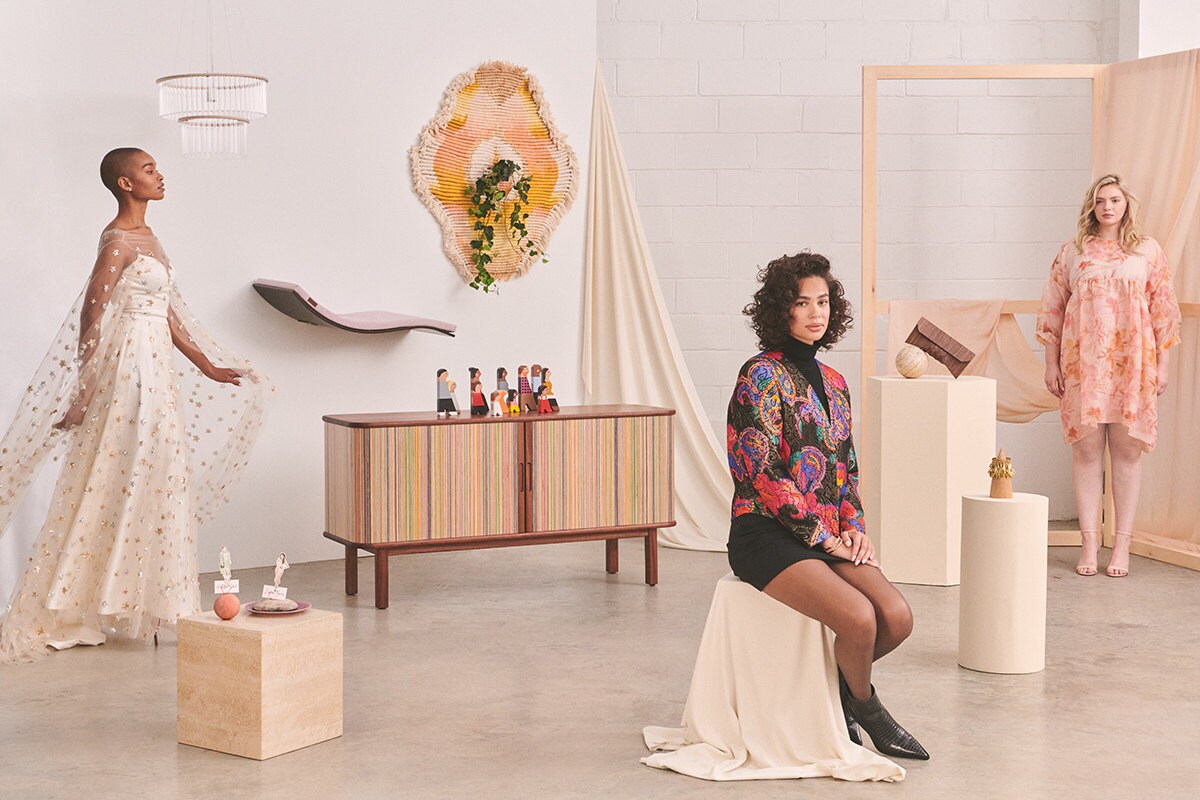 Image credit: Yudi Ela
When we launched the first edition of our global design competition, The Etsies, we were so blown away by the breadth and caliber of entries submitted. We knew we needed to raise the stakes for year two, with new categories, expanded prizes, and a megawatt celebrity judge – who's as passionate about supporting small businesses as we are.
Needless to say, our sellers rose to the challenge. From thousands of entries, Drew and I narrowed down to our 100 finalists across ten categories. From there we selected our category and Grand Prize winners. And this year, we left it to the Etsy community to help in our search by voting for our first-ever People's Choice Award winner.
Before we really dig in, I'm so excited to share with you the Grand Prize Winner for this year's competition. Drumroll, please!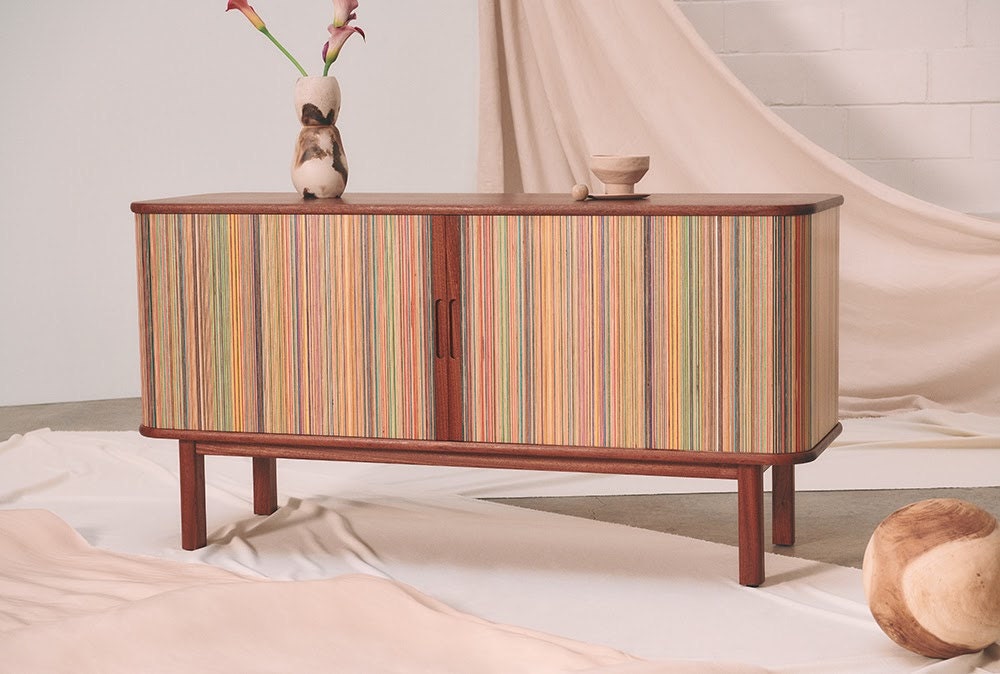 AdrianMartinus is taking home the $15,000 USD Grand Prize – and ultimate bragging rights – for their Stackton Credenza. As if its sleek and modern design wasn't impressive enough, the credenza is actually made from recycled skateboards that would have otherwise ended up in a landfill. "The Stackton Credenza is so beautiful and at first glance, one would never know that it is actually made out of recycled skateboards…how cool is that?!" says Drew. In fact the Canadian trio, made up of brothers Adrian and Martinus Pool, along with Adrian's partner Anne Tranholm, have combined their carpentry skills and passion for skateboarding to build an entire business based on bringing new life to broken skateboards through their unique, eco-friendly designs.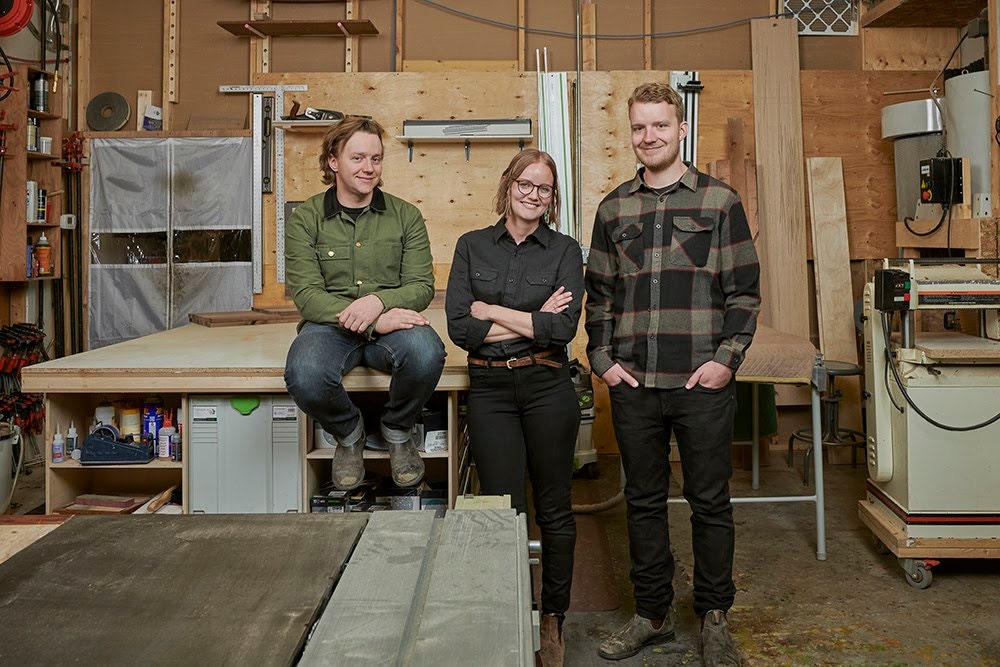 From expert craftsmanship and innovation to awe-inspiring creativity, all of this year's winning pieces are truly some of the highest quality, most unique items on Etsy. 
"Etsy does a wonderful job of shining a light on small businesses and creators who truly put so much effort into their designs. The Etsies is the ultimate way to highlight small businesses around the world and celebrate that special touch they all put into bringing joy to their customers," says Drew, my fellow judge in this year's competition.
So without further ado, I present the 2020 Etsy Design Awards winners!
People's Choice Award Winner: $5,000 USD Prize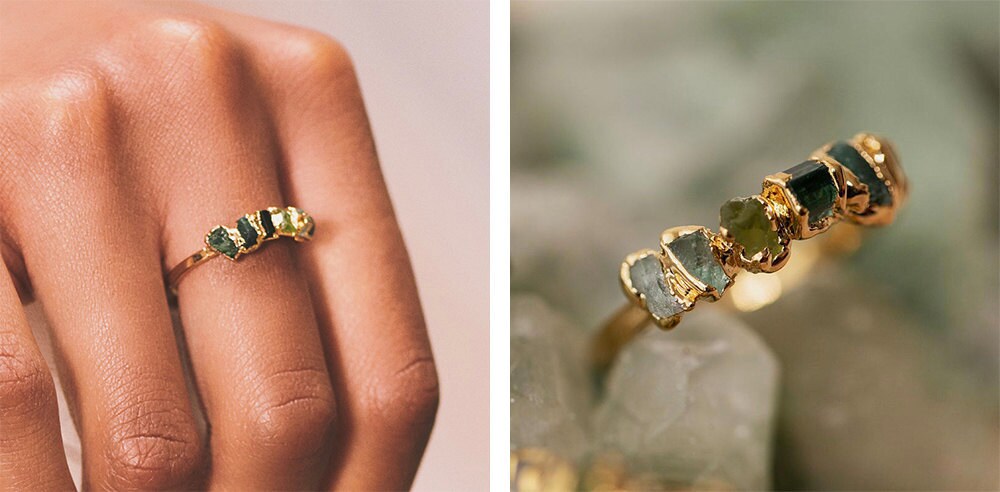 Ombre Gemstone Ring by Dani Barbe
Colorado-based seller Dani Barbe was awarded the competition's first-ever People's Choice Award – a $5,000 prize given to the finalist who received the most new favorites during the voting period. Dani's gemstone ring caught the eyes of the majority of voters this year, combining a stunning array of green gemstones arranged in a gorgeous ombre pattern. The designer describes her unique line of refined crystal jewelry as "delicate but deviant," melding raw gemstones with metal to create timeless pieces with a modern bohemian aesthetic.
Category Winners: $1,000 USD Prize Per Winner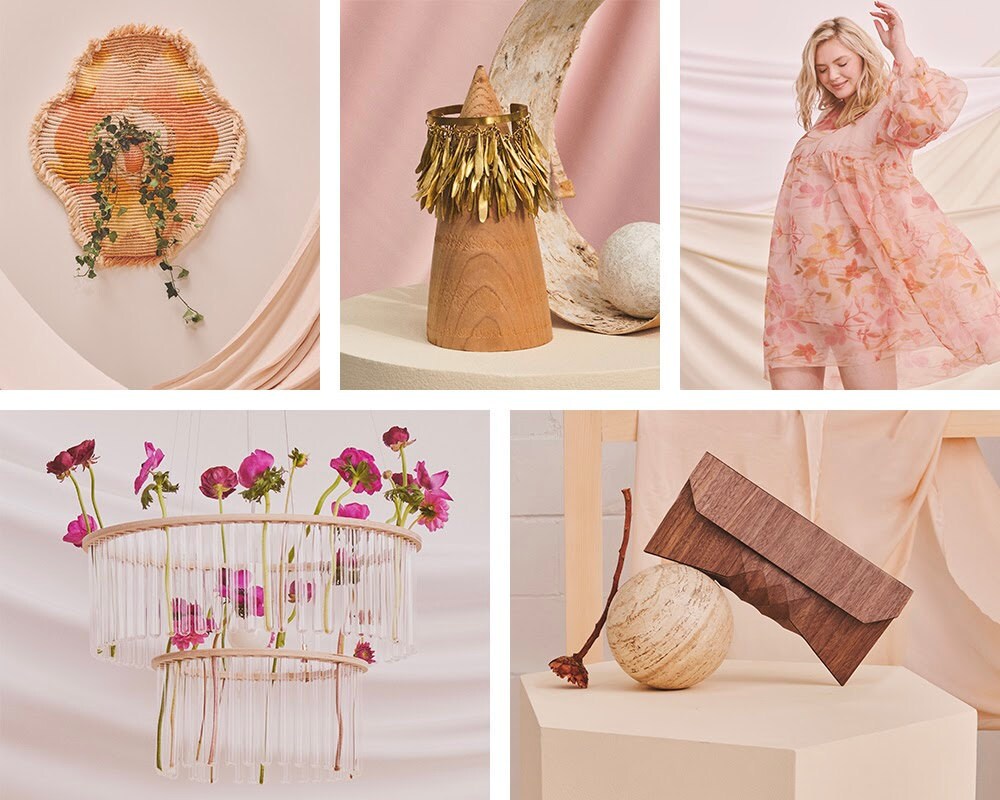 Art: Macrame Plant Hanger by Demi Macrame Designs
This Houston-based, self-taught seller Demi Mixon weaves a unique fiber style with inspiration from the world around her, from a sunset to her dinner plate.
Bags, Shoes, & Accessories: Wood Clutch by Tesler Mendelovitch
Israeli duo, Orli Tesler and Itamar Mendelovitch, combine their two polarizing design philosophies to create their signature three-dimensional wooden textile, the innovative material that brings this stunning handbag to life.
Clothing: Celine Silk Dress by Noemiah
Montreal-based designer, Noémie Vaillancourt, merges feminine details with sustainability, utilizing natural materials to create a wearable work of art, with floral motifs. Her winning balloon-sleeve silk organza dress is inspired by the poetry and herbarium of Emily Dickinson.
Home & Living: Test Tube Chandelier by Pani Jurek
Polish designer Magda Jurek's test tube chandelier is made from laboratory test tubes and set in two plywood bands. It is inspired by Polish scientist Maria Skłodowska-Curie, the first woman to win a Nobel Prize, and perfectly blends science and art for a breathtaking visual experiment.

Jewelry: Seed Dangle Bracelet by Mai Solorano
Mexican industrial designer Mai Solorzano brings a unique approach to her craft, drawing from nature and life's "little details." This bracelet was inspired by and created with molds made of tiny seeds from the autumn trees in Buenos Aires, Argentina.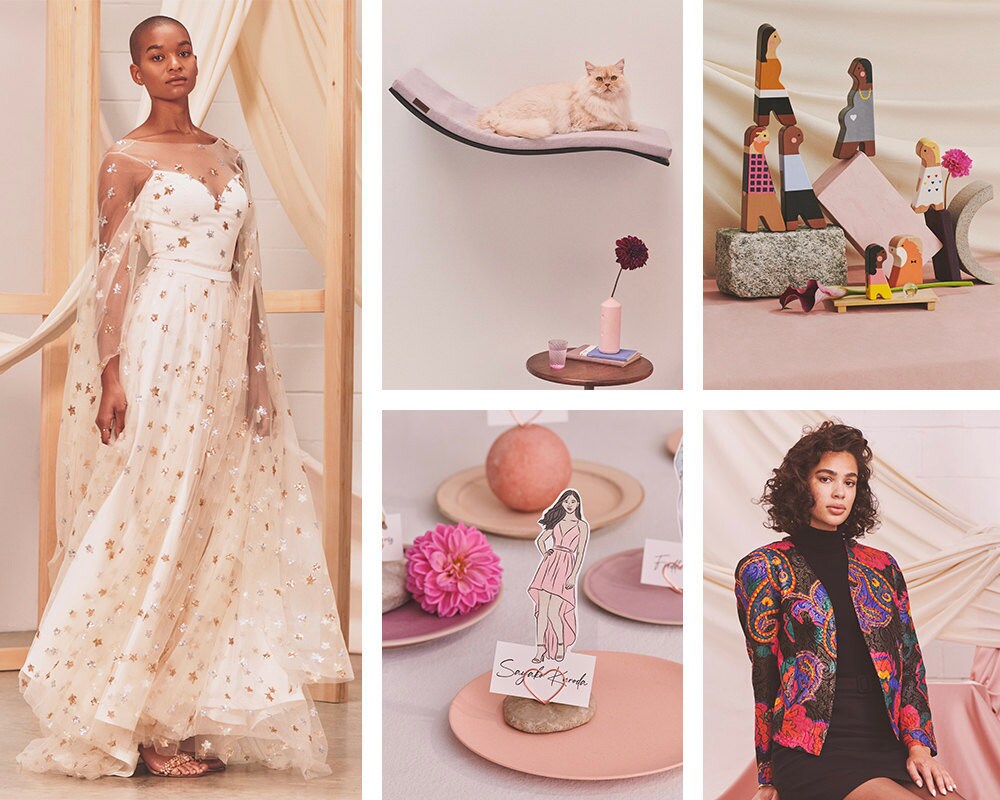 Kids: Personalized Wood Dolls by My Mini Fam
Lithuanian designer and mother Aleksandra Berlinsky set out to make modern, long-lasting, and memory-evoking personalized wooden dolls as a way for kids to express their feelings, fears, and experiences. Each set is completely customizable and made to order.
Paper & Party: Custom Illustrated Place Cards by Kyri Design
UK-based graphic designer Josie Kyriacou creates hand-drawn, personalized, illustrated place cards, perfect for weddings and special events. Each illustration brings to life individuals and/or pets printed with block colors for a cool, contemporary look.
Pets: Wall Shelf Cat Bed by Cosy and Dozy
Polish duo Magdalena and Wojtek Zajdel combined their love of design and their two cats, to create a stylish perch for their furry friends. Sleek in design, the modern shelf is also extremely practical for cat-owners. As any cat lover knows, our fur babies love to climb high.
Weddings: Celestial Wedding Dress by Wardrobe by Dulcinea
Lithuania-based designer Inge Stalyte's intricate, celestial bridal gown is full of sparkling silver and gold sequin stars, carefully sewn into satin and tulle. Her collection of free-spirited, bespoke bridal pieces are completely made-to-measure, with a focus on comfort and inclusive sizing. 
Vintage: Embellished Blazer by Fashion for Fables
Germany-based stylist and writer Mary Brenda Akinyemi brings her love of fashion to life through a meticulously curated array of vintage pieces, each with a poem written by her and inspired by the purchase itself.  Bold and opulent, this vintage 80s wool and acetate blazer blends striking hues and a unique metallic shine making it a showstopper for decades to come.
To shop the winning items – as well as all 100 finalists – visit etsy.com/designawards.