Learn more about the sellers who joined us in Times Square today.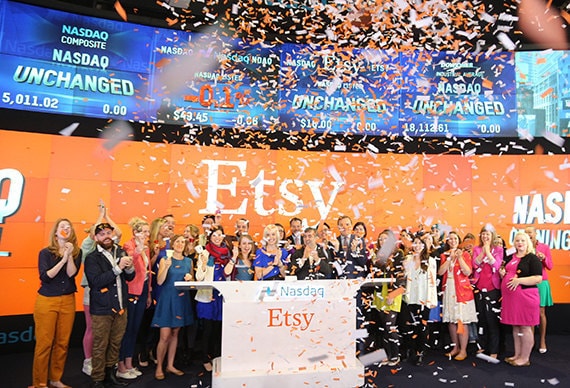 Today, sellers from around the world have joined us in Times Square to ring in the
next chapter of our company
. Etsy CFO Kristina Salen and I were joined by 28 sellers from 23 shops at the Nasdaq opening bell ceremony this morning, to open the stock market for the day. Naturally, during the ceremony we all rang handmade and vintage bells purchased from Etsy shops. Sellers who joined us included: Liz Carlis,
1.by.liz
; Alexandra Ferguson,
Alexandra Ferguson
; Melissa Kelly,
Be in the Moment
; Ryan Berkley,
Berkley Illustration
; Karli Dendy,
DesignosaurYEAH
; Rebecca Rodriguez,
Dirtsa Studio
; Lee Goodwin, Christopher Francis, Katie Francis and Olivia Turrell,
Docksmith
; Maresa Ponitch,
Dusty Rose Vintage
; Anna and Juan Donado,
Goose Grease
; Dara Cheek,
Hieropice
; Kari McDonald,
Lemuette
; Allison Faunce,
Little Hero Capes
; Emmanuelle Marie Remise,
Malam
; Erika Nazario,
Mio Múcaro
; Jen Pepper,
Peppersprouts
; Aline Niedrich,
Polly McGeary
; Melissa Hile,
Prairiefunk
; Brandi Harper,
purlBknit
; Brandi Arnold,
PuurBody
; Amy Hamley,
Redraven studios
; Shlomit and Anat Ofir,
Shlomit Ofir
; Yana Gorbulsky,
Supayana
; and Tielor McBride,
TM1985
. We are also hosting a one-day-only Etsy Market outside the Nasdaq Marketsite, in what's literally known as "The Crossroads of the World." There's no better place to showcase the passion, creativity and artistry of Etsy sellers to a global audience. The market continues until 2 p.m. ET today, so if you're in New York City, stop by! Here's a bit about each of the sellers on hand at the market today:
Alexandra Ferguson
(Brooklyn, NY): Alexandra Ferguson was working in the fashion industry when she launched her Etsy shop during a lunch break. Today, she's an
Etsy Wholesale
seller and works out of her own factory in Brooklyn, which employs five people. She also serves on Etsy's
Manufacturing Advisory Board
.
Berkley Illustration
(Portland, OR): In 2006, Ryan Berkley started drawing animal portraits for an art and craft show in Portland. His nattily-attired animals (think guinea pigs in bow ties and straw hats) were a hit. A few months later, Ryan and his wife, Lucy, started their Etsy shop to give a home to their dapper menagerie. [caption id="attachment_8816772" align="aligncenter" width="470"]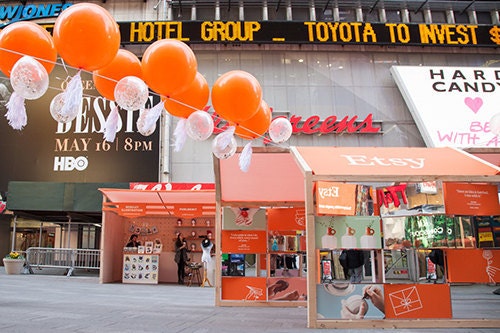 Etsy Market in Times Square[/caption]
Docksmith
(Brunswick, ME): Friends-turned-business-owners Lee Goodwin, Olivia Turrell, Katie Francis and Christopher Francis strive to find a balance between nature and technology with their driftwood phone and tablet docking stations. The collective also sells to retailers through
Etsy Wholesale
.
Dusty Rose Vintage
(Brooklyn, NY): With an on-hand inventory of 20,000 lbs of vintage clothing, shoes and accessories, Maresa Ponitch works directly with wardrobe designers, vintage store buyers and solo treasure hunters. She also partners with other Etsy sellers to compile capsule collections.
Goose Grease
(Brooklyn, NY): Husband and wife team Anna and Juan Donado sell painted wood peg dolls and cake toppers created with the help of four Colombian artisans. What began as a hobby for Anna has become a successful Etsy shop with more than 5,200 sales.
Lemuette
(Rockford, IL): Kari McDonald hand prints her woodblocks from her working space on a peaceful family farm. Captain of the Rockford Etsy Team, she helped Rockford Mayor Larry Morrissey and Etsy CEO Chad Dickerson create the
Craft Entrepreneurship Program
.
Little Hero Capes
(Somerset, MA): Inspired by her son, Allison Faunce began making children's superhero capes in 2007, and her business quickly took off. In order to scale on her own terms, she now works with a local manufacturer to produce the capes, bringing jobs back to her community.
Malam
(La Charité-sur-Loire, France): Growing up in a sprawling garden estate south of Paris, Emmanuelle Marie Remise enrolled in fashion school to learn her trade. She has now shipped orders of her custom-sewn, whimsically designed clothing and accessories to more than 35 countries. [caption id="attachment_8816773" align="aligncenter" width="462"]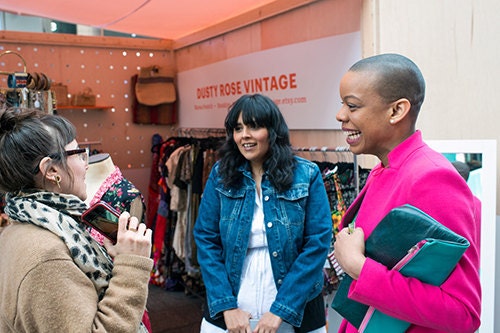 A few of the Etsy sellers at Etsy Market[/caption]
purlBknit
(Brooklyn, NY): After a trip to Africa as a Peace Corps recruit, Brandi Harper returned to the US determined to build her own handmade business. A self-taught artist, she now teaches online business skills to students as a
Craft Entrepreneurship
instructor in New York.
PuurBody
(Boise, ID): A stay-at-home-mom turned entrepreneur, Brandi Arnold has more than 20,000 sales on Etsy. Her successful business has given her and her family added financial freedom, helping to pay for educational needs, household necessities and more.
Redraven studios
(Pittsburgh, PA): Amy Hamley always knew she wanted to run a creative business, and she loves being her own boss. Scaling her porcelain keepsakes business and selling through
Etsy Wholesale
has enabled her to move her studio from her home to a 1,500-square-foot former ice cream shop.
Shlomit Ofir
(Tel Aviv, Israel): Shlomit Ofir launched her jewelry business as an outlet for her growing interest in accessory design. Now with over 15,000 sales in her Etsy shop, she has opened four boutiques in Israel and works with retail distributors in more than ten countries.
Supayana
(Montreal, Canada): Inspired by Russian fairy tales, Yana Gorbulsky uses eco-friendly and natural materials to create her womens' and kids' clothing, which is now sold in more than 20 stores through
Etsy Wholesale
.
TM1985
(Brooklyn, NY): Seeking creative independence, Tielor McBride started his Etsy shop in 2010. He works with a local family-run manufacturer to help produce his leather items, which are each finished by hand after production.