From star-studded ceramics to Insta-worthy accessories, Elsie Larson and Emma Chapman bring their signature style and creative vision to this limited-edition collection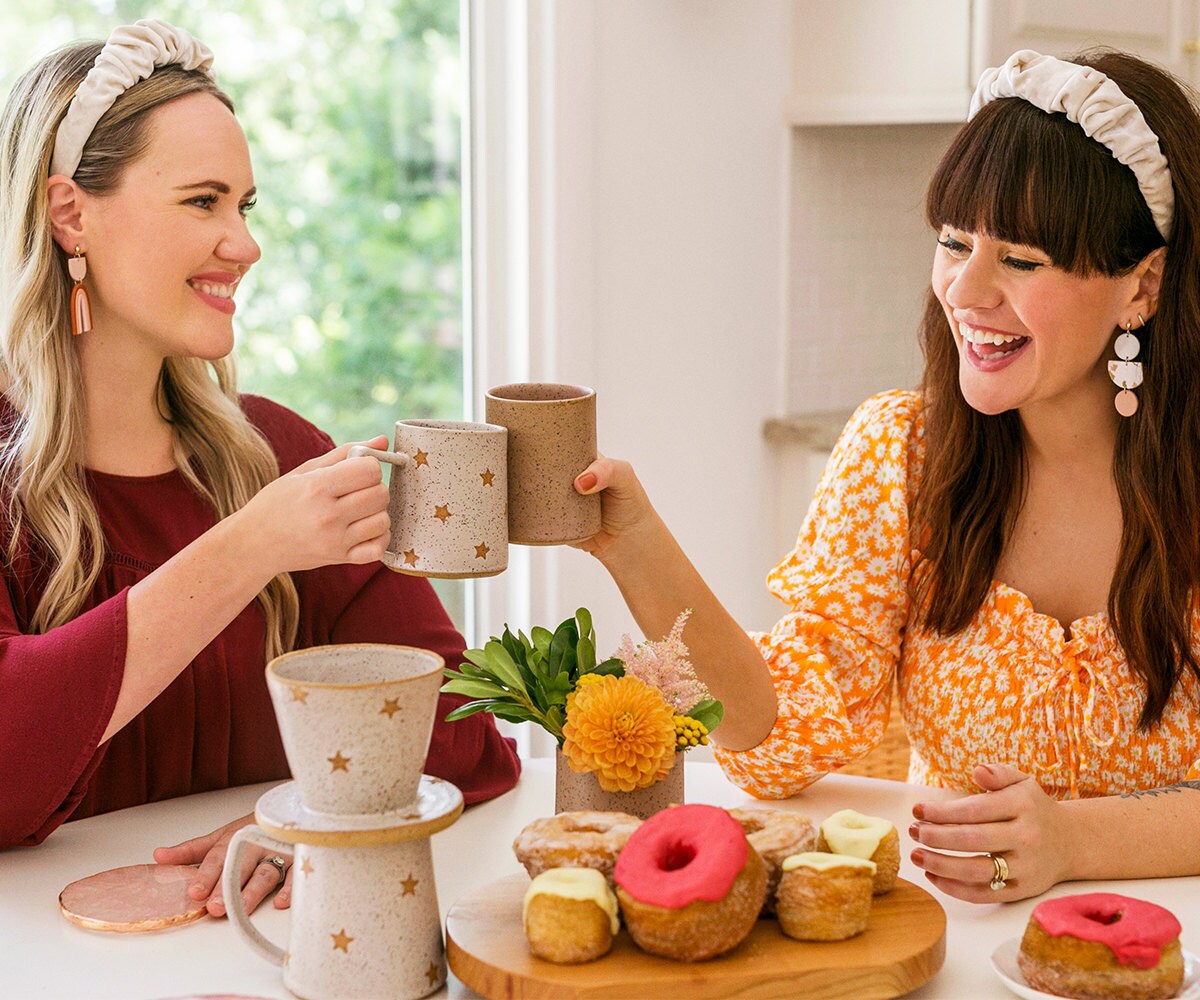 Image credit: Amber Kelly
Now more than ever, we all deserve a little bit of fun and positivity, and that's exactly what our next tastemaker collection has to offer. Elsie Larson and Emma Chapman, sisters and co-owners of the crafting, cooking, parenting, and decor blog and lifestyle brand, A Beautiful Mess, have teamed up with 15 hand-picked Etsy sellers to launch a colorful and expressive home decor and fashion accessories collection designed to add pops of personality to everyday moments. 
Available for a limited time only, the A Beautiful Mess x Etsy collection is Etsy's most versatile line yet – featuring vintage-inspired homewares, kid-approved accessories, and one-of-a-kind finds, ranging from $6.25 to $169. Known for their maximalist aesthetic and love of all things retro, the pair bring their signature style and creative vision to this collection that spans multiple product categories, with playful patterns, 70's-inspired earthtones, and cozy textures. 
With many home decor projects under their belt, this dynamic duo knows the power of multi-purpose and transitional pieces, which is reflected throughout this collaboration. "I'm never really finished decorating a space. There's always something that can be added, rearranged, or swapped out. And from my years of room makeovers, I've learned that investing in items that can be used in different ways is always worth it," Emma shared with us, "Which is why we made sure every decor piece in this collection is versatile. From the planter to the wall hanging, we wanted each home accessory to look as showstopping in a nursery as it would in a home office."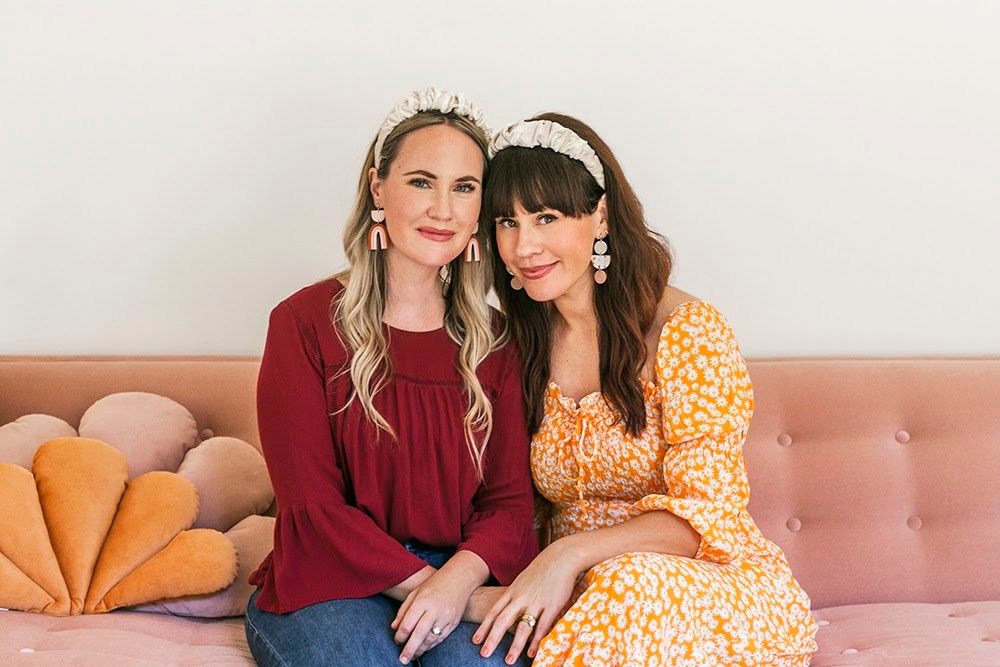 Elsie and Emma have long supported and showcased small makers and handmade items on A Beautiful Mess, making our partnership a no-brainer. "As entrepreneurs, creatives, and once Etsy sellers ourselves, we jump at every opportunity to spotlight independent artists," Elsie shared with us, "For us, this collection was all about designing beautiful, handmade pieces that encourage shoppers to support small businesses."
We can't wait to finally share this cheerful line with the world, shop the collection now!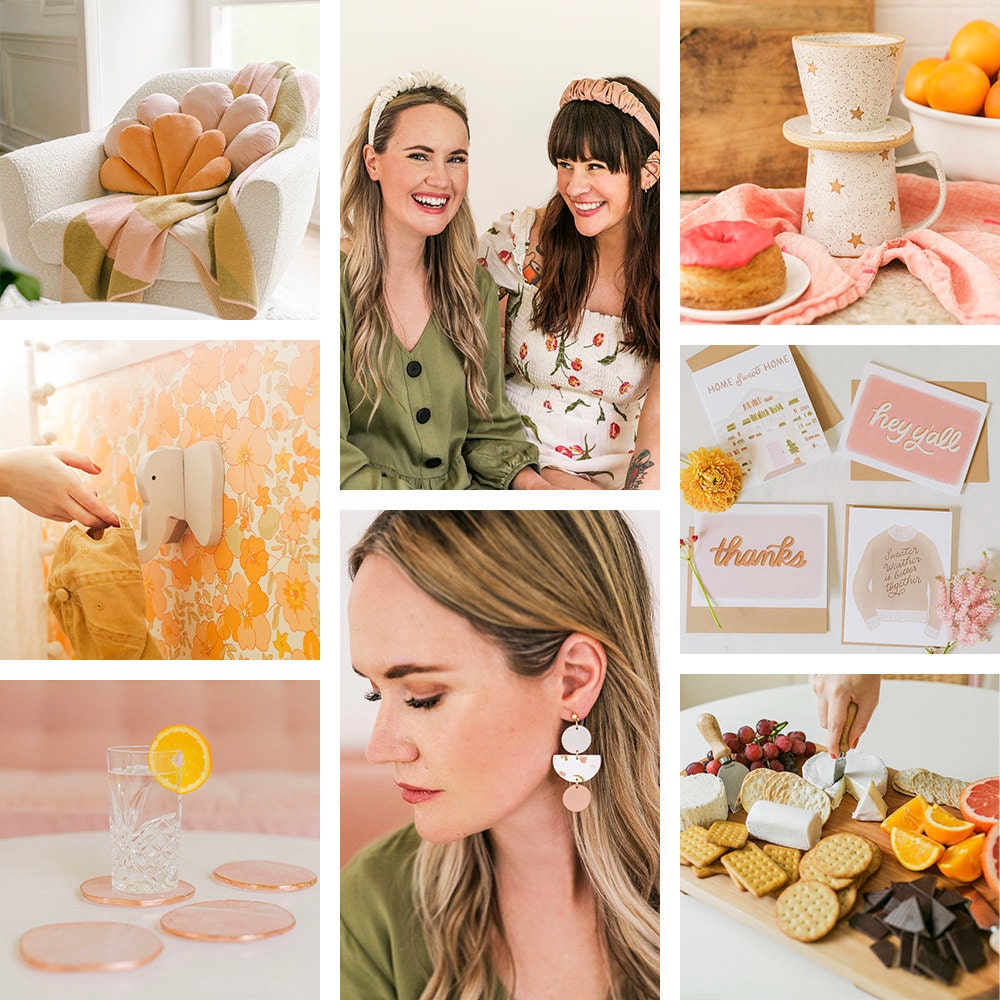 Shell Pillows
alamaisonco, $62+
Headbands (fits both Kids & Adults) in: Peach Shimmer, Vanilla Velvet, and Rich Amber Velvet 
BardotBowGallery, $30
Star Mug / Star Pour Over
KatieMMudd, $50+
Elephant Animal Hook 
thejunglehook, $25
Greeting Cards
PosterityPaper, $6.25+
Agate Coasters (set of 2)
DesignPretty, $55
Terrazzo Earrings
KajuCreations, $34
Wooden Trays
CBYMCREATIVE, $64+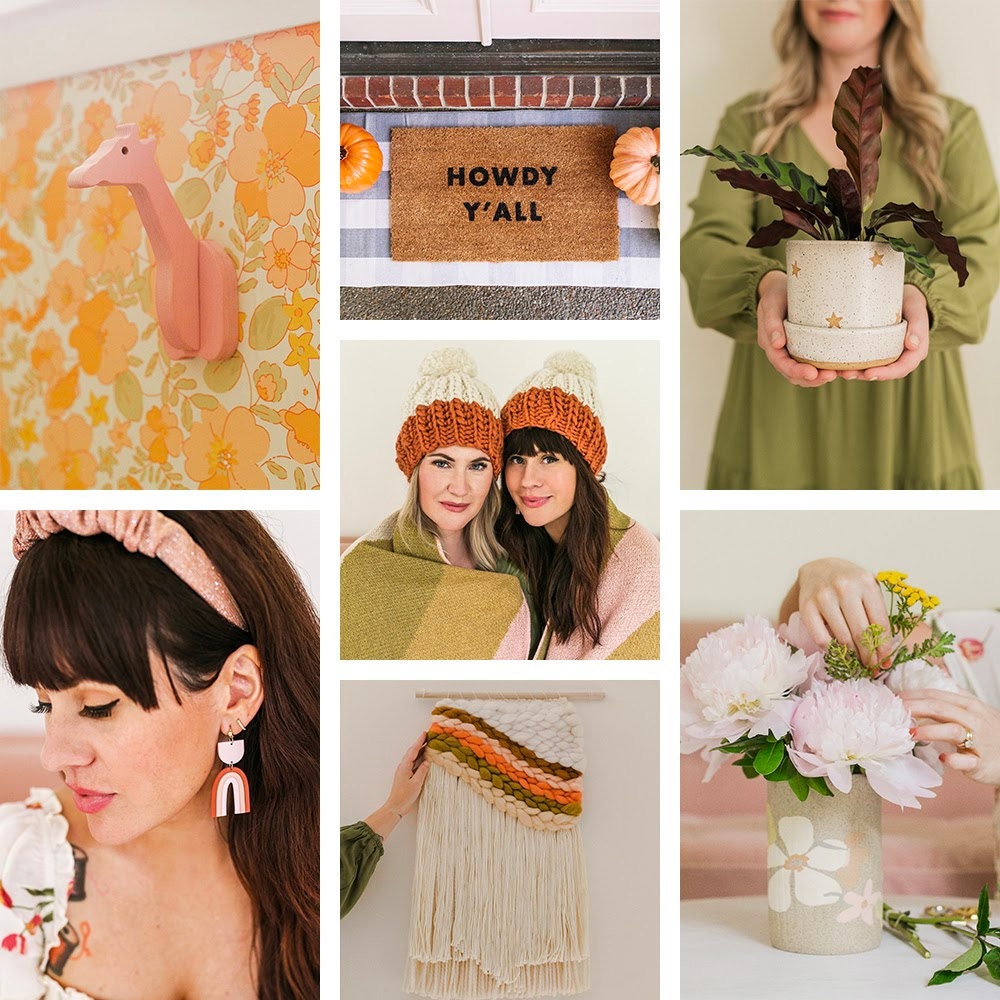 Giraffe Animal hook
thejunglehook, $25
Howdy Y'all Door Mat
ProperLetter, $64
Star Planter
KatieMMudd, $60
Adult Knit Hat / Kid Knit Hat
HazelBea, $55+
Rainbow Earrings
KajuCreations, $34
Wall Hanging
Sunwoven, $150
Flower Vase
GabrielleSilverlight, $169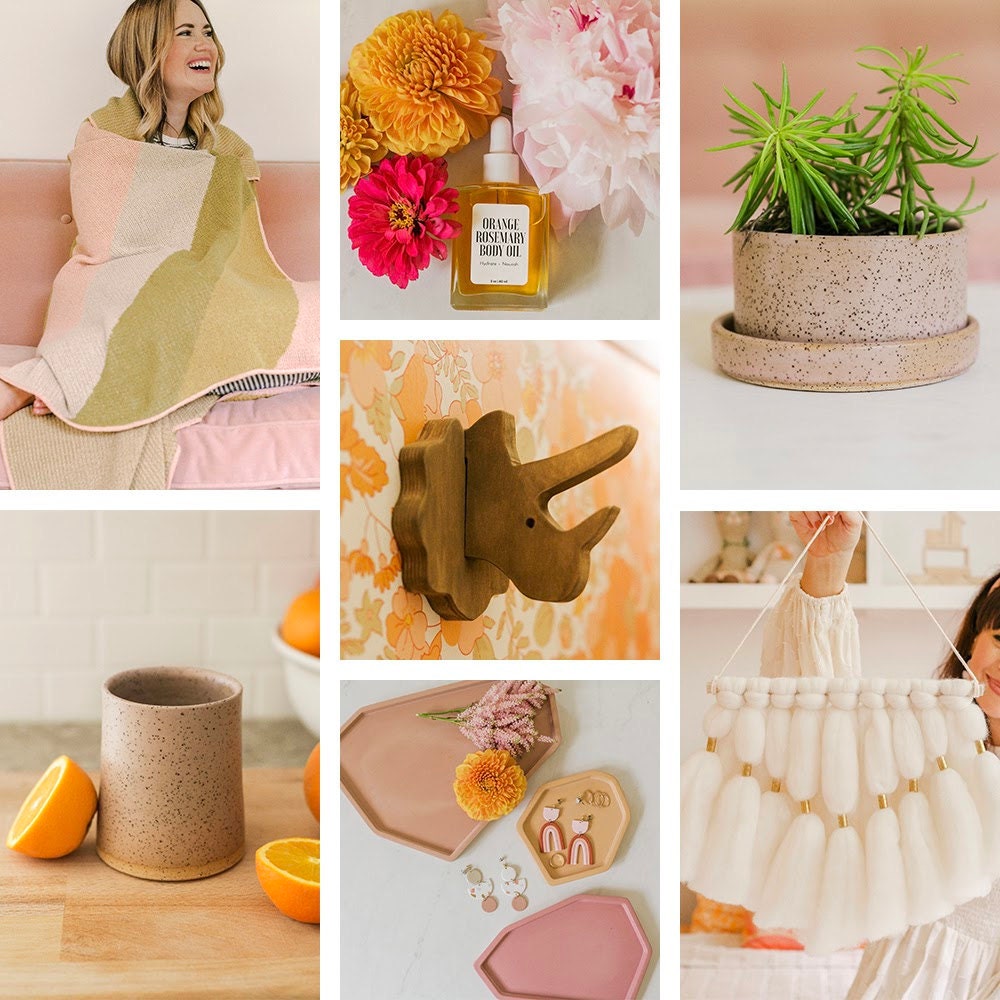 Rainbow Blanket
CalhounAndCo, $128
Orange Rosemary Body Oil
BrownButterBeauty, $32
Pink Planter
KatieMMudd, $65
Triceratops Animal Hook 
thejunglehook, $25
Pink Tumbler
KatieMMudd, $36
Ceramic Tray Trio
DovekienFinch, $112
Roving Wall Hanging
Sunwoven, $75
If you're loving these collections as much as we are, be sure to keep an eye out for our upcoming collections launching later this year. Off the heels of several successful collection campaigns, Etsy has extended it's slate of exclusive global collections with actress, author and business owner Tia Mowry (available now), UK lifestyle brand Zoella (available now), TV personality and home renovator JoJo Fletcher (available now), lifestyle mavens Elsie Larson and Emma Chapman (of A Beautiful Mess), TV personality and fashion mogul Tan France, German author and social media artist Ana Johnson, food and entertaining tastemaker Tieghan Gerard (of Half Baked Harvest), and more. Each will launch a co-designed collection of products with Etsy for the Fall or Holiday season. These limited-time offered lines will encompass a range of top selling categories on Etsy, including home decor, kids and babies, holiday gifts and entertaining, and more. 
*USD prices may vary day by day due to fluctuations in currency exchange from this seller's listing currency to your browsing currency.