Our Uplift Makers Program features the renowned Gee's Bend quilters and Gullah basket weavers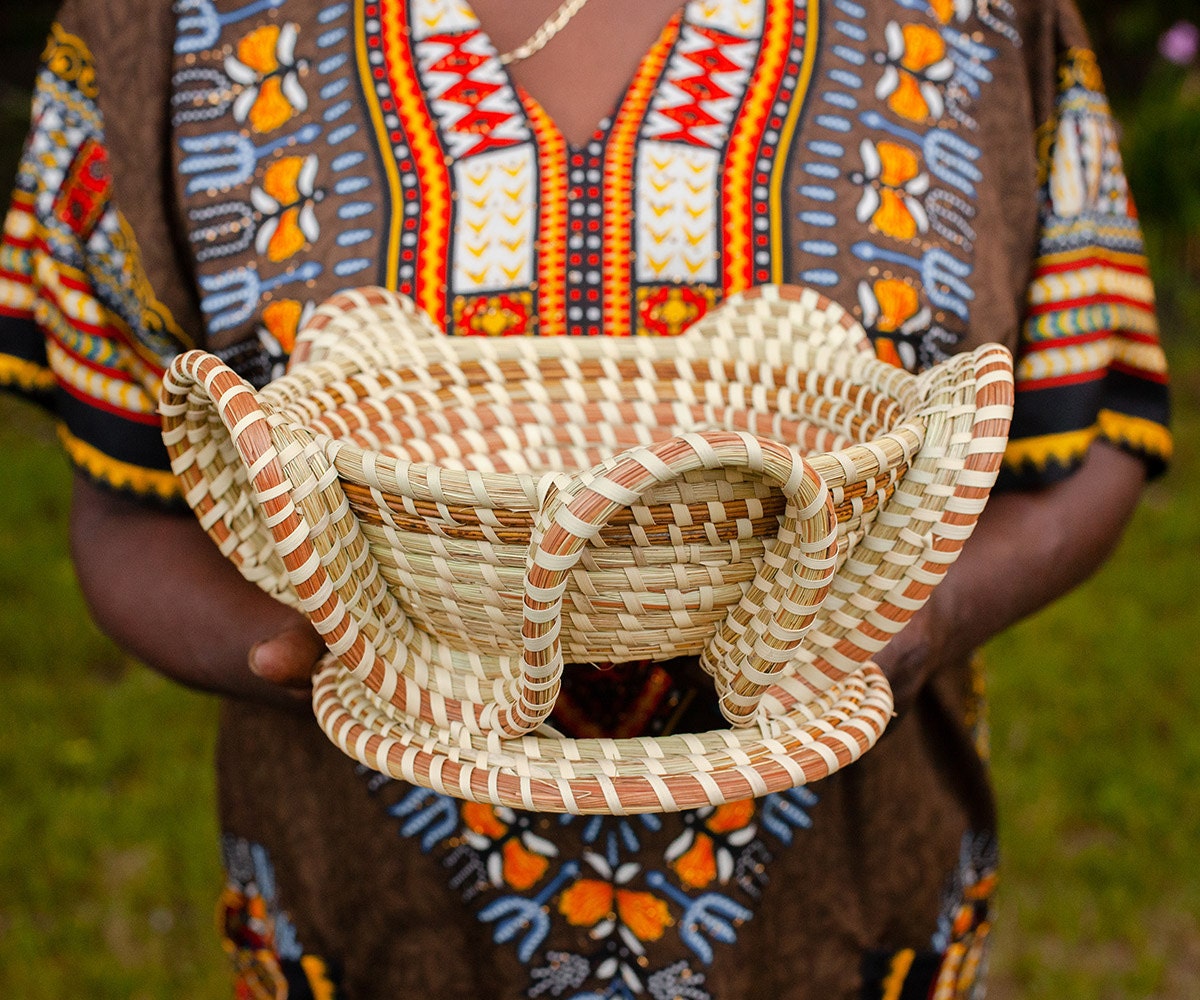 Image credit: 1212 Design on behalf of Nest
Etsy is proud to serve as an on-ramp for entrepreneurship: anyone with a creative idea and $0.20 can open a shop, reach tens of millions of buyers around the world, and build a small business from the ground up. While our marketplace eliminates many of the barriers to entry for creative entrepreneurs, we know that many people still lack the basic requirements for starting an online business, like an internet connection, digital know-how, and a bank account. 
Etsy has long been committed to economic justice and bringing opportunities to historically marginalized communities. Now, we are intensifying our efforts through the launch of our newly-created Etsy Uplift Initiative, a series of programs that opens doors and builds opportunities for creative entrepreneurs everywhere. This initiative will be multifaceted to provide support through a number of efforts, including providing funds to economically disenfranchised makers, to offering buyers the chance to support nonprofits that create paths to entrepreneurship for everyone, to curating Editors' Picks pages that celebrate diverse sellers from various communities.
One of the key components of this initiative is our new Uplift Makers Program. This program serves to provide financial opportunities to historic artisan communities that often face economic hardships, while simultaneously recognizing and celebrating their artistic contributions to history and culture. Together with partners Nest, Souls Grown Deep, and Bloomberg Philanthropies, we are excited to launch the Uplift Makers Program by welcoming two celebrated groups of artisans to Etsy: the Gee's Bend quilters and the Gullah basket weavers.
Today, we are facilitating the launch of individual Etsy shops for nine quilters and sixteen basket weavers. Through Etsy's platform, these talented artisans will establish an online presence (most for the very first time!) to showcase their beautiful items and traditions to shoppers around the country while also earning meaningful income.  
Earlier this year, we launched a pilot program with an initial group of quilters from Gee's Bend--a remote, Black community in Alabama where the average income is about $12,000/year. Within 24 hours of launching on Etsy's platform, many of the quilters' shops had sold out. In the first six months, the quilters have generated more than $300,000 in sales through their Etsy shops.
For the quilters, the market access gained through Etsy helped them overcome long-lasting financial barriers. For example, one quilter used the income from her Etsy shop to pay for her daughter's education, and another built a house that she now owns without a mortgage. 
Beyond the financial fulfillment, selling on Etsy has also brought personal joy. As quilter Caster Pettway said: "It means a lot to me to have my own shop on Etsy...that people are buying my work and enjoying it. And I like all the followers I have—I never thought I would have followers! It surprised me that so many people would buy my quilts...I can't even explain it because it is so awesome."
Our Uplift Makers Program launch also includes the Gullah weavers of South Carolina, a community known for their unique basket-weaving technique that has been passed down for hundreds of years. "I believe that establishing a platform for entrepreneurs to display and sell their goods is a great way to meet new customers and I'm hoping this is a way to make my business grow even more," said Jennifaye Singleton, a Gullah weaver from Huger, South Carolina. 
To help set the Gullah weaving community up for success, Etsy has made a grant investment of $75,000, which will provide services such as professional photography, design and merchandising mentorship, shop content creation, shop management training, and shipping and fulfillment assistance. To celebrate the launch of their new shops, we will also be waiving transaction fees and providing listing fee support for a period of time. 
Ahead of launch, we visited the Charleston area to hear the stories of the weavers directly and see their weaving prowess in action--check out this video for a closer look at this inspiring community.
The Etsy Uplift Initiative demonstrates Etsy's continued commitment to fostering equal opportunity to creative entrepreneurship, and it advances our mission to "Keep Commerce Human." With the Uplift Makers Program, our continued partnership with Nest, alongside other committed institutions like Souls Grown Deep and Bloomberg Philanthropies, helps to amplify and pave a path to a new financial future for celebrated artisan communities, which drives our mission forward. 
To learn more about the Gee's Bend quilters and the Gullah weavers and shop their incredible work, please visit our Uplift Makers page here.