Our new mission and impact strategy define a clear path for how Etsy plans to use business as a force for good.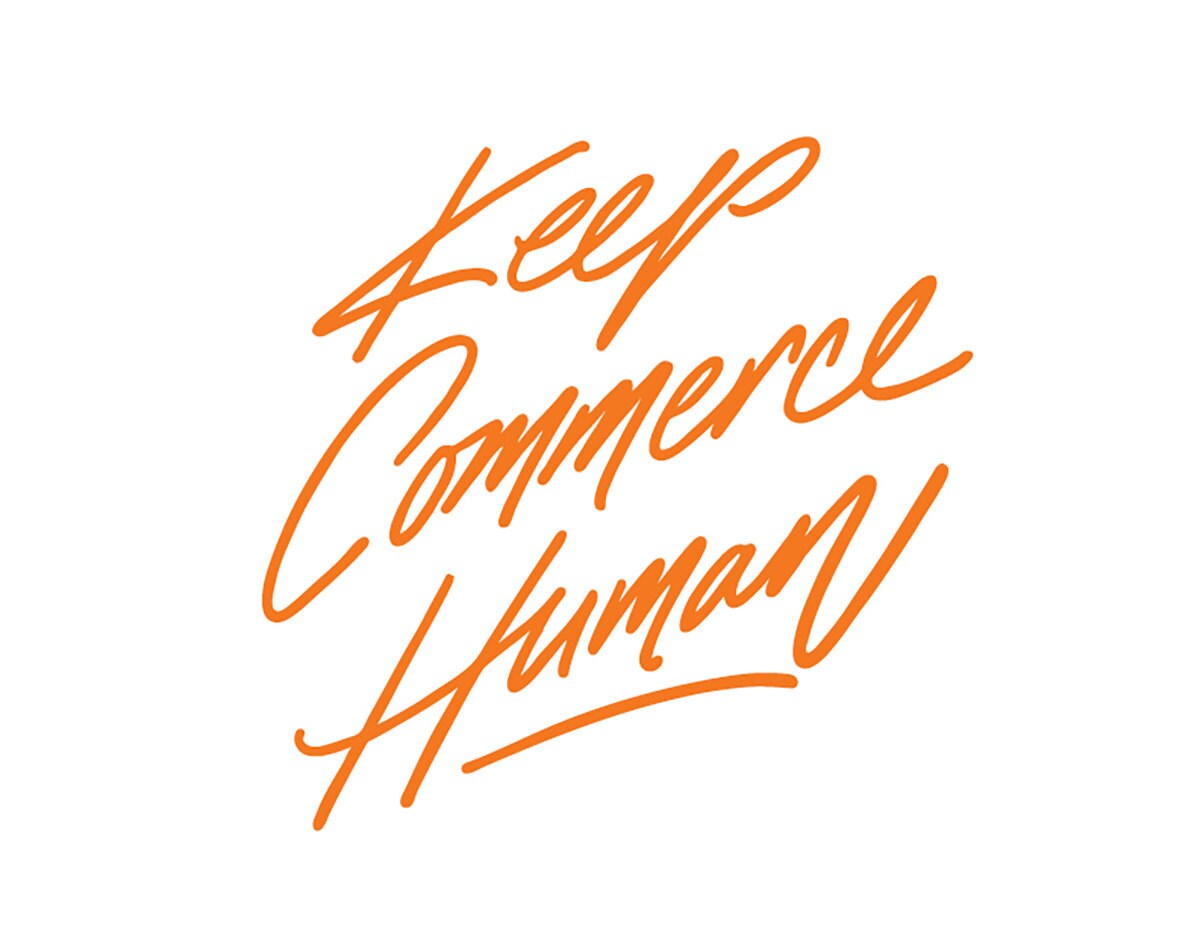 Today, Etsy is proud to unveil our new mission, an ambitious impact strategy, and plans to hold ourselves accountable. All of these components illustrate our commitment to using the power of our business as a force for good in the world.  When I first arrived in May of this year, I asked a fundamental question: "What is Etsy's role in the world?" While I received many responses, all of them could be boiled down to a simple, yet powerful idea: to "Keep Commerce Human." In a world of increasing automation and commoditization, creativity cannot be automated and human connection cannot be commoditized. Our new mission to "keep commerce human," reflects this ethos. It is uniquely Etsy and it speaks to what makes our marketplace so special. It stays true to our roots while representing what we want to do in the future. It is narrow enough to guide day-to-day decisions, yet broad enough to inspire long-term thinking. It will inform everything we do as a company, from product roadmaps to customer interactions. Above all, it will require us to keep people at the center of everything we do.  
Our impact strategy and goals
Our mission gives us clarity and purpose, but it doesn't describe the specific ways that we intend to make positive change in the world. Just as we've narrowed and focused our business priorities over the past few months, so too have we brought greater clarity and focus to our impact strategy. Today, we're announcing three broad goals to drive positive economic, social, and ecological impact, alongside key initiatives that will help us reach these objectives. These areas are not new to Etsy, but the overall strategy is more focused and the KPIs establish a goal against which we can measure our progress.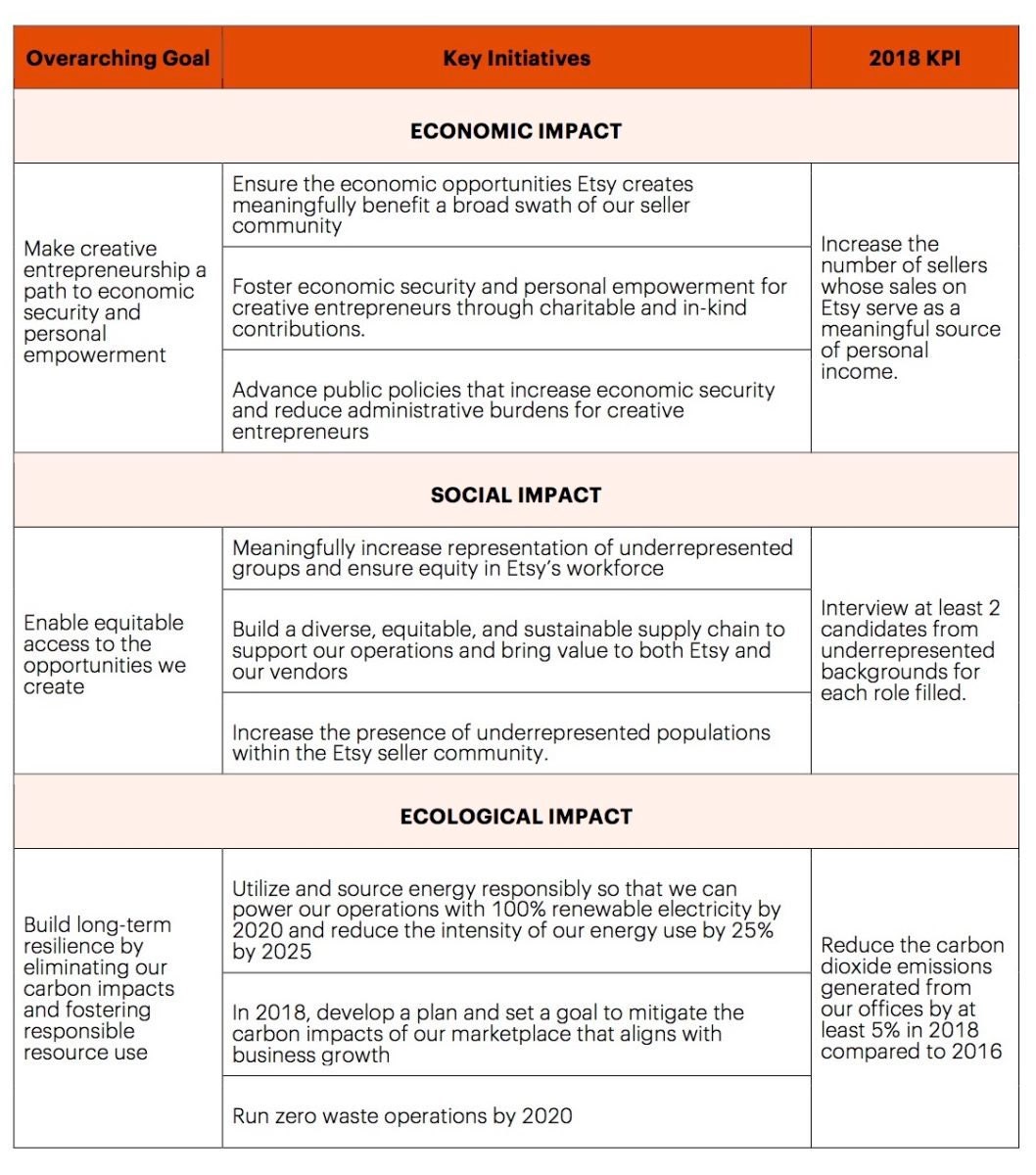 We were very intentional in how we developed this strategy and corresponding goals. Each component reflects the impact we want to have on our community and our world while also advancing and complementing our business strategy that we announced in August. For example, helping sellers earn more sales directly correlates to growth in our marketplace. Similarly, there's a wealth of business research showing the positive relationship between diversity and innovation and we believe that fostering a more diverse workforce will drive ideation to propel our business forward. And reducing a company's carbon footprint can lead to lower operational costs. At Etsy, our business drives our positive impact and our impact initiatives drive our business - it's a virtuous circle. We are exploring ways to make our goals part of our company-wide planning; we want everyone at Etsy to feel that they have skin in the game when it comes to advancing our impact strategy. We also remain committed to rigorous external reporting and disclosure. In that vein, today we are releasing our
2016 Progress Report
.* The report highlights some of the key projects from last year, includes updated stats on our diversity metrics, and tracks our environmental impact. In closing, our impact strategy complements our business goals, brings greater focus to our organization, and will support our work to deliver meaningful value to all of our stakeholders. We can't wait to share updates on the exciting work we are doing.  * 2017 has been an extraordinary year for Etsy, one in which we've undergone a number of organizational changes to position ourselves for future growth and success. As a result, we are releasing our annual Progress Report later than usual. We plan to release our 2017 Progress Report by the end of the first half of 2018.