Get shopping: 42% of parents are buying for back-to-school a month before classes start.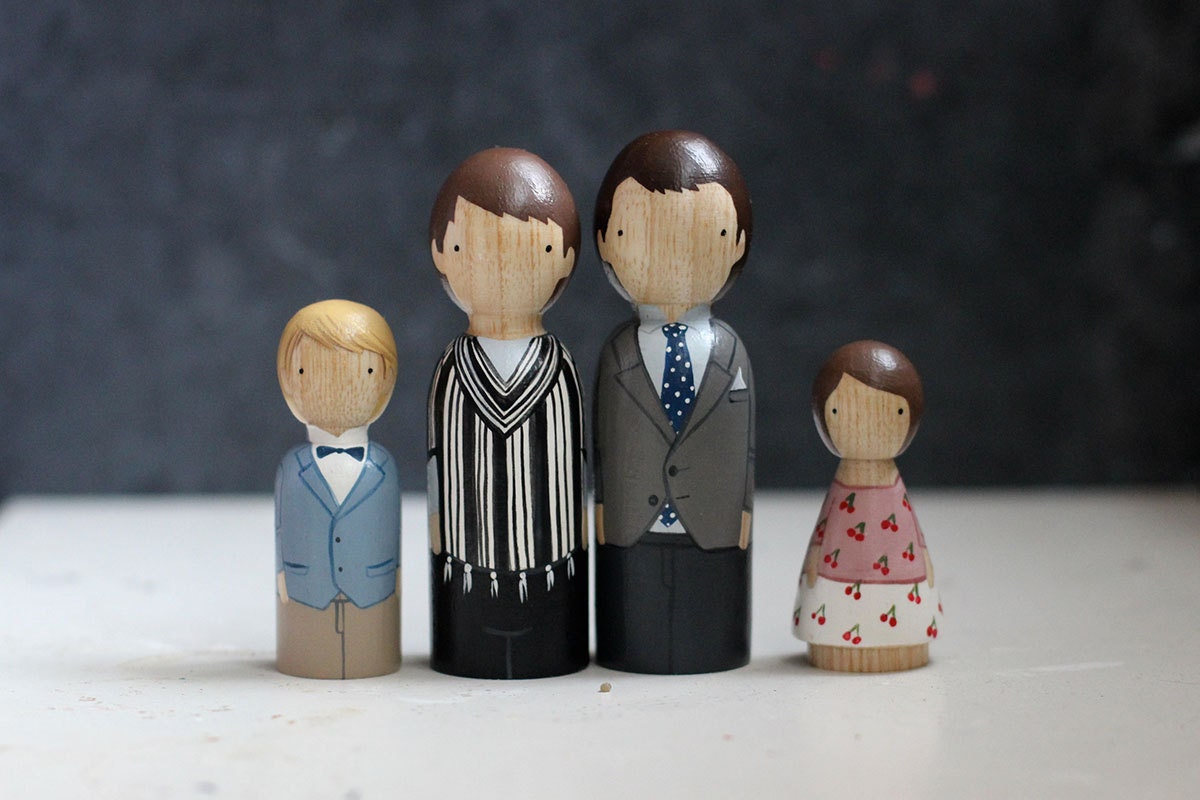 Overview: The 
Etsy Trend Guide
 is a compilation of fresh trends our expert is noticing across Etsy and the crafting industry as a whole: what sellers are creating, what shoppers are loving, and what's hot right now in the wider market. These trend predictions for 2018 are based, in part, on past top searches across categories on Etsy.com. It's that time of year again, school shopping. A *recent survey of Etsy shoppers released today finds that parents put more of an emphasis on creativity, self expression, and individuality when it comes to back to school looks rather than the traditional marbled composition notebook and baby tees of my days.**   The Etsy survey found that 69% of respondents prefer items that help express their kid's individuality and over a quarter pay attention to the latest trends. Additionally, 82% of parents want to instill the values of creativity and individuality in their children. Because of this, I believe personalization, creativity, and adding touches of unique personality traits will continue to trend for all things kid related.
Next Generation of Change Makers
Today's families are engaged in social, political and environmental issues. 74% of respondents encourage the children in their household to explore causes they might believe in, even if they don't necessarily align with their values. This is consistent with the increased interested we're seeing on Etsy for cause related item. For example, in the past 12 months, searches and purchases related to female empowerment have seen a lift of 440%** , and during the month of June, "Kids Pride t-shirts" were amongst the top selling items. Our study found:
Nearly half of respondents (42%) are open to taking the children in their household to a protest, rally, or march for a cause they believe in
Almost a third of respondents (29%) are open to dressing the children in their household in clothing and accessories which support a political or social cause
It's important to make sure the children in their household are aware of political and social issues, according to 74% of respondents
69% of respondents try and talk to the children in their household about issues affecting society or politics

Inclusivity
From multiracial dolls with skin tones in every shade, dolls with hearing aids, and sensory-sensitive toys, playtime can be fun and inclusive. This is by far, my favorite trend, knowing that children of all backgrounds have the opportunity to see themselves in the toys and games that they interact with. There's been a 50%**  increase in the last 12 months in searches for inclusive products in relation to kids. What an incredible way to boost self-confidence and self-identity. Bravo Etsy sellers.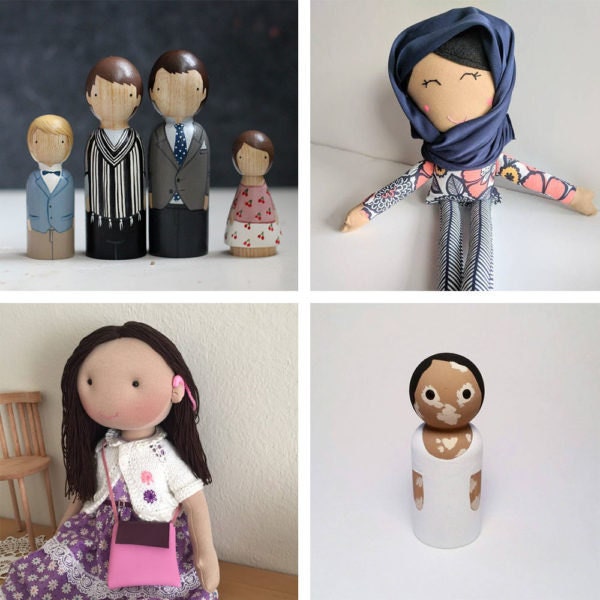 Llamas
Unicorns and mermaids had their moment, and now it's time for a new animal to take the spotlight–llamas! Similarly to our ever-popular underwater friends, the llama is showing up in several categories including clothing, home decor, and lunch boxes–just in time for the new school year. On Etsy, we've seen an increase of 350%** in searches for llamas compared to the same time period last year. Don't worry, there's plenty to choose from. There are currently over one million items tagged with the search term llama available on Etsy.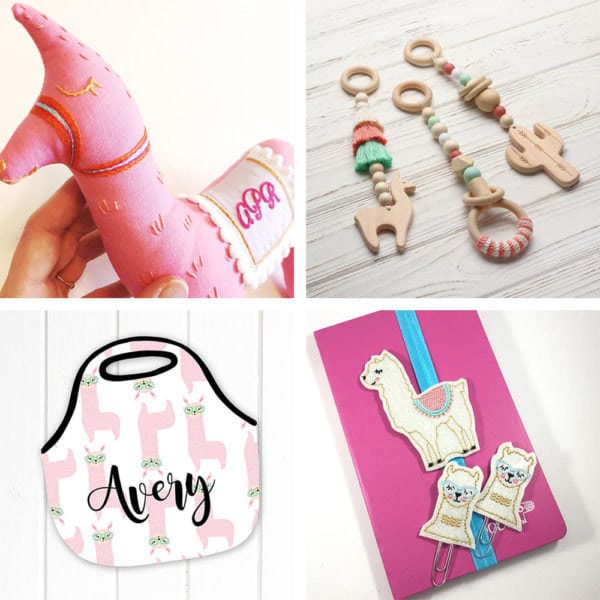 Self care for kids
A lot has been published about the valuable health benefits of mindfulness and meditation. It's also something that parents of today's younger generation care about. 43% of respondents in our survey said that it is important to them to teach the children in their household mindful practices like yoga and meditation and, no surprise, that a whopping 96% of respondents care about children's mental health as much as their physical health. Similarly, 96% of respondents said that it's important for the children in their household to be happy and balanced. Considering the importance of overall wellness, searches for products on Etsy including "Self-love"  for kids and adults have increased by 57%** in the last year.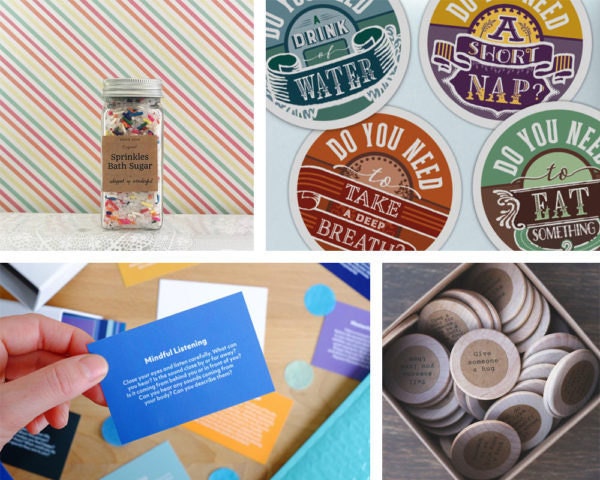 Rainbows
Rainbows are the ultimate sign of happiness and optimism. This cheerful look has been a staple in children's decor throughout the years, yet this year's shoppers are paying even more attention to rainbow themed kids' decor, accessories, and back-to-school looks. We've seen an increase of 43%** of searches for rainbows over the last year.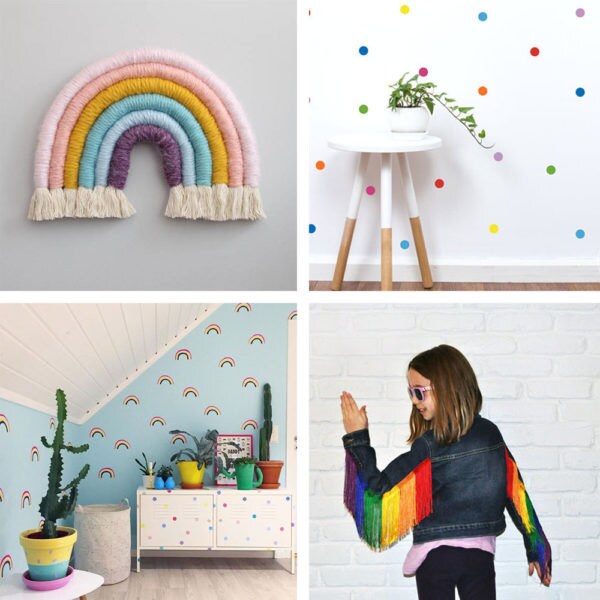 DIY / Experiences / Artistic Expression / Eco-Friendly
The do-it-yourself trend is fun for all involved and promotes quality family time. In our recent study, 38% of our respondents shared that they craft with their children at least once a week. Activities can include everything from paint-your-own crown, felted-animals, DIY terrariums and more. On Etsy, searches for "messy play and sensory props" show results for over 82,000** products.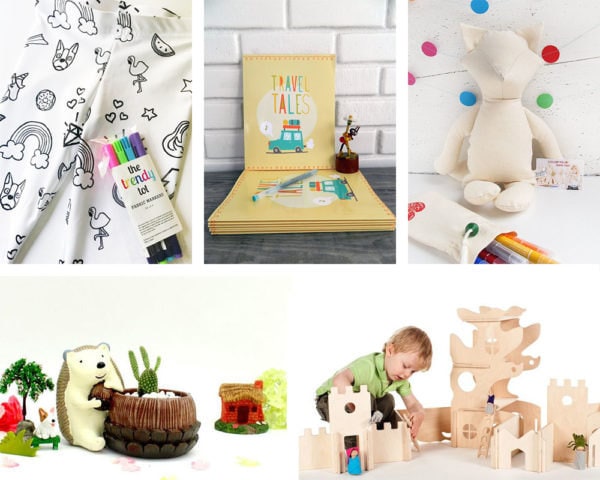 Social Branding
Social media is a daily activity in most of our lives. In our recent study, we found that 50% of parents enjoy sharing photos of their kids on social media and 68% feel it's a great medium to share photos with family and friends. So, it's not surprising that capturing the first day of school and sharing it on social media is a big deal. Over a third (37%) of respondents say they always share photos of their kid's first day of school on social media. This year, personalize that treasured memory with a trendy sign that will make your kid stand out in the see of first day photos. Shoppers have already started digging into this memento – Etsy has seen a 43%** surge in searches related to first day signs in the past year.   Here's one stat from our survey that we're calling bluff on: Almost half (43%) of respondents believe that posts of the children in their household on social media is an accurate representation of their lives together.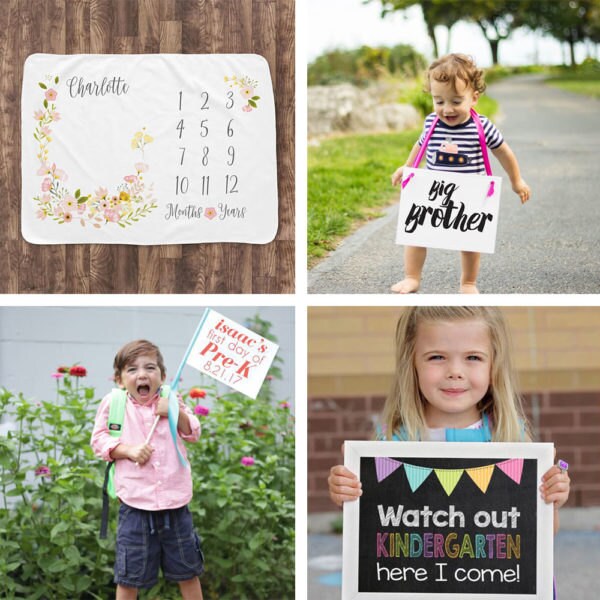 Other findings from our survey you might find interesting:
Activism, Creativity, and Individualism is Vital
When it comes to activism, more than half of respondents (53%) find it very important to make sure the children in their household have awareness of, or engage in, political or social topics, like environmental issues
Creativity is fundamental: 82% of respondents think helping children in their household express their creativity – through music, painting, or crafting – is very important
Expressing individualism and helping children in their household be themselves and express their individual character through specific clothes, accessories or hobbies is also very important, according to 82% of respondents
Sing (and Dance and Craft) Like No One is Listening
A whopping 91% think it's important to engage the children in their household in creative activities, such as encouraging them to play an instrument or craft together
Almost all respondents (95%) try to encourage creative behavior early in the children's life, such as through crafting, singing, or painting
93% of respondents think engaging children in creative behavior will be beneficial for them once they are older
94% of respondents are open to enrolling the children in their household in creative activities outside of school
Express Yourself: You Wear the Clothes, the Clothes Don't Wear You
83% of respondents try to encourage the children in their household to wear clothes and accessories that fit to their own personality
According to 80% of respondents, it's important for children to dress in a way that reflects their individual character, e.g. through specific clothes or accessories
84% of respondents think it's important that parents encourage individual behavior of their children, e.g. wearing unique clothes or practicing a particular hobby
83% of respondents encourage the children in their household to pick out the clothing/accessories/toys which they feel best suited to, rather than picking them on their behalf
Trending Now: Gender Neutral Items and Mother Earth
Gender neutral items are on the rise, with 28% of respondents increasingly looking for gender neutral items
42% of respondents are increasingly looking for environmentally friendly toys and 40% of respondents are increasingly looking for sustainable toys, e.g. toys made from natural or organic materials
Almost half (43%) of respondents prefer toys that are suitable for both boys and girls
A quarter of respondents (25%) prefer clothes that are suitable for both boys and girls
37% of respondents try to avoid toys that are bad for the environment, e.g. plastic toys
Over a quarter of respondents (29%) increasingly look for toys that are popular among the children's peers
Do You Mind? Mindfulness and Self-Love is the Best Love
84% of respondents would rather the children in their household be happy than successful
96% of respondents want the children in their household to grow up valuing themselves
Just about (73%) of respondents would be open to practice yoga or other mindful activities together with the children in their household
67% of respondents believe the children in their household have a unique character compared to other children their age
*Survey Methodology:
A total of 725 Etsy buyers with children in their household across four markets (the US, the UK, Canada and Australia) participated in an online survey from June 26th to July 2nd, 2018. Unless stated otherwise, this article refers to combined results across all four markets. The sample was taken from Etsy's database of buyers with at least one purchase within the past 6 months and respondents were randomly contacted and invited to take part in the survey via email. The research was developed and conducted by Etsy. **This trend guide includes highlights from the Etsy survey and other key data based on searches on etsy.com and those observed in the marketplace. To shop more kids products, visit our
Editors' Picks page
for all of the latest finds.