Our new global HQ in Brooklyn is a testament to Etsy's mission and values, especially as they relate to community, craftsmanship and sustainability.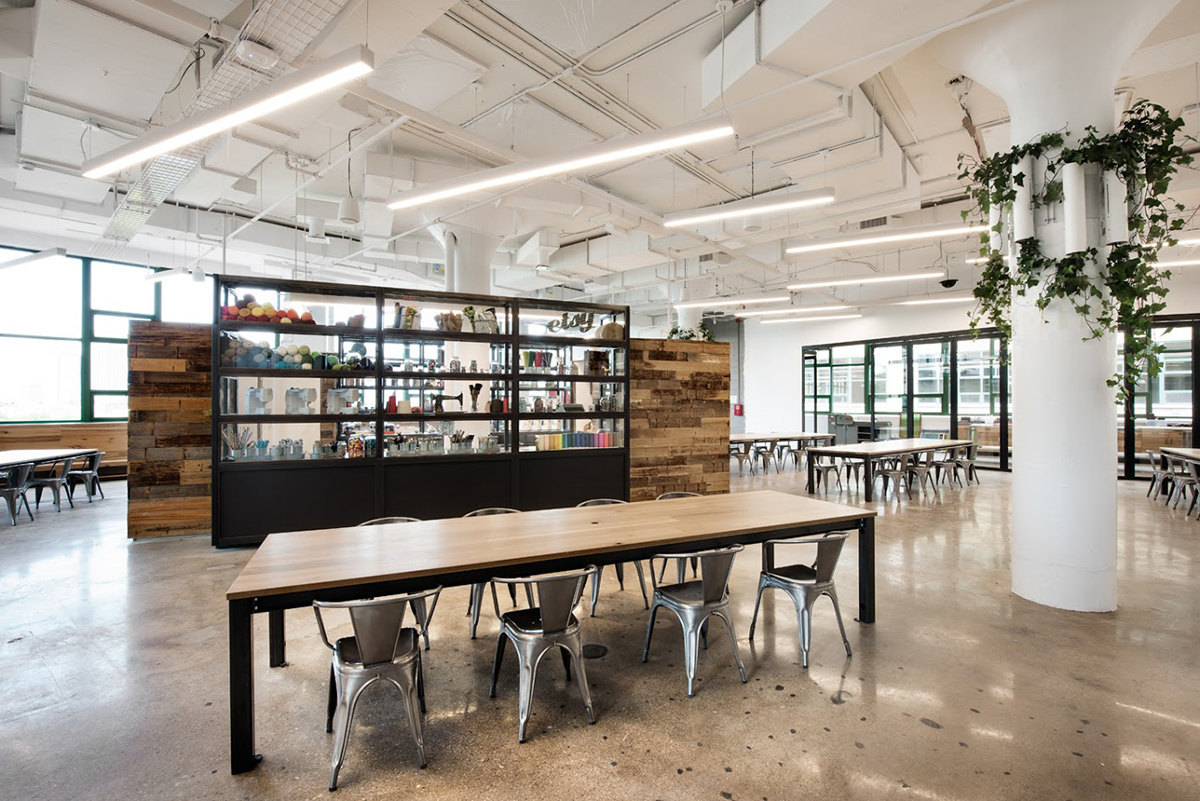 It's the end of an era and the start of something great. A few weeks ago, Etsy's Brooklyn-based employees bid adieu to our old digs at 55 Washington Street in DUMBO and a warm hello! to our new global headquarters at 117 Adams Street, just a few blocks away. We first announced our commitment to growing in Brooklyn a little over
two years ago
. Over the course of that time, members of our Workplace Ecology & Design, Sustainability & Social Innovation, Culture & Engagement, Global Food, Brand Design, AV and IT teams (among many others) -- in partnership with hundreds of people, including our design partner, Gensler, and dozens of local artists and Etsy sellers -- have worked together to thoughtfully create a space that reflects Etsy's commitment to our values and to our overarching mission, especially as they relate to community, craft and sustainability. The space reflects the vibrancy of our community, celebrates small and local artisans and supports employees' innovative working styles and overall well-being — all while adhering to some of the highest sustainability standards in the world. We're incredibly proud of our new home and want to share some of its special features with you.
Making a Living Building
[caption id="attachment_8817276" align="aligncenter" width="800"]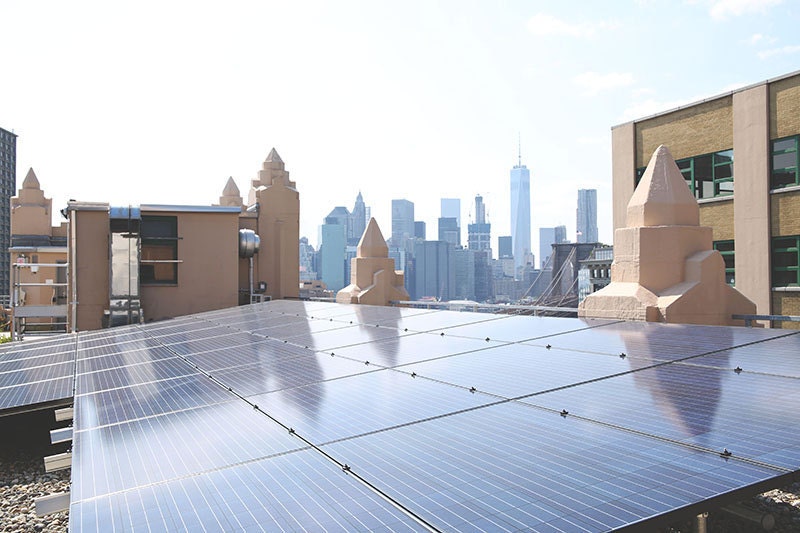 A small, solar array on the roof of Etsy's new headquarters. 100% of the energy powering Etsy's new global HQ is expected to come from, local, renewable solar power. Credit: Jennifer Hsieh.[/caption] Planning and building for the long term is one of our core values. We want to build a company that lasts, and we plan to measure our success in years and decades. Etsy sellers in particular depend on us and on our platform to grow their businesses, so we continue to strive to make decisions that are best for the long-term health of our ecosystem, which includes doing right by people and the planet. To ensure we're holding ourselves to global best practices and standards for sustainability, we're pursuing
Petal Certification
through the Living Building Challenge (LBC), issued by the
International Living Future Institute
(ILFI). LBC is the most advanced sustainability certification program for the built environment and, much like Etsy, is focused on supporting resilient, living systems that not only create healthy, vibrant and beautiful environments, but also strengthen the local economy and our communities. As part of this process, we've vetted more than 1500 items in the space to avoid toxic or harmful chemicals -- that's at least 1500 conversations with manufacturers about how their items were made, ranging from the paint on our walls to the flame retardants in our upholstery. Even simply having a conversation with a large-scale customer can make an impact on what materials manufacturers choose to use in their items, and we hope all of the work we've done on this project will help move the needle in the building and construction industries at large.
Connecting Through Craft
Our new headquarters is currently the only LBC project that's largely furnished with handmade and micro-manufactured furniture made by local artists and Etsy sellers. Whether we're typing on desks made by Craig Montoro and Bryan Mesenbourg of
First Third
, sitting at tables made by Jason Hernandez of
HENDO
or working underneath the light fixtures crafted by Ashira Israel of
In.Sek Design
, every day we're fortunate enough to physically engage with our community through their work. [caption id="attachment_8817278" align="aligncenter" width="800"]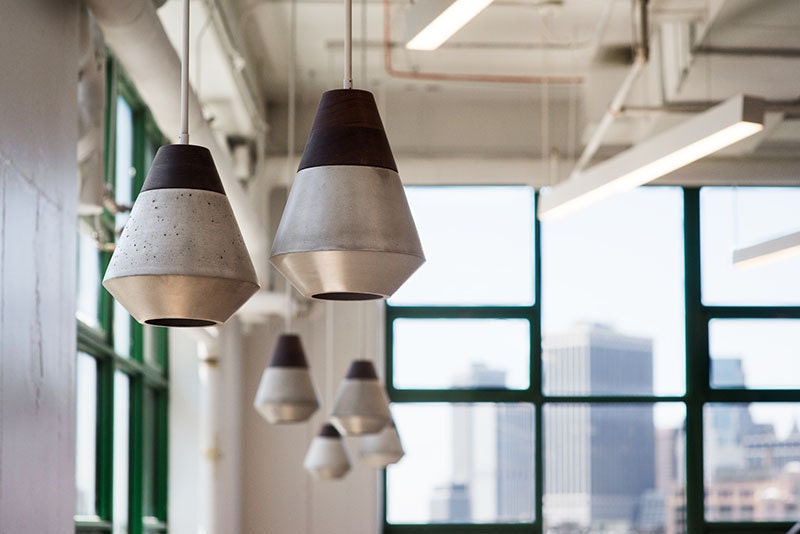 Light fixtures crafted by Brooklyn-based designer and Etsy seller Ashira Israel of
In.Sek Design
. Credit: Emily Andrews.[/caption] Throughout all of our offices worldwide, we've chosen to work with local artisans to create furniture and art that will inspire employees and physically connect them to the marketplace we build and nurture every day. Our community is the heart and soul of Etsy, so we crafted our headquarters in a way that embraces our local and global community members. [caption id="attachment_8817279" align="aligncenter" width="800"]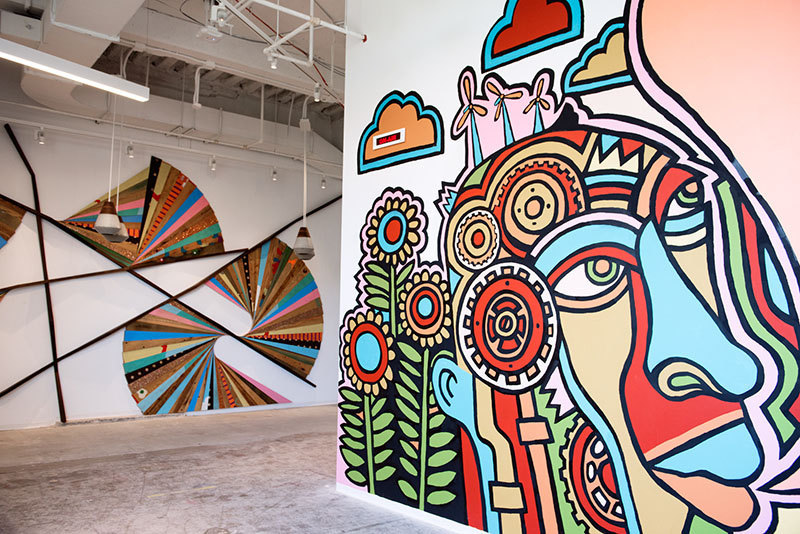 Art installations crafted by local artists and designers. Left: art installation by Brooklyn-based designers
First Third
, made from old desks from our previous HQ. Right: wall mural by Brooklyn-based artist
Misha Tyutyunik
. Credit: Emily Andrews.[/caption] We also designed our space to allow greater accessibility and connection with Etsy and the general public. Our ground floor lobby features an art gallery that's open to all visitors, showcasing the work of Etsy sellers from around the world. [caption id="attachment_8817280" align="aligncenter" width="800"]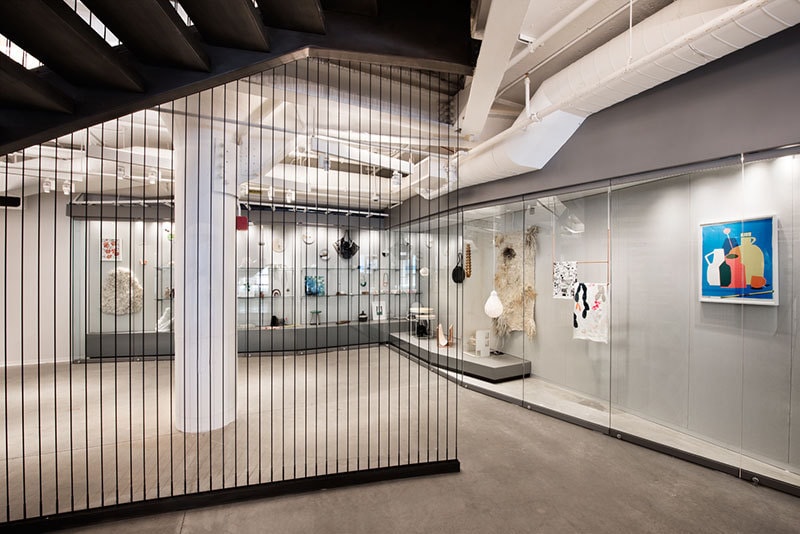 The publicly-accessible ground floor gallery at Etsy HQ featuring items made and sold by Etsy sellers worldwide. Our new HQ features work made by, and craft supplies sourced from, more than 250 Etsy sellers across the globe. Credit: Emily Andrews.[/caption] We've greatly expanded our events spaces, including a reimagination of the Etsy Labs, which now includes specialty stations for many kinds of making. With our larger space, we're able to host and share hands-on programming at a larger capacity. Our public-speaking space, affectionately called the Etsytorium, has also been expanded to bring public-facing speaking events, such as our Code as Craft
speaker series
, to more people. [caption id="attachment_8817281" align="aligncenter" width="800"]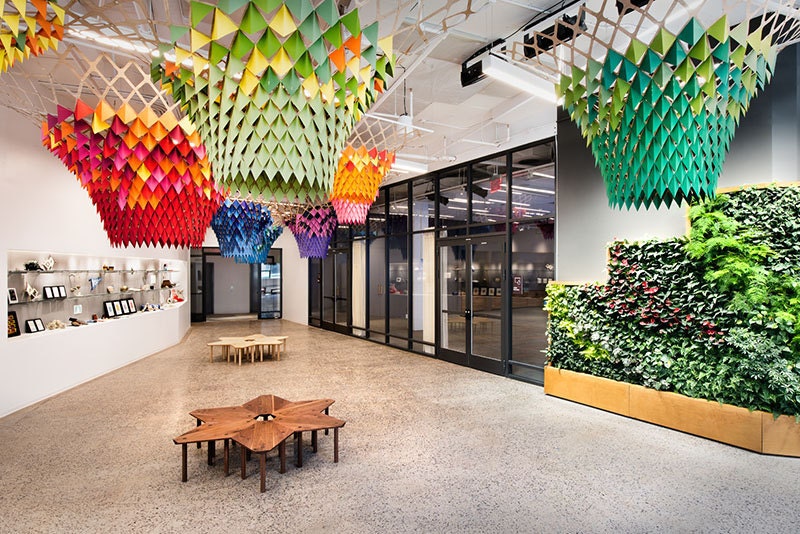 The exterior of the Etsytorium, our public-speaking space where we host larger meetings and presentations as well as internal and external speaker series, such as
Code as Craft
. Art installation made by New York-based designers Michael Szivos and Liz Kelsey of
SOFTlab
. Credit: Emily Andrews.[/caption]
Supporting Accessible, Inspired Work
Our design principles were influenced largely by our views on the nature of work itself. We envision a world where everyone -- including the 850+ people who make up our workforce -- has access to economically, socially and environmentally lasting and fulfilling work. Using direct feedback from our employees, we've crafted a space that's designed for how they want to work: one that's open, beautiful and inspiring, with specialty areas allowing for collaboration and creativity as well as focus and solitude. Our new, physical space is also designed to support an inclusive culture where all employees can engage and thrive at Etsy. This work is particularly visible in our efforts to create gender-inclusive restrooms and comfortable, accessible and resourceful parents' rooms. [caption id="attachment_8817282" align="aligncenter" width="800"]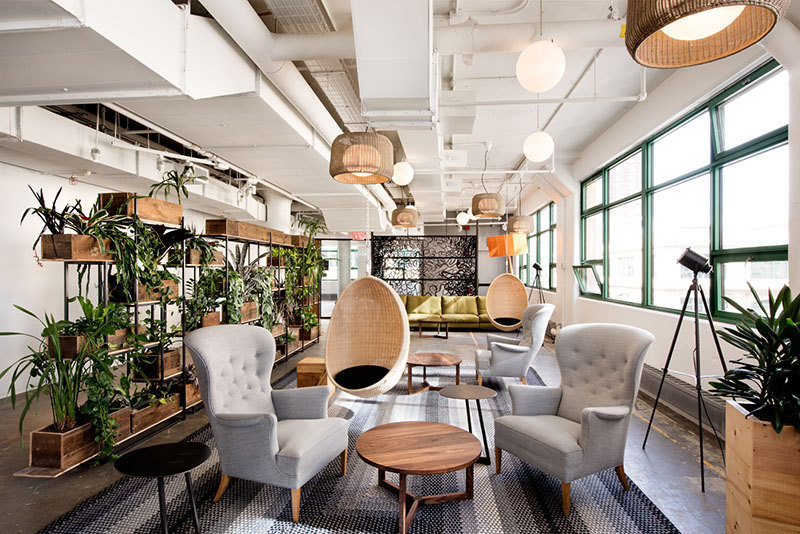 The Green Library (books not shown) a quiet, relaxing, brightly-lit and plant-filled space where employees can work away from their desks. Credit: Emily Andrews.[/caption] We intentionally created employee wellness areas, including a quiet, green library, breathing room for meditation and yoga, bike storage areas and showers to support a carbon-neutral commute and multiple outdoor spaces, such as a rooftop garden. We've expanded our food program, including our twice-weekly communal meal called "Eatsy."  Our new HQ features a more robust production kitchen (it purposely does not include any major cooking appliances, so we can continue to work with and support local businesses) and roughly five times the seating capacity. Our Global Food Program is designed to nourish employees and nurture our culture by building community through food. We will continue to partner with local caterers to provide responsibly-sourced lunches to employees twice a week. On the days we're not offering lunch, employees are encouraged to connect with and support the many local businesses in our neighborhood. [caption id="attachment_8817283" align="aligncenter" width="800"]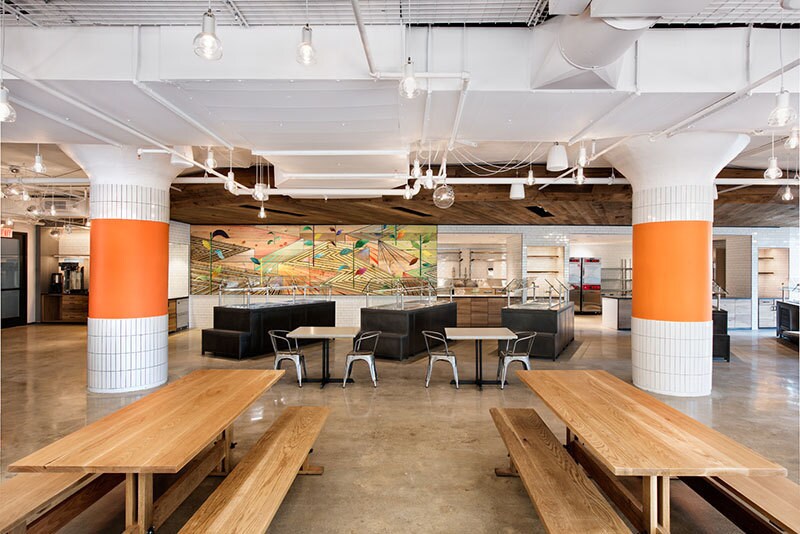 Our expanded food service area, where we host twice-weekly lunches called Eatsy. The mural was made by New York artist
Jason Middlebrook
 from our old Eatsy serving tables. Credit: Emily Andrews.[/caption] By acknowledging and supporting employees' health and wellness needs, we're helping integrate our personal and professional lives harmoniously. The thoughtful, meticulous work that so many have put into this space is meant to reinforce our belief that nurturing the health of our employees and the ecosystems that support us ultimately nurtures the health of our business.
Thank You
We'd like to give a special shout-out to all of the local artists and Etsy sellers -- as well as more than 250 Etsy sellers from around the world -- who helped make our global headquarters a beautiful and inspiring place to work. A few of the New York-based makers, artists and Etsy sellers who contributed to this project:
You can check out more employee and partner photos of our new space at
#EtsyHQ
. *Note: All photos included in this post should only be used for press purposes and credited to Emily Andrews.