A new mobile app experience on iOS and Android connects shoppers with sellers in local communities, at boutiques and markets.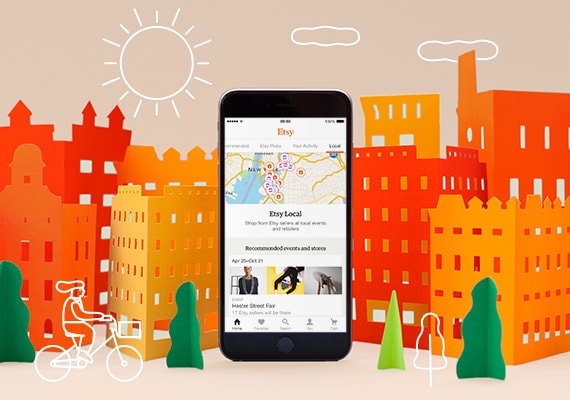 Etsy is an online platform, but it is also a network of offline communities around the world, from Etsy Teams, to craft fairs, to wholesale retailers. We are always working to find ways to bring our online world together with offline shopping experiences, making connections between those communities whenever we can. Real-world connections between shoppers and creative entrepreneurs form the magic at the heart of the Etsy experience. And now Etsy is bringing these connections even closer: right next door, via your mobile device. This week,
Etsy Local
is now available through the Etsy app on Android and iOS. Shoppers on-the-go can find Etsy items and sellers nearby, whether they be at events like pop-ups, craft fairs, and flea markets or local shops. Etsy sellers can add events like craft fairs and markets that they are selling at, and
select retailers that are part of Etsy Wholesale
can have their  brick-and-mortar stores included on Etsy Local as well. When a shopper opens the Local tab in the app, recommended nearby retailers and events are tailored to their tastes, based on shops and sellers they have previously engaged with, through favoriting, purchasing, and browsing. Buyers can also discover great new places to shop by viewing local boutiques that carry Etsy merchandise — just one more way to support local communities online and off. Etsy Local can be found on the app "Home" page from phone or tablet. From there, shoppers click on a map or listing to view more information, including hours of operation, view images of available items, and more. When traveling to a new destination or scoping out neighborhoods just a bit farther away, shoppers can browse their way to new locations on the map and conduct a new search to discover great Etsy shopping experiences away from home. Etsy Local is another way we're helping shoppers find and support creative entrepreneurs in their local communities. Discover what's happening in your neighborhood
here
or head over to the
Google Play Store
and
Apple App Store
to download the latest version of the Etsy shopping app.