Etsy sellers can now easily share photos of their shop and items to social media and to shoppers who buy from or favorite them on the Etsy app.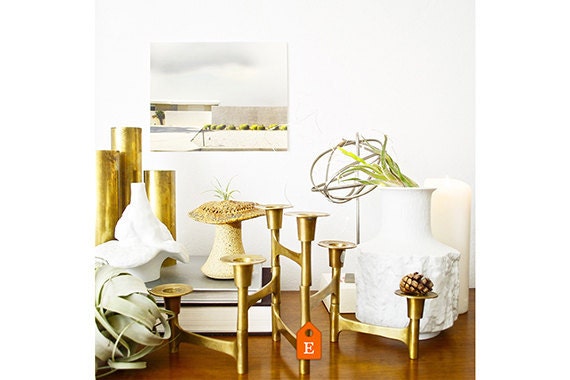 We recently asked Etsy sellers what business management tasks are most difficult for them. Guess what topped the list? Marketing and promoting their business. One of the chief challenges of running a business in today's socially powered world is figuring out just how to leverage social media. Today we're announcing a new marketing tool for sellers that makes it easier to create shoppable social content to drive more buyers back to their shops.
Sellers love social media
We collaborate closely with Etsy sellers when developing a new tool for them to use so that the tool accommodates their work needs and addresses their pain points. We know that many sellers were already promoting their business on social media, especially on Facebook and Pinterest. But we learned that many sellers were frustrated by the current clunky process to share updates and content and that they weren't sure how to use social media posts to bring traffic back to their shop. Many sellers told us they wanted tools to help them with social media management.
Buyers love social media
Of course, sellers are just one part of the equation, and we know that Etsy buyers are also very social and are on the same social platforms. Etsy buyers regularly follow Etsy sellers so that they can stay up to date on new products, hear breaking news from their favorite shops or be inspired by a shop's aesthetic. We heard from buyers that they are most interested in seeing sneak peeks at new product lines or items, sales or promotions, how items are made or sourced and sellers' inspiration for new products -- a perfect alignment with the type of content Etsy sellers want to share.
Etsy loves connecting buyers and sellers on social media
Enter Shop Updates, a new tool that helps sellers create and share dynamic promotional content on social media. Starting today, using the Sell on Etsy app, sellers can snap a photo, tag a listing that's for sale in their shop and share it on social media, all in a few taps of their finger. Shop Updates posted to social media are linked directly back to a landing page on Etsy that displays the photo with an orange Etsy "E" shopping tag on the corresponding Etsy listing, making it simpler and more seamless for shoppers to purchase. This is a helpful tool for sellers who have been in the habit of copying and pasting links to their social media posts. [caption id="attachment_8817036" align="aligncenter" width="570"]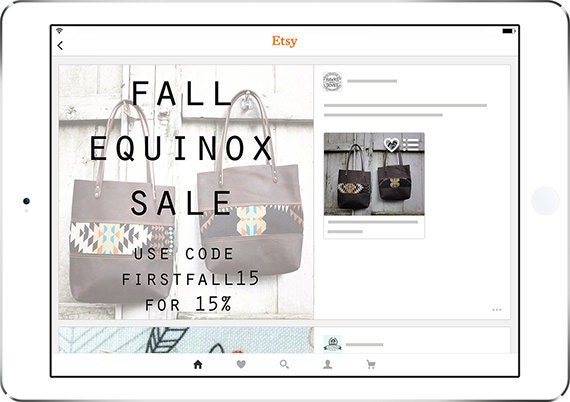 When buyers tap into Shop Updates on their app homescreen, they'll see a feed displaying updates from any sellers that they've favorited or purchased from
HawksAndDoves
.[/caption] "I love that I can share directly from Etsy and don't have to worry about having all my social media platforms and my link shortener open. Much quicker this way," said Sara McCormick of
BelladeLunaDesigns
, who participated in the Shop Updates prototype. Shop Updates also serves as a new tool to help Etsy sellers brand and market themselves. "I love the idea of being able to share new photos directly to people who have favorited my shop," said Mallory Wingo of
WingoStarrJewelry
. "This opens up a whole new stream of marketing!" Buyers using the Etsy shopping app will see these updates on their homescreen from Etsy sellers they've interacted with through favoriting or purchasing. Buyers will also see updates on a seller's shop home.   Shop Updates further strengthens the human connection between buyers and sellers on Etsy by empowering sellers to share more of the fun, personal side of their business. Along with Shop Settings, which we
announced earlier this week
, Shop Updates is just one more tool for sellers to better market and run their Etsy shops. We'll be gradually making this feature available to all sellers globally over the next few days. Once this is live for everyone, sellers with the Sell on Etsy app on either iOS or Android can start using Shop Updates, when they download the latest update. You can learn more about the feature and download the Sell on Etsy app
here
. We can't wait to see what our sellers share!