Shoppers can now add and share images along with their five-star reviews.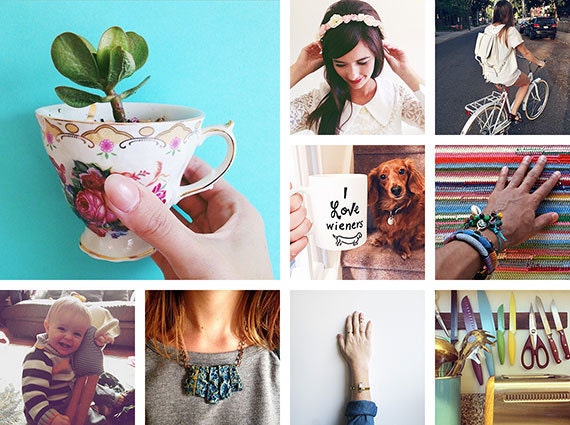 The ability for shoppers to connect with sellers in a meaningful way is one of the things that makes the Etsy marketplace so unique. Our community of buyers is loyal and passionate, and giving them new ways to share the positive experiences they have on Etsy each and every day is a great way for them to personally contribute to sellers' success. Today, we are launching a photo sharing feature that makes it easier for our mobile shoppers to share these unique experiences along with one-of-a-kind finds from Etsy sellers. Shoppers can now include a photograph of their purchase when leaving a five-star review, and seamlessly share that image across their social networks or privately via email or text. A positive review from a shopper can benefit sellers in many ways. An increase in positive reviews for a product may significantly increase the number of orders for that item. Reviews also add value and credibility to a seller's shop, can provide details on an item that may not be immediately apparent, and when shared, can generate interest from others in that shopper's network. In a 2014 survey of Etsy buyers, 92% agreed that Etsy offers products they can't find elsewhere. Sharing purchases with friends and family is a great way for members to showcase the unique items they have discovered. Shoppers not only have the opportunity to share one-of-a-kind products and meaningful personal experiences, but they can show that they support independent small businesses and might even inspire others to do the same. By incorporating photos in reviews, our passionate community has a more seamless way to share the purchases that they love and generate more business for their favorite shops on Etsy.
Here's how it works:
When a shopper is leaving a five-star review in the Etsy app for iOS or Android, they will be able to snap a picture of their purchase, or select an image from their camera roll to include with the review. If a shopper needs more time to get just the right shot, they can leave a review and go back later to add in the photo. The image will surface everywhere that a review is featured, across all platforms, including the review page and on listings. Once the photo is uploaded, shoppers can share their purchase either through their social platforms including Facebook, Pinterest, and Twitter, or privately via email or SMS text. When a buyer chooses to share their photo, the link will be pre-populated with the seller's shop name and shop title, offering access for others to check out the shop themselves, and will also have the hashtag #EtsyStar to view member's images across social channels. [caption id="attachment_8816832" align="alignnone" width="570"]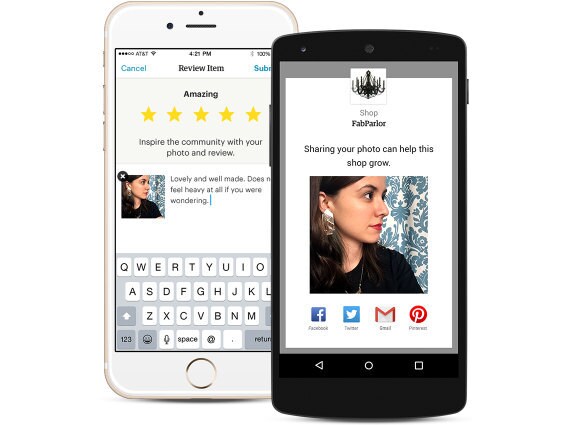 Examples of the review screen and sharing prompt shown on both iPhone and Android devices. Pictured: Earrings from
FabParlor
[/caption] For more information on reviews go to etsy.com/reviews. You can also download the latest version of the Etsy shopping app in the
Google Play Store
and
Apple App Store
. If you already have the app, visit 'Purchases' to add a photo to any five-star review of your recent purchases. We're excited to see the photos of unique Etsy products that our shoppers share!