Susan Garrity's profile
Susan Garrity's Profile
About
I grew up in a family of artists so it's in my blood. All of my designs are my own. My shop name comes from the first few letters of my four children's names. I have been making jewelry all my life, but seriously for about 13 years. I have a huge selection of rare, vintage Swarovski crystal beads, as well as vintage West German crystals, many of which are over 70 years old! I have recently "discovered" polymer clay and love being able to create my own beads and pendants. I especially love natures gems and stones, glass metal etc. I've been knitting and crocheting scarves and such all my life as well. I have a strong work ethic and attention to detail. I'm my own worst critic. I would be proud to wear any of the jewelry or accessories I've created, and I often do! Some of my best customers are my best friends. I would love to know that my creations are being enjoyed by buyers who love them as much as I do.
Female
Born on January 14
Joined October 30, 2010
Favorite materials
I like to incorporate rare vintage crystals polymer clay and natural elements such as stone glass and metal into my designs Most of my yarn is imported
Poughkeepsie, NY, United States
Shop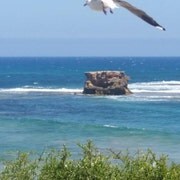 Abanolian
Express Your Unique Inner Beauty With...