Bethany Ogle's profile
Bethany Ogle's Profile
About
I am Bethany Ogle, the full-time artist creating all the tree and flower paintings at Amborela. I paint with acrylics, draw with India ink, and use 3d elements to create mixed media paintings for the home, nursery, and office. The most popular flowers are individually hand-sculpted in acrylic.

Website: www.amborela.com
Visit the Amborela website for sizing and color charts to help you find the perfect painting to coordinate with your home.

Female
Joined December 7, 2008
Ankeny, IA, United States
Shop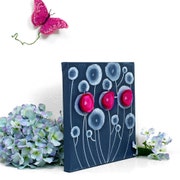 Amborela
Canvas Wall Art Original Paintings