Amy's Profile
About
Being rather vintage myself, I am glad to share the enjoyable items I find and the occasional creative endeavor with others. For the most part, they really don't "make things like they used to" so vintage means quality as well as variety - after all, who else in the neighborhood has a funky 1950s lamp and cheerful 70s dishes just like yours? No one, because they shop at big box stores for made-in-china junk. Hah! You are way smarter than that - welcome to Etsy.

If you're outside the US, just send me a note and I'll be glad to calculate international shipping for you and edit any listing to include that option as needed.


Female
Joined July 7, 2009
Beaverton, OR, United States
Shop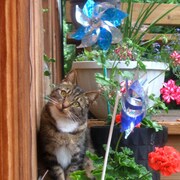 AmiableLeaf
Friendly Vintage Goods and Linens for your...