Bill Justice's profile
Bill Justice's Profile
About
In 40 years in the jewelry business I had two retail Jewelry Stores and a trade shop that did repairs and custom jewelry for nine other jewelry stores. I did work for Disney, New Line Cinema and Stephen Spielberg, I was in Art & Antiques and Easyrider magazines,I even did jewelry work on a indian reservation, my great grandfather was an American indian...In february of 2008, I sold my business to return to the art world and make the type of jewelry I enjoy....I have another website at Billyrebs.com.......I'm still a member of the Jewelers Vigilance Committee and have been listed and a member of the Jewelers board of trade since 1973.....
Male
Born on June 12
Joined February 14, 2010
Favorite materials
I can fabricate in sterling silver, gold and platinum, cut stones, all types of stone setting, wax carve and cast in sterling silver and gold, I like to make Medieval styles and use copper and brass, for accents with sterling silver, also I enjoy making American Indian style jewelry, I have been doing it since 1971, I am one quarter American Indian on my mothers side and one eighth on my fathers side, maybe thats why
Camarillo, CA, United States
Shop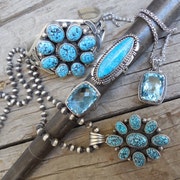 Billyrebs
Where Constantinople meets Goth....