Ali P.'s Profile
About
Hi! My name is Ali. I'm the owner and co-operator of Buttonhead. We make custom button pins, magnets, pocket mirrors, sticker labels, and temporary tattoos. I've been a proud Etsy member since 2007.

--- My Schedule ---
I am in the office Monday-Friday from 8:30am-2:00pm Central time. At 2:00pm, I join the production run and assist with making, packing, and shipping orders until close of business at 5:30pm.

--- Contact ---
Please contact me anytime. I love hearing from you!

Website: http://www.buttonhead.org
Eml: ali [!at] buttonhead.org
I'm also on Twitter, Facebook, G+, and Pinterest!
Chicago, IL, United States
Shop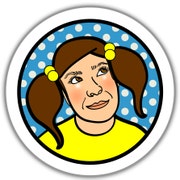 Buttonhead
Custom Button Pins, Magnets, Mirrors,...