Nansee New's profile
Nansee New's Profile
About
My work is inspired by Native, Meso-American, early Chinese, and African art. Many pieces are ceremonial in nature. I often polish their surfaces with a stone which compacts the clay and reveals the beauty of the natural material. Additionally, I enjoy mixed media, using various materials like paint, pen, paper, beads, string, weeds, and glaze in combination. Most recently I have started a series of collaborations with other women artists. These iconographic shrines have exciting potential for more expansion and experimentation in mixed media.
Female
Born on February 13
Joined May 31, 2011
Favorite materials
Orange sedge, terracotta clay, bamboo reeds, carved bone, waxed linen twine, coral, porcelaneous stoneware, abalone, terra sigillata, interference paint, willow twigs, handmade paper, clay stamps
Mendocino, CA, United States
Shop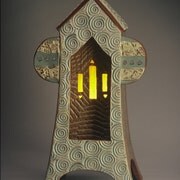 CasaLuz
ceramic, sculpture, animals, totems,...