VINTAGE NOW's profile
VINTAGE NOW's Profile
About
♥˚ ˚✰˚ ˛★* 。 ღ˛° CLEARANCE SALE !♥˚ ˚✰˚ ˛★* 。 ღ˛°

New Sterling Silver Section added...
♔ About me :
Through the years I have been collecting vintage/antique accessories, sadly many of these beautiful unique designs are disappearing and will never come back.
I personally LOVE the Craftsmanship of each individual item and how they represent the "Classic AMERICANA Style".
I would like to recycle ALL of them if a could, I do have a few but I would like YOU to help me do the same. We try offering the most unusual and hard-to-find jewelry. We offer items in many categories including Edwardian, Victorian, Mid-century, Modernist, Scandinavian, Mexican, designer and costume Jewelry.
Thanks for visiting my Etsy Shop please feel free to ask me any questions you may have about my items, I would love to hear from you soon :)...
Born on December 25
Joined July 19, 2011
Favorite materials
Silver, Gold, Semi Precious Stones, Porcelain, Enamel, Rhinestones, Crystals, etc
Rancho Palos Verdes, CA, United States
Shop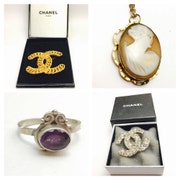 ESTATENOW
Home of treasured gifts, Heirloom &...