Bob and Sheilah Schneider's profile
Bob and Sheilah Schneider's Profile
About
Bob says: I've been making hand-crafted knives and custom leather cases for a long time. A few years ago Sheilah asked if I'd design and make a pair of earrings for her for our anniversary, which led to the gift sets you'll see in the shop. I'm pleased to say she still wears that first set I made! Later on, a customer asked if I could make shirt studs for a wedding tuxedo, so you'll find handmade shirt studs in the shop too, along with cuff links and tie tacks. Then came hair sticks and shawl pins, and now I'm obsessed with hair forks. Who knows what's next?!

Sheilah says: I take the photos and run the etsy shop -- and enjoy wearing the prototypes when Bob designs a new piece!
Male
Joined November 15, 2010
Favorite materials
Elk antler, desert ironwood, carbon fiber, tiger maple, nickel silver, copper, brass, brightly colored composite stones
Pacific Northwest, United States
Shop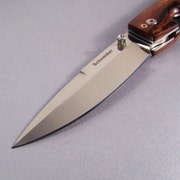 ElkAndIron
Knives Hairsticks Jewelry | Ironwood & Elk...