GnomeAcres' profile
GnomeAcres' Profile
About
Once upon a time, in a galaxy far, far away, I lived in a world where I was oblivious to the fantabulous world of fiber. It was a sad, cold world filled with manmade materials.

One day, I set out on an adventure with my llama to learn how to use a spinning wheel. It was magical. I then decided to take on other fiberous adventures; fleece processing, fiber blending, fiber dyeing, felting...the list goes on.

I quickly found myself becoming a fiberista...and my llama soon found herself naked.

Wanna know more? Check out GnomeAcres.com.
Favorite materials
llama, alpaca, camel, merino, bamboo, recycled materials, wooden buttons, handspun yarn, hand dyed yarn, roving, redwood burl, LEGOs, shiny
Shop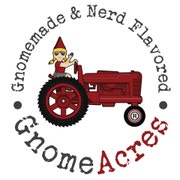 GnomeAcres
Gnomemade & Nerd Flavored Hand Dyed Yarn