Sari and Rachel's profile
Sari and Rachel's Profile
About
HOAX is a US bi-annual queer feminist compilation zine that aims to create a space to analyze the feminisms of our everyday lives. People of all lived experiences are encouraged to submit! Contributors do not have to identify with a particular gender and/or as feminists in order to submit work to Hoax. We ask that all potential collaborators, regardless of political and/or personal self-identities, actively agree to Hoax's Core Values and Shared Goals before working on the project. You can find these over at our blog: hoaxzine.tumblr.com!

We are currently taking submissions for Hoax #11: Feminisms and Strategy! Please check out hoaxzine.tumblr.com and/or e-mail us at hoaxzine (at) gmail (dot) com for more info!

All other zines in this shop are projects worked on independently by either sari or Rachel!
Born on April 1
Joined May 25, 2011
Stewartsville, NJ, United States
Shop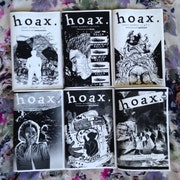 HoaxZine
The long-running queer feminist...