Keith Mills' profile
Keith Mills' Profile
About
This shop displays all the latest art by professional artist Keith Mills based in the United Kingdom.
I create a mix of digital abstract paintings and quirky ink drawings of cats and dogs.
All my art is available as image downloads.
Which are perfect for making your own art prints, greeting cards, postcards, labels, invites and creative home projects. In fact anything you like.
Also. My cats and dogs are available as A4 size prints.
Supplied unframed. These affordable and collectible pictures would make a perfect gift for yourself or any cat and dog lover.
I create new artwork as often as possible and will regularly add new pieces to my collection.
Male
Joined October 27, 2011
Favorite materials
Hull, England, United Kingdom
Shop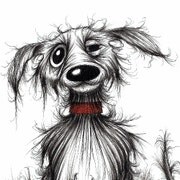 KeithMills
Keith Mills Artist Cats Dogs Abstract Art