Lori B.'s Profile
About
My shop is named Kilted Woman because I recently took up competitive Scottish Highland dancing. This type of dancing was once the domain of men. Women were not allowed to wear the kilt and were considered too delicate to dance the "manly" dances such as the sword and fling. Now 95% of dancers are women and I wear a kilt quite frequently.

I've been to Scotland six times. All items in my shop are from Scotland with a few things from England or Ireland. I hope you enjoy the pretty things I've created!

If you are interested in tribal belly dance or bohemian style, check out my new Etsy shop: TribalDanceSouk

Follow Kilted Woman on Pintrest and Facebook!


Female
Joined November 14, 2010
Favorite materials
Sea glass, pottery shards, tartan, specialty yarn, Iona marble, drift wood, dried flowers
Richland, WA, United States
Shop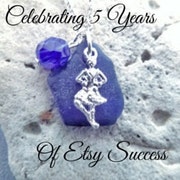 KiltedWoman
Scottish Jewelry and Gifts with Sea Glass...