Allison Purcell's profile
Allison Purcell's Profile
About
When I was little, my Grandma always sent the best care packages, filled with handmade goodies for our family. She made me a beautiful quilt, a Raggedy Ann, and who knows how many clothes. She has inspired me to continue her tradition of making and giving handmade things.

I like to crochet and sew, and look forward to getting my Mom to teach me everything she knows about knitting and needlepoint as well. I hope to inspire my three children to create lovingly made things too.

When I was first married, my husband gave me a sweet calico kitten for our first anniversary. When she was alive, she was always in the middle of my yarn basket, and she had her very own crocheted blanket on the back of our couch. She always "helped" me when I crocheted, and my site is named after her. All items in my store are handmade by me with love and care.

Female
Joined December 13, 2010
Murray, KY, United States
Shop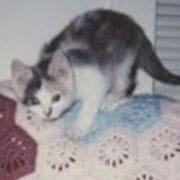 KittenYarn
Handcrafted Crochet, Sewing, and Recycled...