Vicki's Profile
About
Watching over my grandmother's shoulder as she rocked in her old wooden rocking chair and tatting hour after hour was the beginning of my determination to learn this tedious art form.
She would tat and I would ask the question... "Grandma, show me again how you do that!" But to her frustration and mine, I could not for the life of me figure it out.

After many frustrated hours and several tatted beginnings thrown in the trash...I finally feel confident with shuttle and thread. My only wish...that Grandma could be here to see!

Tatting is truly a form of therapy for me...and the end result...well, my sincere hope is... YOU will enjoy my passion for tatting!
Female
Born on January 5
Joined November 9, 2010
Favorite materials
Herriman, UT, United States
Shop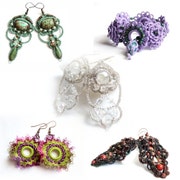 KnotTherapy
Tatting and Crochet Handmade Jewelry and...