Nicole Leone's profile
Nicole Leone's Profile
About
Visit me on Facebook for promotions, coupons and updates: http://www.facebook.com/LEFTrightforall

Follow me on Twitter:
http://twitter.com/LEFTrightForAll

I once was described as the girl who could entertain herself in a cardboard box. Creativity and imagination have always engulfed me. The process of design and creating objects and spaces excites me. Commercial interior designer by day (and by debt), I haven't yet learned how to sit still. LEFTright has given me the opportunity to continue to create.

At LEFTright, I source sustainable textiles and use non toxic inks. Saving our resources and planet is a big task, a very serious topic, but life shouldn't be so serious. I hope you find humor and delight in my pieces.


Female
Born on December 27
Joined November 23, 2008
Favorite materials
sharpies, scraps, sketchbook, felt, fabric, ink, wood, trace paper
Holland, MI, United States
Shop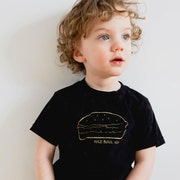 LEFTright
organic baby clothes, reusable bags, home...