Danielle Dowhaniuk's profile
Danielle Dowhaniuk's Profile
About
Find me Poeticpurl at gmail.com (replace the at with @)

Beads and bobbles make me smile. I knit for fun, spin for relaxation, and dye for a little color. I like creating a little work of art that I can show the world. Something with zing and personality.

I spend time thinking about how a combination of beads look. I try them different ways and sometimes decide I don't like them and start over again. I am drawn to odd colors and shapes.

As a knitter I know you don't want something to heavy or that will snag. So I keep the edges smooth and use spacers or bead caps to round out the edges.

My jewelry is made with sterling silver findings, posts, and earwires. I try and describe all pieces accuratly. If you need more information I will gladly add it to the discription.
Born on March 16
Joined February 2, 2006
Favorite materials
Shop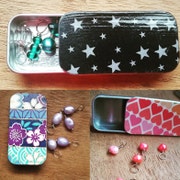 MissPurl
Miss Purl Presents Great Handmade Stitch...