Nancy Marie's profile
Nancy Marie's Profile
About
Previously I had an antique booth in a nearby town and then this wonderful tool came along called " the internet" and it changed everything. Etsy gives me greater exposure to many places and areas in this big, wide world, and I have more traffic or views, than I ever had at my little shop.

Call it an obsession, call it a compulsion, call it hoarding, call it anything you want - but I LOVE doing it and I can't help myself. I just love to find old things that have a history and are still useful and you never know where you might find these great things or "stuff" as my Dad called it.

SO When all is said and done and when I am out and about looking for the Next New Find....IT'S NOT WHAT YOU'RE LOOKING FOR, IT WHAT'S YOU FIND and it's all about the Hunt isn't it?
Female
Joined July 15, 2011
Favorite materials
needlework, vintage clothing, linens, lace, pottery of any kind and era, old leather suitcases, dolls from around the world, painted furniture, storage trunks, silverware, crystal, oil paintings
New Lenox, IL, United States
Shop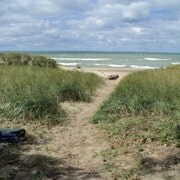 RRGS
I FIND STUFF, REALLY REALLY GOOD STUFF