Juliana's Profile
About
When I think of crochet, I'm instantly taken back to my childhood when I learned. My mother patiently sat beside me as she taught me basic stitches and she even allowed me to make ridiculous looking "decorations" for our house and let them stay out until I was tired of them. I can remember creating simple garlands for the Christmas tree and carefully draping them perfectly around the tree, banisters, or whatever else she would let me claim as decoration worthy! I was, and still am, in love with the idea of creating something and using it in our home and I have a lot of fun doing it.
I knew I wanted my shop to be crochet focused and the name...well, OrangeOdge was my imaginary friend when I was a little girl - I told you, crochet makes me think of my childhood! I really hope you enjoy the items in the OrangeOdge shop as much as I enjoy making them. Thanks for taking the time to look around - I'm glad you're here!
Born on January 1
Joined January 24, 2012
Indianapolis, IN, United States
Shop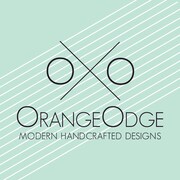 OrangeOdge
Handmade crochet baby blankets, gift, &...