JESSICA Murphy's profile
JESSICA Murphy's Profile
About
Bio... My name is Jessica, I have a fantastic husband and a brilliant almost 3 year old son. I have always loved making jewellery and like many on here I wanted to take my favourite hobby to the next step. I have mostly made costume jewellery but have always loved anything custom! I want every piece to be for someone specific and have a special meaning.

I came across metal stamping when shopping for a special gift for a friend. My favourite part of it is that it MEANS SOMETHING, it isn't just pretty blue beads!
I love making pieces that allow me to learn something about you, and bring that out in my jewellery.
Enjoy my shop, and feel free to convo me if you are looking for something you just haven't found!
Female
Joined June 29, 2010
Shop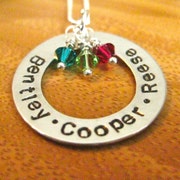 Rawkette
CUSTOM JEWELLERY WITH INTENTION.