Isabel Blake's profile
Isabel Blake's Profile
About
I am an octogenarian who gets to play with dolls and no one thinks I am senile (I hope). I have been making doll clothes as long as I can remember. I started at an early age fashioning my father's handkerchiefs into doll clothes with safety pins for my McGuffy Anne doll, which I remember being about the size of the American Girl. After I had little girls and later granddaughters, I made a lot of Barbie doll clothes and am happy to have graduated to the larger doll. I have had 4 different sewing machines in my life and now have my wonderful serger, as well. Now that daughters and granddaughters are too big for dolls, I sew to keep busy and to be financially independent.
Female
Born on June 6
Joined March 8, 2009
Favorite materials
Louisville, KY, United States
Shop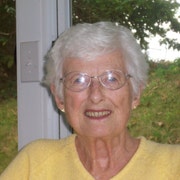 SewQT
Doll clothes for American Girl, Bitty Baby...