VEGANLOTUS' profile
VEGANLOTUS' Profile
About
We bake only Vegan Cakes,Cheesecakes,Cookies,Muffins, Cupcakes and more.

We want to show the world that the most delicious and healthy food is VEGAN.
We will cook or bake for your birthday,christmas, wedding and every other occasion.
We use the highest quality,natural,vegan ingredients.



BE VEGAN, MAKE PEACE!

Joined September 20, 2011
Favorite materials
Coconut, Almonds, Walnuts, Pecans, Pumpkin, Tofu, Soy, Chocolate, Rice Flour, Fava Flour, Garbanzo Flour, Apricots
New York, NY, United States
Shop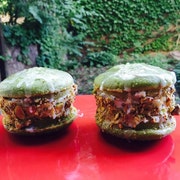 VEGANLOTUS
VEGAN,ORGANIC,NATURAL CAKES,CHEESECAKES,...