Jared Kaufman's profile
Jared Kaufman's Profile
About
Building a gift from scratch is a lot of work but I truly love making each and every one. Handmade goods are so special and convey the time and energy the craftsman took to make each item. I want to share my passion for creating handmade wood items and spread the joy I get from making them with you.

Being a self proclaimed antique addict, I love searching for items from years past that create great additions to your home and add a pop of history or nostalgia that will be conversation starters for your guests. My home is personally decorated with items from that past that were made with care and quality.
Male
Joined September 29, 2011
Favorite materials
Trabuco Canyon, CA, United States
Shop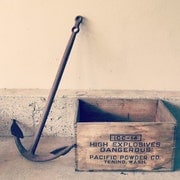 WoodWell
Unique Vintage Decor, Collectibles &...