Annie Tique's profile
Annie Tique's Profile
About
Annie's Vintage Clothing & Rarities
(NOW located inside Dragonfly on Brady)
1117 East Brady Street
Milwaukee, WI 53202
414-727-5586

Recycling the past for over 20 years! Annie's specialize in fine men's & woman's vintage clothing, footwear, accessories, collectibles, fabrics and patterns! I Love fine fabrics and designs, and I Love sharing them with fine people! I am a trained seamstress and I take pride in selling well-made clothing in wearable condition. Sometimes I even put out a redesigned piece under my own label, AnTique! Enjoy my passion with me! I am always looking for willing participants to wear my finds and designs!
Female
Born on August 22
Joined January 29, 2007
Favorite materials
fun, quality fabrics, mohair wool yarn, beads, vintage jewelry, found objects
Milwaukee, WI, United States
Shop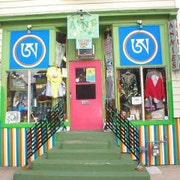 antique
Annie's Vintage Clothing & Rarities