Melissa Contreras' profile
Melissa Contreras' Profile
About
Why Axelhoney?
Axelhoney came out of a nickname my dad used to call me:
Missy Melissa Sue Anne Axel Honey Sugar Baby Anderson
I always knew I wanted to have my own brand & I wanted a unique name that reflected me.
It is one word. Axelhoney.
My mission is to inspire YOU to live a JOYFUL life filled with beauty, love and imagination.
Female
Born on January 14
Joined July 10, 2005
Favorite materials
Santa Monica, CA, United States
Shop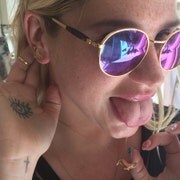 AXELHONEY
Axelhoney ~ the art of Melissa A. Contreras